Banks Flush With ECB Cash Outperform Sovereigns: Credit Markets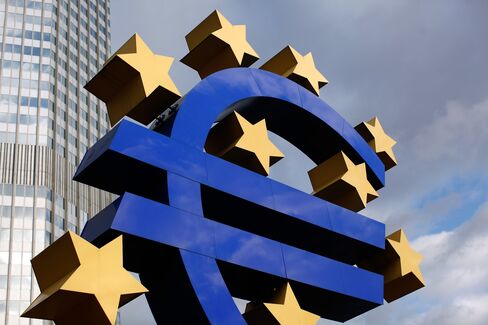 Banks are beating euro governments in credit markets by the most on record as European Central Bank loans stave off punitive borrowing costs for lenders such as BNP Paribas SA and UniCredit SpA facing debt downgrades.
The Markit iTraxx Financial Index of credit-default swaps linked to the senior debt of 25 European banks and insurers now costs a record 120.5 basis points less than the Markit iTraxx SovX Western Europe Index of swaps on 15 governments. That compares with a 28 basis-point gap at the end of November and a previous high of 118 in July. Historically, it costs more to insure banks than governments.
The ECB's 489 billion euros ($623 billion) of three-year loans are a lifeline for lenders competing with governments to borrow about $2 trillion this year as they seek to refinance maturing bonds and bills, according to data compiled by Bloomberg. While banks based in euro-area countries that still have top credit grades are able to issue unsecured bonds, lenders from nations whose ratings have been lowered, or face cuts, are frozen out.
"The ECB offered the banks a guaranteed source of liquidity," said Nigel Sillis, who helps oversee about $53 billion as director of fixed income and currency research at Baring Asset Management Ltd. in London. "They've used it in big size and that's taken the worst of the liquidity risk out of the market."
More Loans
The ECB plans to hold another three-year longer-term refinancing operation, or LTRO, at the end of February. That may total 1 trillion euros should the central bank loosen collateral requirements, according to Marchel Alexandrovich, an economist at Jefferies International Ltd. in London.
Bank bonds have rallied in the cash market since the LTRO announcement. The difference in relative yields between the EUR Corporates, Banking index and a gauge made up of Austrian, Finnish, French, German and Dutch government bonds is 371 basis points. The gap between the two indexes peaked at a 31-month high of 440 basis points on Nov. 30.
Elsewhere in credit markets, a gauge of U.S. corporate debt risk fell to the lowest in five months as borrowing costs decreased in France and Spain, easing concern Europe's sovereign-debt crisis may spread. Eastman Kodak Co. bonds dropped after the 131-year-old imaging company filed for bankruptcy protection. The London interbank offered rate, which acts as a benchmark for about $360 trillion of financial instruments worldwide, held at the lowest in more than a month.
Credit Strains Ease
The Markit CDX North America Investment Grade Index of credit-default swaps, which investors use to hedge against losses on corporate debt or to speculate on creditworthiness, declined 2.3 basis points to a mid-price of 107.3 basis points as of 12:09 p.m. in New York, according to Markit Group Ltd. The gauge touched 107.2, the lowest level since Aug. 8.
The Markit iTraxx Europe Index of 125 companies with investment-grade ratings dropped to the lowest since Oct. 31, decreasing 10.4 to 151.5 after earlier reaching as low as 151.1, Markit prices show.
The indexes typically fall as investor confidence improves and rise as it deteriorates. Credit-default swaps pay the buyer face value if a borrower fails to meet its obligations, less the value of the defaulted debt. A basis point equals $1,000 annually on a contract protecting $10 million of debt.
Kodak's $250 million in 7.25 percent senior unsecured notes due November 2013 dropped 4.5 cents to 28.5 cents on the dollar as of 11:24 a.m. in New York, according to Trace, the bond-price reporting system of the Financial Industry Regulatory Authority. The notes have plunged from 86.5 cents on Aug. 31 and from par in April.
Swaps Payouts
The inventor of Instamatic cameras filed for bankruptcy today after revenue tumbled from traditional film and it lagged competitors Canon Inc. and Hewlett-Packard Co. in digital cameras and printers.
A committee of banks and investors that governs the credit-default swaps market was asked to rule whether the bankruptcy filing triggered payouts on contracts linked to its debt, the International Swaps and Derivatives Association said on its website.
Three-month Libor, the rate that London-based banks say they pay for loans in dollars over that period was 0.561 percent today, unchanged from the previous session and at the lowest since Dec. 15, according to the British Bankers' Association.
Bank credit ratings are under pressure after S&P cut the sovereign grades of nine nations across Europe on Jan. 13, stripping France and Austria of their top AAA ratings, cutting Italy to BBB+ and reducing Portugal to BB, or two levels below investment grade.
French Swaps
Credit-default swaps on French government debt dropped 25 basis points to 199 basis points, according to CMA, since the ECB cash went to banks on Dec. 22. During the same period, swaps on BNP Paribas, the nation's biggest lender, dropped more than 40 basis points to 235 basis points.
The French downgrade may affect the senior debt of banks such as BNP Paribas and Societe Generale SA as New York-based S&P reviews the sovereign's ability to support its lenders, according to a Morgan Stanley note this week. In Italy, the change will probably push the most junior subordinated debt of UniCredit and Banca Intesa SpA, the country's second-largest bank, down to a BB+ rating, the analysts wrote.
"There's been a definite sense of relief in the market since the LTRO," said Alberto Gallo, a credit strategist at Royal Bank of Scotland Group Plc in London. "It's helped to buy time, but it's not a solution because the banks still have wider problems."
Capital Raising
Among the issues that can't be solved by the LTRO is capital. The European Banking Authority, which found a 115 billion-euro shortfall in its most recent stress tests, has given lenders until June to find cash or face nationalization.
"Capital raisings are obviously positive for the banks," said Elisabeth Afseth, an analyst at Evolution Securities Ltd. in London.
Lenders have also been supported by the Federal Reserve pumping about $90 billion into the global financial system through its emergency swap lines since November, when interest rates on the loans were cut to promote borrowing.
That's helped push European banks' borrowing costs in dollars down to 78 basis points below the euro interbank offered rate, the lowest since Aug. 8. The spread between three month euro Libor and the overnight index swap, a measure of banks' readiness to lend to each other, has declined to 84 basis points, the least since Oct. 31, from as much as 1 percentage point at the end of November.
Lowering Borrowing Costs
While the ECB and Fed intervention has reduced the risk of a bank defaulting, lenders and their sovereigns remain tightly intertwined. A web of crossed share- and bond-holdings links European banks to one another, increasing the risk problems at one lender will quickly infect others, while banks' holdings of sovereign debt are "a multiple of equity," according to Gallo.
Markit's financial index of credit-default swaps has tumbled more than 100 basis points since the end of November to 223 basis points, while the sovereign benchmark has declined about 40 to 343.5. Both are down from record highs that month.
"There's a limit to how much banks can decouple from sovereigns," said Roger Francis, an analyst at Mizuho International Plc in London. "Banks will almost certainly follow sovereigns in downgrades. It's a foregone conclusion."