U.S. Clean Energy Leadership Is Misleadingly Strong After a Record 2011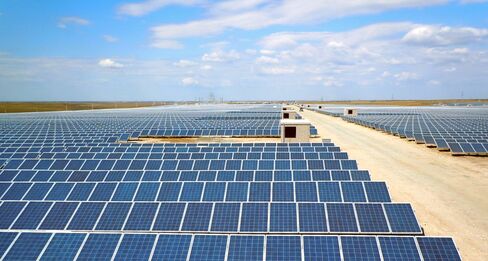 By Nathaniel Bullard
The season has already brought all manner wintry wonders for data junkies: record high temps, record high snowfalls, and an ongoing blizzard of clean energy investment. Neither stormy global economic conditions nor U.S. policy fiddle-faddle could impede the capital flow, which rose five percent to a record $260 billion, according to Bloomberg New Energy Finance. The U.S. led the world, driving $55.9 billion into the sector, a 33 percent jump from 2010. It out-invested China for the first time since 2008.
The U.S. position is misleadingly strong. Project builders are scrambling for new capital without Department of Energy (DOE) loan guarantees and U.S. Treasury grants. Those tools shielded developers from costly funding schemes that squeeze their financial returns. It will be difficult if not impossible to reach 2011's records in 2012 unless private financial institutions really step up to fill the $20 billion Federal void.
The DOE Loan Guarantee program ended just as public questions arose about its funding decisions. Solyndra, the Fremont, California, solar-panel maker, went bankrupt amid last year's global polysilicon glut, taking $535 million in U.S.-backed loans with it. Politically, the Solyndra kerfuffle ensured there would be no more guarantees -- but the government wasn't expected to allocate new funding for the program anyway. Inside-the-beltway grandstanding and pre-election antics fueled the debate.
The single biggest clean energy lender last year was the U.S. Federal Financing Bank, which made the bulk of the DOE loan guarantees. Project finance is by far the largest single component of clean energy capital flows, and the bank issued $10.1 billion, nearly 20 percent of all project finance lending for clean energy. Next came Brazil's development bank, O Banco Nacional do Desinvolvimento (BNDES) with $4.3 billion. Bank of America came in third. It led a major loan effort that was supported by -- naturally -- the DOE Loan Guarantee program.
While U.S. banks generate a huge amount of political noise, they're actually considered healthier than a number of European governments. The best measure of health is credit default swaps, which mark the riskiness of a company or government. Three big U.S. banks active in clean energy -- Citigroup, Bank of America, and Wells Fargo -- are about half as risky as three of the biggest EU clean energy markets -- Spain, Portugal, and Italy.
The out-sized influence of the Loan Guarantee Program is even more evident when looking at who owns the new clean energy assets. U.S. power plant developer NRG completed five deals worth $6.4 billion, all but one done through the Loan Guarantee program. In fact, of the top six companies with the biggest clean energy project portfolios last year, only one was not mostly or entirely supported via the Loan Guarantee program. Bloomberg New Energy Finance's league tables capture the leading bankers, equity investors, project developers, lawyers, and investment bankers.
This year is going to be tough, but we've been saying that every year since the collapse of Lehman Brothers. Don't count clean energy out - it's one of the few asset classes that creates its own new markets as costs fall, efficiencies increase, and more and more utilities and governments see the inherent value proposition in zero-carbon power generation.
Nathaniel Bullard is a global clean energy expert for Bloomberg New Energy Finance in San Francisco. Follow him on Twitter @SolarConstant.
Visit www.bloomberg.com/sustainability for the latest from Bloomberg News about energy, natural resources and global business.
-0- Jan/18/2012 13:55 GMT
Before it's here, it's on the Bloomberg Terminal.
LEARN MORE