BankUnited Stops Sale Process After Bids Said to Come in Low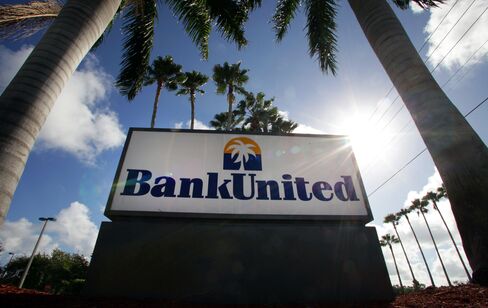 BankUnited Inc., Florida's second-biggest bank, decided to remain independent after Toronto-Dominion Bank and BB&T Corp. submitted takeover bids below the board's expectations, people with knowledge of the matter said.
"A preliminary process did occur whereby the company considered its strategic alternatives," Miami Lakes, Florida-based BankUnited said today in a statement, announcing that it plans to instead focus on building business in Florida. Donna Butler, a spokeswoman, declined to comment on offers.
BankUnited was among U.S. lenders that failed during the housing market's collapse, prompting regulators to seize its operations and sell most of them to a group of private-equity firms that included Chief Executive Officer John Kanas in 2009. The bank raised about $900 million in an initial public offering last January, or triple what it had earlier registered to sell.
BankUnited had asked for offers by yesterday, telling potential buyers it aimed to reach a sale agreement within about two weeks, people with knowledge of the matter said at the time, asking to remain anonymous because the talks were private.
Maria Leung, a spokeswoman for Toronto-based TD Bank, declined to comment. Cynthia Williams at BB&T didn't immediately respond to a call and e-mail seeking comment.
BankUnited is Florida's second-biggest by deposits after Jacksonville-based EverBank Financial Corp., according to data compiled by the Federal Deposit Insurance Corp.