Teva Puts at 16-Month High on Revenue Threat: Israel Overnight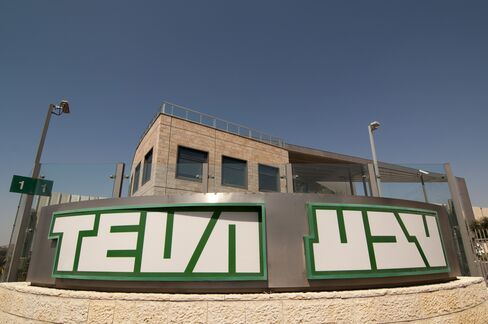 Options traders are paying the most in 16 months to protect against losses for Teva Pharmaceutical Industries Ltd. as the drugmaker faces increased competition once the patent for its top-selling treatment expires.
Three-month put contracts to sell Teva's American depositary receipts cost 30 percent more than calls to buy them on Jan. 13, the biggest so-called skew since Sept. 24, 2010, according to data compiled by Bloomberg. Israel's benchmark TA-25 Index fell 0.2 percent to 1,131.30 at the close in Tel Aviv. The Bloomberg Israel-US 25 Index of the largest Israeli companies traded in New York advanced 0.5 percent at 9:55 a.m. in New York.
The median analyst estimate for Teva's 2012 earnings has been cut to $5.61 per American depositary receipt, from $5.79 at the end of August. Investors are concerned competitors will erode the company's market share as the patent for its multiple sclerosis injection Copaxone expires in two years. Sales of the treatment, which accounted for 24 percent of revenue in the third quarter, will probably peak this year at $3.8 billion, Teva said on Dec. 21. Sales were $3.32 billion in 2010.
"For Teva, Copaxone was like winning the lottery -- they stumbled upon a huge blockbuster," said Gilad Alper, an analyst at Excellence Nessuah Investment House Ltd. in Ramat Gan, Israel. "Investors need to ask themselves what are the chances that Teva will win the lottery twice in a row. Teva has to be extremely successful to substitute Copaxone."
The ratio of outstanding puts to call options on shares of the world's largest maker of generic drugs rose to a four-month high of 0.76-to-1 on Jan. 12, according to data compiled by Bloomberg. Teva's Tel Aviv shares dropped 0.8 percent to 171 shekels, or the equivalent of $44.86. The New York shares climbed 0.1 percent to $44.92.
Undervalued Teva
Teva's ADRs are valued at eight times the median 2012 earnings estimate of 30 analysts surveyed by Bloomberg, compared with an average of 16 times for pharmaceutical companies in the MSCI World Index, data compiled by Bloomberg show.
The company said on Jan. 2 that Bristol-Myers Squibb Co.'s Jeremy Levin will replace Shlomo Yanai as chief executive officer after shares plunged 23 percent last year, the most since 2006. The stock is up 11 percent this year in New York and 12 percent in Tel Aviv.
Petach Tikva, Israel-based Teva said yesterday that a problem found with its Allopurinol gout treatment product in Hong Kong was a "single incident" in only one batch of many, according to an e-mailed statement. The defects were found after the drug, used to treat high levels of uric acid in the body, was analyzed at its plant in Hungary, the company said.
"There is clear concern among investors over the slowing industry growth," of generic drugs, Randall Stanicky, an analyst at Canaccord Genuity Corp. in New York, wrote in an e-mailed report yesterday.
Check Point Earnings
Calls give investors the right to buy a security for a certain amount, the so-called strike price, by a set date. Puts convey the right to sell. Investors use options to guard against fluctuations in the price of securities that they own, to speculate on share-price moves or to bet that volatility, or stock swings, will rise or fall.
Three-month puts to sell Teva's ADRs cost 29 percent more than calls to buy them yesterday.
Check Point Software Technologies Ltd. gained the most in six months yesterday, rising 7.8 percent to $54.88 in the second-biggest advance on the Bloomberg Israel-US 25 index after Prolor Biotech Inc.'s 11 percent jump.
The world's second largest maker of network-security equipment, Check Point reported fourth-quarter adjusted earnings of 84 cents per shares, beating the 81-cent median estimate of 25 analysts surveyed by Bloomberg. Profit increased to $159.8 million from $137.4 million in the year-earlier period, and revenue rose 12 percent to $356.8 million, the company said in a statement published by Marketwire.
Hack Attack
Check Point reported "a very clean and solid quarter alleviating some recent unfounded concerns about product growth," Shaul Eyal, an analyst at Oppenheimer & Co. in New York, wrote in an e-mailed report yesterday. "The Check Point story remains on very solid ground, and we believe its high-end appliances could become a growth driver in 2012 and beyond."
Tel Aviv-based Check Point, whose customers include Hewlett-Packard Co., International Business Machines Corp. and Dell Inc., is benefiting from rising demand for corporate security spending. Websites operated by the Tel Aviv Stock Exchange, El Al Israel Airlines Ltd., and First International Bank Ltd. were attacked yesterday by Internet hackers.
Israel, whose population of 7.8 million is similar in size to Switzerland's, has about 60 companies traded on the Nasdaq, the most of any country outside the U.S. after China. the nation is also home to the largest number of startup companies per capita in the world.
Magic, Xfone
The TA-25 Index has increased 4.2 percent since the start of the year. The Bloomberg Israel-US 25 Index has gained 8.6 percent in 2012, outperforming the Nasdaq Composite Index's 5.2 percent jump and the Standard & Poor's 500 Index's 3.2 percent climb.
Magic Software Enterprises Ltd. increased 6.5 percent to $6.25 yesterday, the highest level since July 7. The company's Tel Aviv shares added 1.7 percent to 23.90 shekels, or the equivalent of $6.27, today. The software developer received an order for its equipment from French biopharmaceutical company Stallergenes SA, according to a PRNewswire statement yesterday.
Xfone Inc. surged 18 percent to 46 cents after its Tel Aviv shares climbed 12 percent yesterday. The Lubbock, Texas-based provider of long-distance communications said it expects fourth-quarter fiber revenue to increase 30 percent to $3.63 million, according to a Business Wire statement. Xfone's Tel Aviv shares rose 7.3 percent to 1.75 shekels, or 46 cents, today.
Before it's here, it's on the Bloomberg Terminal.
LEARN MORE