Pakistan Trails England by 150 After Opening Day of First Test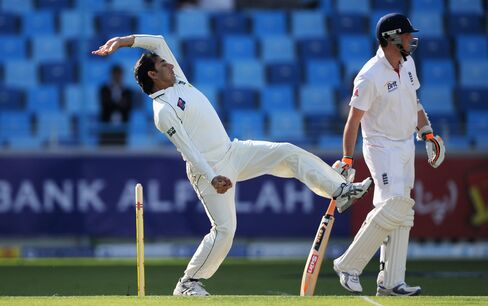 Jan. 17 (Bloomberg) -- Pakistan trails England by 150 runs at the end of the opening day of their first Test in Dubai after Saeed Ajmal's career-best seven wickets restricted England to 192 all out.
Mohammad Hafeez, on 22 runs, and Taufeeq Umar on 18, opened the batting for Pakistan, which finished the day on 42-0.
Ajmal lifted Pakistan after England won the toss and elected to bat. Matt Prior was unbeaten on 70 for England, which was 43-5 after Ajmal got Kevin Pietersen leg-before-wicket on 2 runs. Alastair Cook, Ian Bell, Stuart Broad and Chris Tremlett also failed to reach double figures for England.
It was a career best for Ajmal, a 34-year-old spin bowler who finished 7-55.
The teams will meet in Dubai again in the third and final Test of the series. The second meeting will occur in Abu Dhabi.
To contact the reporter on this story: Christopher Elser in London at celser@bloomberg.net
To contact the editor responsible for this story: Christopher Elser at celser@bloomberg.net