DS Smith to Buy Packaging Unit From Svenska for $2 Billion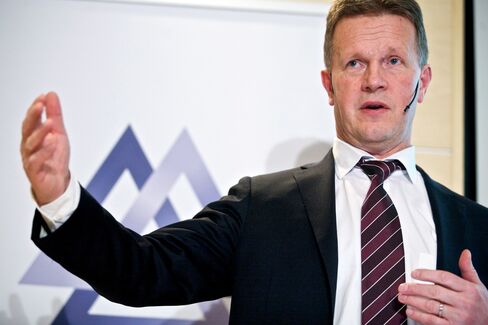 DS Smith Plc agreed to buy a unit of Swedish tissue maker Svenska Cellulosa AB for 1.6 billion euros ($2 billion) as it vies with Smurfit Kappa Group Plc to be Europe's largest supplier of recycled packaging.
DS Smith plans a rights offering to raise 466 million pounds ($715 million) to help finance the purchase of SCA Packaging, the London-based company said in a statement today. It will also use existing and additional debt.
Chief Executive Officer Miles Roberts, who joined DS Smith in May 2010, is buying the SCA unit to gain access to new geographical markets across Europe and "substantially" improve earnings per share, the U.K. company said today. DS Smith bought a controlling stake in French packager Otor SA in 2010 and disposed of its office products business last year to concentrate on recycled packaging.
"The price looks very reasonable," David O'Brien, an analyst at Goodbody Stockbrokers, said by telephone. "It is a good strategic fit and brings them into new markets."
DS Smith rose 3.2 percent in London trading to 210.2 pence, the highest closing price since Nov. 8. Svenska Cellulosa surged 9.8 percent, the most in more than three years, in Stockholm.
DS Smith said it's buying SCA for about 6 times the unit's earnings before interest, taxes, depreciation and amortization over the last 12 months, a figure slightly less than the average multiple of 6.7 times Ebitda for the paper and plastic packaging industry, according to data compiled by Bloomberg.
Price Comparison
International Paper Co. said in June that it would buy Temple-Inland Inc. for $4.3 billion, at a multiple of 10 times Ebitda. In the sector's largest takeover last year, Reynolds Group Holdings Inc. beat Silgan Holdings Inc. to buy Graham Packaging Co. for $4.4 billion, at a multiple of 9.1 times Ebitda.
SCA's packaging operations, excluding two kraftliner mills that aren't included in the purchase, had net revenue of about 24.2 billion kronor ($3.49 billion) in 2010 and operating profit excluding restructuring costs of about 1.1 billion kronor, SCA said in a statement.
"We are strong where they have more modest positions and they are very strong where we have little or no presence in countries like Germany, the Netherlands, Switzerland," Roberts said in a call with reporters today. DS Smith is targeting savings of 75 million euros a year after the combination, he said. SCA Packaging is the second-largest business of its type in Europe and is of similar size to DS Smith, the CEO said.
'Remarkable Change'
"The first 18 months of Miles Roberts at the helm of DS Smith have seen remarkable change," Hector Forsythe, an analyst at Oriel Securities, said in a note today. "This is a big step and that comes with risk, but it's a leap in the strategy to become the leading European supplier of recycled packaging."
The acquisition will give DS Smith an expected return on capital above its weighted average cost of capital for the first full financial year of ownership, with further improvement in the second and third years, the company said.
Alexander Mees, an analyst at JPMorgan, predicted that the purchase will enhance earnings per share by 18 percent in the 2013 financial year, rising to 23 percent in 2014.
DS Smith proposes to issue nine new ordinary shares for every eight existing shares, it said.
Earnings Performance
DS Smith said last month that pretax profit rose 20 percent to 42.8 million pounds for the six months ended Oct. 31, as sales gained 26 percent to 1.03 billion pounds. Smurfit Kappa, based in Dublin, had revenue of 3.67 billion euros in the six months ended June 30.
"We do not need Europe to return to strong rates of growth in the short term to make this transaction a success," DS Smith Financial Director Steve Dryden said on the call.
DS Smith said its net debt should return to two times Ebitda by the end of the first full financial year after the deal is completed. Standard Life Investments Ltd., the U.K. company's largest shareholder, supports the acquisition, DS Smith said.
"We see a great need for consolidation in the packaging business, and we have said we will not be the consolidator," SCA Chief Executive Officer Jan Johansson told reporters by phone. SCA will use some of the funds from the sale to continue acquiring hygiene-related businesses, Johansson said.
The purchase is expected to close in the second quarter of this calendar year, DS Smith said. Svenska Handelsbanken acted as adviser to Svenska Cellulosa and JP Morgan Cazenove advised DS Smith.