Cameron Taunts Salmond Over Date for Scottish Independence Vote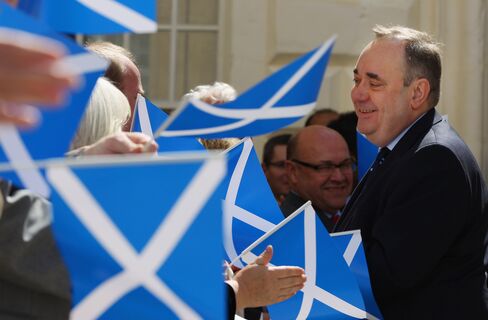 U.K. Prime Minister David Cameron taunted Scotland's first minister, Alex Salmond, over his plan to hold a referendum on Scottish independence in late 2014, saying he's afraid of putting the question to voters any sooner.
Salmond made his announcement yesterday as Michael Moore, the Scottish secretary in Cameron's coalition government, set out proposals to give the Scottish leader the power to hold the plebiscite, provided he agreed to accept limits on his powers over its timing and the wording of the question.
Cameron wants to hold the vote sooner rather than later, clashing with Salmond, who wants more time to rally support for a break with the U.K. Polls show almost 60 percent of voters in Scotland oppose the call for independence by Salmond's Scottish National Party, which won a majority in elections to the Parliament in Edinburgh last year.
The SNP "are so keen to leave the U.K., I can't quite see why they want to put off the vote for so long," Cameron told lawmakers during his weekly question-and-answer session in Parliament in London today.
That remark, addressed to SNP lawmakers, was one of the opening salvoes in the first battle of the independence vote: what the question should be and when it should be asked.
Cameron's Tory-led government says its legal advice is that the Scottish Parliament lacks the power to call a vote. While Salmond disputed that today, he signaled he was ready to talk to the national government in London about a transfer of powers that would make the referendum legitimate. In return, Cameron wants a "clear" question and to bring the date forward from Salmond's 2014 proposal.
'Almost Thatcheresque'
The first minister took the opportunity today to liken Cameron to former Conservative Prime Minister Margaret Thatcher, disliked by many people in Scotland because of policies that included a flat-rate local-government tax that was first applied there in the late 1980s.
"It was almost Thatcheresque, his intervention this week," Salmond told BBC Radio 4's "Today" program. "Cameron's ham-fisted attempt to pull the strings on Scotland's referendum has backfired rather spectacularly."
A vote in favor of a separate Scotland would raise questions about the division of the U.K.'s debt, the new nation's place in the European Union, what currency it should use, the North Sea oil and gas industry and the future of Britain's nuclear-armed submarines, based in western Scotland.
The clash between Cameron and Salmond, who has dominated Scottish politics for 20 years, now threatens to overshadow British politics until the vote takes place.
'Built in Scotland'
Salmond today repeated his call for a referendum "built in Scotland." He expressed support for giving voters the option, in addition to a simple "yes" or "no" to independence, of increasing the powers devolved to the Scottish Parliament while stopping short of withdrawal from the U.K. This could split those supporting the union with England, and polls suggest it would be more likely to pass than full independence.
"I am always constructive about these things," he told the BBC. "I am sure that politicians north and south of the border will come to an agreement."
Former Chancellor of the Exchequer Alistair Darling, an opposition Labour Party lawmaker representing a parliamentary district in Edinburgh, called for cross-party unity in the fight against independence.
"The last thing Scotland needs is this posed as an SNP government in Edinburgh up against a Tory government in London," Darling said on BBC Radio 4. "That is where Salmond wants us to be. If you play Scotland against England, that plays to his advantage. This is so important, the sooner we get onto the big questions -- what currency would we have, would we be going into the euro, how much debt are we going to have -- big questions about how we see Scotland's future."
British Empire
The union between England and Scotland in 1707 created the country that dominated the world for more than a century, with Scotland providing many of the soldiers, industrialists, politicians and thinkers who helped build the British Empire. Darling and former Prime Minister Gordon Brown are Scottish, and Brown's predecessor, Tony Blair, was born in Edinburgh.
Salmond's choice of 2014 coincides with the 700th anniversary of the Battle of Bannockburn, a decisive moment in the Wars of Scottish Independence. "Flower of Scotland," sung as an unofficial national anthem when Scottish sports teams play internationally, tells of the Scots' victory over England's King Edward II and how they "sent him homeward, to think again."
An Ipsos-Mori poll last month found almost two-thirds of Scots wanted the referendum called before 2014 and that 38 percent supported independence, against 57 percent who opposed it. The company polled 1,001 Scots between Dec. 1 and Dec. 4. Scotland is home to 5.2 million of the U.K.'s population of 62 million.