PAI to Raise 3 Billion Euros for Europe's Global Companies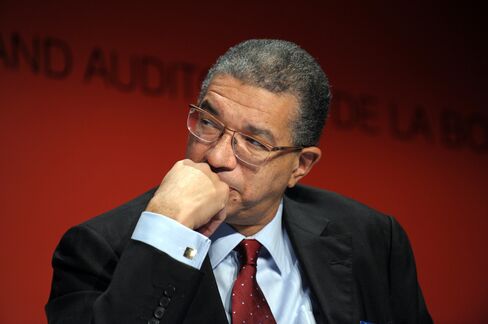 French buyout firm PAI Partners is betting on Corporate Europe, looking beyond the region's sovereign debt crisis.
The private-equity company is poised to raise as much as 3 billion euros ($3.7 billion) to buy European companies with a global reach, Chief Executive Officer Lionel Zinsou said in a July 7 interview in Aix-en-Provence, France. It's "a matter of weeks before we launch" the new fund, he said.
"Corporate Europe is doing far better than sovereign Europe," Zinsou said. "European companies are in a sense the most global on the planet. We see interesting opportunities. We see nothing like a decrease in sales in our portfolio companies."
PAI is joining a long list of buyout firms such as Apax Partners LLP and Permira Advisers seeking funds to fish for deals in Europe, taking a contrarian view as the region's sovereign debt crisis keeps investors away. The Paris-based firm is in talks with investors "to see if they like the concept of reinvesting in Western Europe, " Zinsou said, adding that the interest is "encouraging."
Concern Europe's debt crisis and volatile financial markets are harming economic recovery is making investors and lenders more wary. Firms have led $20 billion of leveraged buyouts in Western Europe this year, down from $30.4 billion in the same period last year, according to data compiled by Bloomberg.
Corporate Investments
Still, the crisis provides opportunities for funds such as PAI to buy up companies struggling to refinance debt.
PAI last year bought Kiloutou, a French equipment-rental group, ground handling services company Swissport and Dutch lingerie retailer Hunkemoller. Earlier, the fund invested in French laboratory Cerba European Lab, computer services supplier Atos Origin, and Xella, a German maker of building materials.
"We see interesting prospects in the French market, we could see some interesting stressed vendors in Southern Europe," the PAI chief said. "Competitive Nordic and German parts of Europe are also quite active. We are moderately optimistic, not pessimistic on the European economic outlook and governance."
For Europe, the vote of confidence comes as the region struggles to emerge from an almost three-year-old sovereign debt crisis that has slowed growth and increased joblessness.
"We don't see a credit crunch" for PAI's segment of the buyout market, Zinsou said. "We see that it's tense and it's costly, but nothing like the stress of liquidity of 2009 and the beginning of 2010 when the debt markets were closed."
'Advanced Phase'
The new PAI fund will "typically" invest about 300 million euros in equity in eight to 12 investments to diversify, Zinsou said.
Before raising new funds, PAI must have invested at least 75 percent of its existing fund, he said. For now, PAI has invested 71 percent of its 2.7 billion-euro PAI Europe V fund, leaving it with about 600 million euros to invest as it will keep about 10 percent in cash as a buffer.
Typically, private-equity firms get money from investors such as pension plans and endowments, with a mandate to invest it within five to six years and return it with a profit after about 10 years. Investors tend to wait for distributions from earlier funds before committing again to new pools.
"We are in advanced phase of studying several opportunities," Zinsou said, adding that PAI's specialties are retail business services, consumer goods and some very specific industrial segments.
Not Fleeing
Separately, Zinsou dismissed concern about a French government plan to cap debt deductibility for leveraged buyout firms, saying it may put French firms on par with those in Germany and Italy.
"We've made various simulations on our historical portfolio," he said. It could have an impact of about 1 percentage point on the internal rate of return, he said.
He also expects LBOs not to be hit by a 75 percent tax rate on personal income exceeding an annual 1 million euros introduced by the French government.
"I understand there will be a special treatment for people selling companies" which should include buyout firm managers, he said, adding that "provided that this is pragmatic we do not foresee people fleeing out of France in a significant scale."
Before it's here, it's on the Bloomberg Terminal.
LEARN MORE