Olympus May Sue Present, Past Executives Over Cover-Up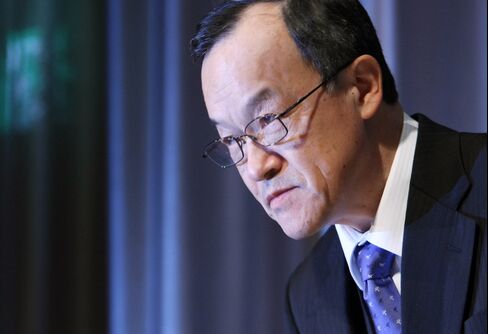 Olympus Corp., the camera maker that admitted hiding losses for over a decade, said it's considering suing present and past executives after receiving a report from a panel probing management responsibility for the cover-up.
The company will announce its response to the panel's report on Jan. 10, it said in a statement to the Tokyo Stock Exchange today.
Olympus should seek damages of more than 90 billion yen ($1.2 billion) from more than 10 current and past executives, including President Shuichi Takayama, for covering up massive losses, according to the panel's report, Kyodo reported earlier today. Former Chief Executive Officer Michael Woodford, who was fired after he questioned $1.5 billion in takeover costs, is suing the company over his dismissal.
The company inflated fees to advisers on the 2008 acquisition of Gyrus Group Plc and overpaid in purchasing three Japanese companies with the intention of increasing goodwill, a separate independent panel investigating the fraud said last month. The panel said it found a culture of "yes men" and a board that failed in its duty to stop a "rotten" core of executives from duping auditors, regulators and investors.
$5 Billion Slide
Tokyo-based Olympus admitted in November that former Chairman Tsuyoshi Kikukawa, Hisashi Mori, who was fired as executive vice president, and Hideo Yamada, a former company auditor, colluded to hide losses on securities investments in the 1990s.
The company has lost about $5 billion of market capitalization since firing Woodford and was forced to restate more than five years of earnings last month to avoid an automatic delisting from the Tokyo Stock Exchange after admitting to a 13-year cover-up.
The 92-year-old company's net assets fell by 105 billion yen to 46 billion yen after the restatement, while it was still at risk of being delisted pending a review by the TSE. The earnings restatements prompted Rating and Investment Information Inc., a Tokyo-based credit-rating company, to cut its assessment of Olympus two steps to BBB-, the lowest investment grade.
The Tokyo Stock Exchange is preparing to allow Olympus to stay listed and fine the company 10 million yen instead, the Yomiuri newspaper reported, without saying where it got the information. The bourse may make a final decision this month, the report said.
Olympus declined to comment on the report, Yoshiaki Yamada, a spokesman for the company, said today.
Shares Rise
Olympus rose 2.1 percent to close at 1,053 yen as of the 3 p.m. end of trading on the Tokyo Stock Exchange on Jan. 6. The shares have lost 58 percent since Woodford was fired.
The 51-year-old former CEO filed a case in the U.K. last week seeking damages for the remainder of his four-year contract and additional costs. The British national said last week he may also file a case in Japan.
Woodford also abandoned efforts to regain control of Olympus after failing to gain support from Japanese shareholders.
Olympus's biggest shareholder, Sumitomo Mitsui Financial Group Inc., said after Japanese prosecutors raided the camera-maker's offices that it would maintain support for the company. Southeastern Asset Management Inc., the company's biggest overseas stockholder, and Harris Associates LP have said the entire board and all executives involved in the fraud must go.
Criminal Investigations
The company, which is also the world's largest maker of endoscopes, has become the center of criminal investigations in New York and the U.K., as well as Japan, since Woodford made the takeover payments public in October.
Olympus last week said it may hold may hold an emergency shareholder meeting as early as March depending on the results of the panel reviewing management at the company. Woodford said last week that allowing the current board to remain is damaging to the company.
Takayama, who was named president in October after Kikukawa stepped down, is preparing to resign, Kyodo reported today. He has said wanted to win back investor confidence by revamping management and carrying out an internal inquiry to find other executives involved in the cover-up.
Founded in 1919 as a microscope and thermometer business, Olympus produced its first camera in 1936 and its first "gastrocamera," a predecessor to the modern-day endoscope, in 1950, according to its website. Olympus now controls 75 percent of the global market for endoscopes, instruments doctors use to look inside the body cavity to help detect disease.