New Air Force Stealth Bomber Backed by Obama in Defense Plan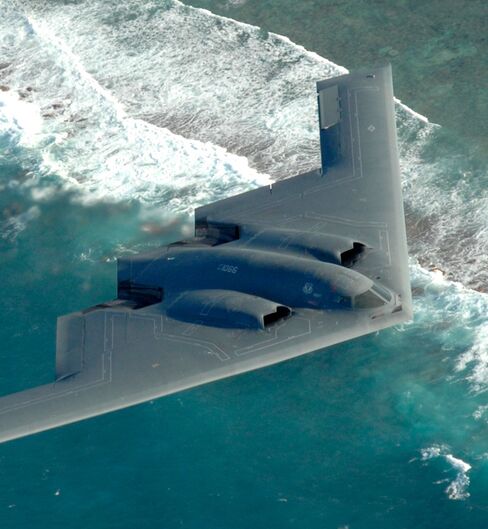 President Barack Obama's military strategy calls for development of a new long-range stealth bomber even as the Pentagon seeks about $490 billion in reductions in the next decade.
The bomber is part of the administration's goal to have weapons that are able to reach areas far from bases and where "our access and freedom to operate are challenged," according to Obama's updated defense strategy released today.
The development of the aircraft will be the first new bomber design in about three decades, since Northrop Grumman Corp.'s B-2.
"This is a big green light for long-range strike capabilities and for the next bomber," Mark Gunzinger, a senior fellow at the Center for Strategic and Budgetary Assessments in Washington, said in a phone interview. "The bomber could very well be perhaps the only major new program start in this next budget."
Lockheed Martin Corp. and Boeing Co. will probably compete for the aircraft, Gunzinger said.
Plans call for the new bomber to be "optionally manned," meaning it may be flown by a pilot or operated remotely, Major Chad Steffey, an Air Force spokesman, wrote in an e-mail. Such a plane would be a first, Steffey said.
Congress in December approved $297 million for research and development of the new aircraft for the current fiscal year, $100 million more than the Air Force requested.
The Air Force expects to begin using the new bomber, which will carry nuclear weapons, in the mid-2020s, Steffey said.
The B-2 Spirit went into development in 1981. The bat-wing-shaped bombers cost about $1.2 billion each.
Before it's here, it's on the Bloomberg Terminal.
LEARN MORE