Giants' Win Over Dallas Is Most-Watched Primetime Game on NBC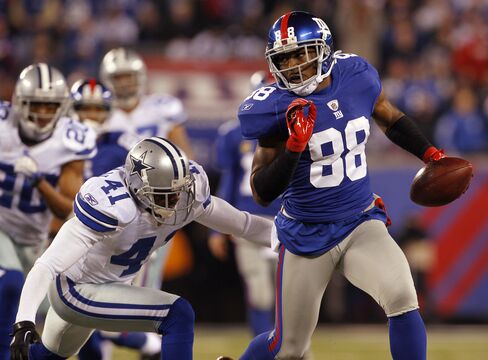 The New York Giants' 31-14 win over the Dallas Cowboys Jan. 1 on NBC was the most-watched regular-season primetime National Football League game in the network's six years of broadcasting the sport at night.
New York's victory, in which the team clinched the National Football Conference East title to set up a playoff meeting with the Atlanta Falcons on Jan. 8, was seen by 27.6 million viewers, Comcast Corp.'s NBC Universal said in a statement citing Nielsen Media Research.
The viewership total was 42 percent higher than last year's NFC West-deciding game between the St. Louis Rams and Seattle Seahawks, which drew 19.4 million viewers, NBC said.
The Giants-Cowboys matchup eclipsed a Sept. 9, 2010, season-opening game between the New Orleans Saints and Green Bay Packers, which drew 27.5 million viewers.