Rajoy to Raise Taxes, Cut Spending as Deficit Exceeds Target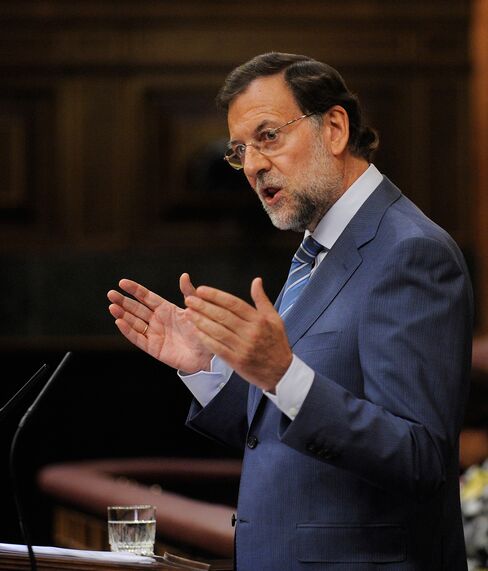 Spanish Prime Minister Mariano Rajoy announced 14.9 billion euros ($19.3 billion) of spending cuts and tax increases, with public finances in worse shape than the previous government and the European Union had expected.
The deficit this year will reach 8 percent of gross domestic product, requiring tax increases of about 6 billion euros and spending reductions of 8.9 billion euros, spokeswoman Soraya Saenz de Santamaria said at a press conference in Madrid. The previous government had targeted a deficit of 6 percent, while the European Commission saw a shortfall of 6.6 percent and economists surveyed by Bloomberg estimated a 6.9 percent gap.
Rajoy, fighting to prevent Spain from needing an international bailout, turned his back on an election pledge to cut taxes rather than raise them as he tries to stem a growing debt burden and restore the shrinking economy. Joblessness of 22 percent helped drive former Prime Minister Jose Luis Rodriguez Zapatero's Socialist Party from power in the Nov. 20 elections, when Rajoy won the biggest majority in three decades.
Surprises
"What surprised me were the tax increases, which weren't part of their plans," Angel Laborda, chief economist at Funcas, the research arm of the savings bank foundation, said in a telephone interview. "It's a message that they will sacrifice things that are sacred to them to contain the deficit."
The yield on Spain's 10-year benchmark bond fell 9 basis points to 5.08 percent. Spanish bonds have been Europe's best performers since the election, gaining 8 percent since the Nov. 20 vote and providing Rajoy with breathing space in his task of funding more than 30 billion euros of maturing debt in the first quarter. Spain is scheduled to hold its first bond auction of 2012 on Jan. 12.
"The more favorable assessment of Spanish risk over the past several weeks is likely to give way to renewed concerns about Spain's creditworthiness," said Nicholas Spiro, managing director of Spiro Sovereign Strategy in London. "The scale of the fiscal adjustment is now much more challenging."
Spain will finish the year with a budget gap twice that forecast for Italy and more than four times Germany's shortfall. It has pledged to cut the deficit to 4.4 percent in 2012.
"I regret the sizable fiscal slippage," Olli Rehn, the European Union's economic and monetary affairs commissioner, said in a statement. "This set of measures gives a much needed signal to underline the new government's determination" to push ahead with deficit reduction, he said. The savings and revenue increases amount to 1.5 percent of GDP, Rehn said.
Higher Taxes
The government, which made campaign promises to promote saving, said today it will raise levies on income from savings and on property. A temporary additional income tax will start at 0.75 percent for the lowest earners, rising to 4 percent for those earning 53,407 euros a year and 7 percent for those on 300,000 euros or more.
The additional levy on revenue from savings starts at 2 percent tax on income of as much as 6,000 euros, rising to 4 percent above that and 6 percent on income above 24,000 euros.
A freeze on civil servants' wages will remain in place and their working week will stretch to 37.5 hours from 35. Pensioners will receive a 1 percent increase, a move that will cost 1.4 billion euros, and the government will also maintain a special 400-euro-a-month unemployment benefit, a popular measure in a country where almost one in four people is jobless. It will bring back a rebate for mortgage-holders.
2012 Budget
The measures announced today are to carry the nation through until a 2012 budget is presented and approved before March 31. Rajoy will need to find additional savings to meet the goal of trimming the deficit to 4.4 percent next year and 3 percent in 2013.
"We haven't seen anything yet," said Laborda, who forecasts the deficit may exceed 8 percent in 2011. "We still need to see really potent measures."
The government missed its deficit target due mostly to bigger shortfalls in Spain's 17 autonomous regions, Budget Minister Cristobal Montoro said. The PP now rules in the majority of those regions and will have to figure out how to cut those budget gaps amid a shrinking tax base. The PP has a chance to gain control of Andalusia, a Socialist stronghold, in regional elections in March.
The Socialists, who suffered their worst electoral defeat in three decades last month, said the deficit revision was "an excuse" and that the central government will meet its target this year. While final data isn't available, the PP "knows the situation in the regions very well, because it governs most of them," Inmaculada Rodriguez-Pinero, the party's economy spokeswoman, told reporters in Madrid today.
----With assistance from Charles Penty in Madrid and Alessandra Migliaccio in Rome. Editors: Jeffrey Donovan, Jim Silver
Before it's here, it's on the Bloomberg Terminal.
LEARN MORE