Arsenal Moves Wolves Game to Dec. 27 on Transport Strike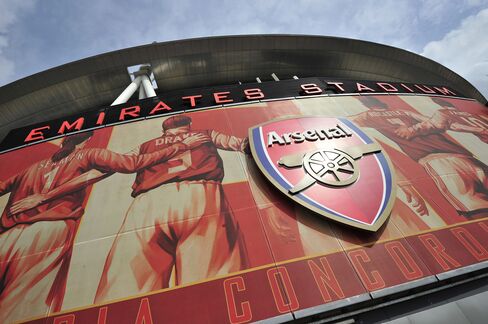 Arsenal has postponed its Premier League soccer match against Wolverhampton Wanderers by 24 hours to Dec. 27 because of a strike by London Underground workers.
London Underground Ltd. today failed in a court bid to stop the action by train drivers from the Associated Society of Locomotive Engineers and Firemen union. ASLEF plans strikes on four days over holiday pay, including the day after Christmas.
Arsenal's match will now be played at 3 p.m. local time on Dec. 27.
"The paramount concern was always the duty of care towards the Arsenal supporters, Wolverhampton Wanderers supporters, matchday employees and workers and indeed everyone who was planning to attend the match on Boxing Day," Arsenal said in a statement on the club's website.
The Gunners beat Aston Villa 2-1 yesterday to remain in contention for the top four finish they need to qualify for next season's Champions League. Arsenal is behind fourth-place Chelsea on goal difference.
Chelsea said yesterday that its game against Fulham on Dec. 26 will go ahead.
Before it's here, it's on the Bloomberg Terminal.
LEARN MORE