Citibank Japan CEO Buckley to Resign After Lender Punished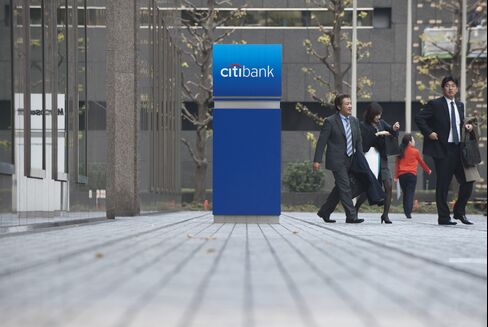 Citigroup Inc.'s head of Japan banking, Darren Buckley, will step down next month after the lender was punished by local regulators for the third time in seven years.
Buckley will resign as chief executive officer of Citibank Japan Ltd. on Jan. 10, it said in a statement in Tokyo today. Peter Eliot, currently head of Citigroup in Thailand, will temporarily replace Buckley while the bank seeks a Japanese national to fill the role on a permanent basis.
The Financial Services Agency today said it told the company to stop soliciting sales of products including mutual funds and foreign-exchange deposits to retail customers after it failed to fully explain their risk. Citigroup's local securities unit and Swiss bank UBS AG were also ordered to suspend some derivatives transactions after staff of the firms attempted to influence interbank lending rates, the FSA said in a statement.
Citigroup Chief Executive Officer Vikram Pandit is trying to restore the bank's reputation in Japan, after regulators previously found fault with its private-banking operation and a lack of internal controls. The FSA will continue to inspect the New York-based bank's Japan operations, the regulator said today.
The U.S. lender's local securities unit will be banned from trading tied to the London and Tokyo interbank offered rates, or Libor and Tibor, for two weeks from Jan. 10, the agency said. UBS received a one-week suspension from the same date.
Appoint Japanese
Citigroup plans to appoint Japanese nationals as chairman and independent board members to enhance governance, the statement said. Brian Mccappin, CEO of Citigroup's brokerage unit in Japan, will also resign, it said.
Libor and Tibor are rates at which banks are willing to lend money to each other. Employees of Citigroup and UBS tried to improperly influence Tibor to their firm's advantage, the Securities and Exchange Surveillance Commission said last week.
Both Zurich-based UBS and Citigroup lacked internal controls to deal with the employees' actions, the commission said on Dec. 9. There is no evidence that the Tibor rate was manipulated following the actions, the SESC said.
The marketing ban at Citibank Japan will last a month from Jan. 10. The lender has already stopped soliciting sales of products including investment trusts and retrained staff since June amid an onside inspection by the FSA.
Citigroup has had a presence in Japan since opening a branch in Yokohama in 1902, according to its website. The bank has 32 branches and offices in Japan with 1,790 employees. The Citicorp division, which includes retail banking, had $2.9 billion in consumer loans in Japan as of Sept. 30, Pandit said in a presentation earlier this month.
In 2009, the FSA ordered Citigroup to suspend marketing of banking services to individuals for a month after failing to install adequate internal controls to detect and monitor suspicious transactions. In 2004, the regulator told the company to close its private banking operations in the country.
Before it's here, it's on the Bloomberg Terminal.
LEARN MORE