Wal-Mart's Asda Discounts Target Argos in U.K. Toy War: Retail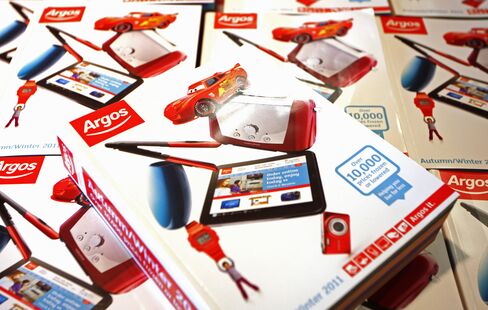 Price wars on toys are as much of a British Christmas tradition as turkey dinners. In a season when shoppers are cutting back on almost everything apart from their children, the battle to supply Santa is fiercer than ever.
From Wal-Mart Stores Inc.'s Asda supermarket chain to online retailer Amazon.com Inc., discounts of as much as 50 percent are widely available on products from radio controlled cars to doll houses. For the first time, Home Retail Group Plc's Argos, the U.K.'s biggest toy retailer, is being targeted by Asda in a campaign that directly compares prices.
"Things are so difficult that everyone is discounting to try and get people through the door," said Richard Cathcart, a retail analyst at brokerage Execution Noble in London. Asda is "turning the screw a little bit," which may have an impact on sales and profitability at chains such as Argos, he said.
Retailers are battling over a market that researcher NPD Group estimates at 2.9 billion pounds ($4.5 billion) per year, with the holiday period accounting for about 35 percent of that. During a time when consumer spending has been hurt by austerity measures and rising joblessness, and with most parents making the children their Christmas priority, companies such as Home Retail and Mothercare Plc are relying on holiday sales to help meet analysts' reduced profit estimates.
Price pressures on toys "have never been greater," said Lisa Byfield-Green, an analyst at Planet Retail in London, which has researched the industry for 16 years. Argos, Mothercare and Toys "R" Us Inc. are likely to be holiday "losers," she said, as supermarkets and Web retailers such as Amazon offer more discounts and broaden their range.
Price Pressures
Shoppers such as Janise Shelton, a 40-year-old mother of three, agree. "Argos isn't as cheap as it used to be," she said outside the retailer's store on Old Street in central London. "There are deals just as good in some of the big supermarkets and they have all the big brands."
Analysts expect Home Retail's adjusted per-share earnings to fall 55 percent in the year through February from a year earlier, data compiled by Bloomberg show. For Mothercare, a 91 percent drop is predicted. Tesco Plc, the U.K.'s largest supermarket chain, may report a 1.7 percent decline and smaller rival J Sainsbury Plc a 2.4 percent gain, according to the data.
Argos cut prices on more than 1,000 toys by as much as 50 percent for the holiday, including a GoGo My Walking Pup to 29.99 pounds from 59.99, and Junior Monopoly to 7.49 pounds from 15.99 pounds. The chain reduced the VTech First Steps Baby Walker by 5 pounds to 22.99 on its website. That's still more than prices of 20 pounds at Asda and 18.39 pounds at Tesco.
Asda Advertising
Asda, the U.K.'s second-biggest supermarket chain, has directly targeted Argos in its advertising with a television campaign that compares prices with those of its rival based on a Skuuudle.com price-checking website. The retailer said it was cheaper on 77 percent of toys based on prices as of Oct. 10.
Asda's larger competitor Tesco introduced the Carousel range of budget-priced toys for under-five year-olds in November, while Sainsbury ran a week-long promotion cutting the price of every toy in its stores by 50 percent on Oct. 27.
Shares of Argos's owner, Home Retail Group, have fallen 56 percent this year, the third-worst performance in the 17-member FTSE 350 General Retailers Index. Mothercare, whose Early Learning Centre chain is selling more than 100 toys at half price, is the index's biggest laggard, falling 73 percent in 2011. Chief Executive Officer Ben Gordon resigned in October after the Watford, England-based retailer said the second-half outlook had "materially worsened" in the U.K.
Children Get Priority
According to a survey conducted by Asda, most parents are loath to spend less on Christmas gifts for the kids. Four-in-five mothers said their children are the biggest priority, while 72 percent said they will spend most on gifts for little ones.
Customers "are prioritizing their kids," Andrew Moore, managing director of Asda's George clothing unit, said in an interview. "Some friends and relations may drop off the Christmas list."
Asda is offering more than 1,000 products for 10 pounds or less this year, including Mario pajamas and Disney Cars all-in-one suits, which are doing "incredibly well," Moore said.
Amazon.com will be a "big winner this Christmas" according to Natalie Berg, an analyst at Planet Retail, as shoppers are drawn to price comparisons on the Internet and free shipping offers. Amazon offers discounts of as much as 40 percent on toys, including a Thomas the Tank Engine playset reduced to 15 pounds from 24.99 pounds.
Vtech Innotab
Electronic gadgets are replacing traditional toys as best sellers this Christmas, and they are not always subject to the same discounting. The Vtech InnoTab and the LeapFrog LeapPad Explorer Learning tablet are among the U.K.'s most sought-after gifts, said Frederique Tutt, an analyst at NPD Group in London.
John Lewis Partnership Plc's U.K department stores said they're selling eight 79.95-pound Vtech Innotab tablets every minute, while some other high-priced items continue to do well, too: Sales of the Sylvanian Families Department Store, a miniature figurine and playset with 200 accessories and a family of resident mice, increased by 26 percent last week, although the price has not been discounted.
Still, "challenging is an understatement when it comes to describing this year's Christmas trading period," Planet Retail's Berg said.
Before it's here, it's on the Bloomberg Terminal.
LEARN MORE