Peru Growth Slowest in 21 Months as Unrest Threatens Mining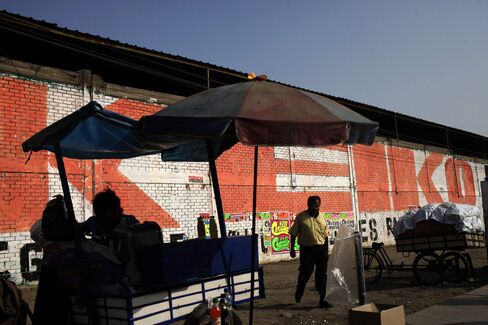 Dec. 15 (Bloomberg) -- Peru's economy expanded at the slowest pace in 21 months in October as rising consumer demand and government outlays failed to offset a slowdown in private investment that may worsen as social unrest delays mining projects.
Gross domestic product rose 5.1 percent in October from a year earlier, the national statistics agency said today in an e-mailed report. Economists predicted growth of 5.8 percent, according to the median estimate of 13 analysts surveyed by Bloomberg. GDP climbed 5.8 percent in September.
Slowing global growth curbed demand for Peru's textiles and metal exports and damped private investment in the third quarter, prompting the government to implement a $3 billion stimulus package. Protests that halted Newmont Mining Corp.'s Minas Conga gold mine project last month have clouded the outlook for mining investment in Peru, said Daniel Volberg, an economist at Morgan Stanley in New York.
"If the mining sector goes the wrong way and you have a significant decline in FDI inflows, that would be a downside risk to growth," Volberg said in a phone interview before the report's release. "The authorities are acting in a way that should help restore some confidence to investors but there's no way to know the final result."
President Ollanta Humala fired 10 ministers on Dec. 11, four months into his term, as he seeks to speed up the resolution of social conflicts slowing mining investment.
Cabinet, Safeguards
His new Cabinet chief, Oscar Valdes, said yesterday it's Humala's decision whether to call off the state of emergency in Cajamarca, where Newmont's project is based, after local political leaders suspended their protests against the project, which would be Peru's largest-ever investment.
Increased political conflict next year may delay other mining projects and slow economic growth, Barclays Capital Inc. said in an e-mailed report to clients yesterday.
The sol was little changed at 2.6974 per dollar at 11:40 a.m. Lima time, from 2.6975 yesterday.
Booming private investment fueled an 8.8 percent rise in GDP last year, making Peru the region's fastest-growing economy over the past five years with an average annual expansion of 7.2 percent.
The central bank kept its benchmark rate unchanged for a seventh month Dec. 7 on the expectation that slower growth in the world's third-largest copper producer will help bring annual inflation down from its highest level since 2009.
'Infrastructure'
Peru's economy, South America's sixth largest, will expand almost 7 percent this year, before growth slows to 5 percent to 6 percent in 2012, Finance Minister Miguel Castilla said Dec. 3. The government may expand its stimulus package to offset slower global growth, he said.
According to the statistics agency, manufacturing output contracted in October for the first time since November 2009, declining 0.8 percent, as clothing exports fell and production of refined copper and cathodes declined.
Retail expanded 8.7 percent while construction linked to public works rose 8.5 percent after declining 26 percent in September.
"Investment in infrastructure will be the card up the government's sleeve if the international economy weakens next year," said Renan Quispe, a former head of the statistics agency, in a phone interview from Lima.
To contact the reporter on this story: John Quigley in Lima at jquigley8@bloomberg.net.
To contact the editor responsible for this story: Joshua Goodman at jgoodman19@bloomberg.net.