Japan's Tankan Slides as Investment in China Weakens: Economy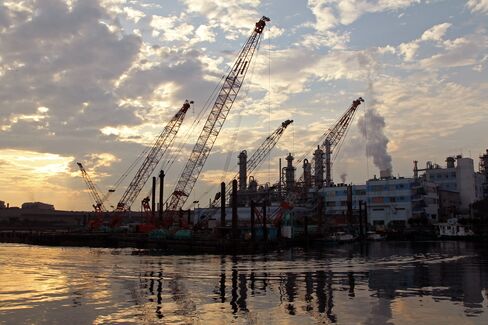 Japan's largest manufacturers became more pessimistic than economists expected and China reported the first decline in foreign direct investment since 2009 as Europe's crisis drags down the global economy.
The Tankan large manufacturer index of sentiment fell to minus 4 in December, the Bank of Japan said today in Tokyo, worse than the median estimate for a reading of minus 2 by 24 economists surveyed by Bloomberg News. Investment in China slid 9.8 percent from a year earlier to $8.76 billion, the Ministry of Commerce said.
In Japan, manufacturers from Toyota Motor Corp. to TDK Corp. are also under threat from a yen that rose to a postwar record against the dollar on Oct. 31 as investors seek a haven from turmoil in Europe. Chinese manufacturing may contract for a second month in December as Europe's debt crisis weighs on exports and home sales slide, a separate survey showed.
"The outlook completely hinges on what happens in Europe," said Yoshimasa Maruyama, an economist at Itochu Corp. in Tokyo. "If the debt crisis worsens further and spreads to the U.S., that could spark a recession there too and that would mean a recession for Japan as well."
The preliminary reading of 49 for a China purchasing managers' index from HSBC Holdings Plc and Markit Economics compares with a final number of 47.7 for November. The line between contraction and expansion is 50.
The yen traded at 78.08 against the dollar at 12:44 p.m. in Tokyo. The currency's post World War II high was 75.35 and companies surveyed by the central bank said they expect it to trade at 79.02 for the year ending March 31. It was at 101.44 against the euro.
European Output
In Europe yesterday, reports showed the region's industrial production weakening and Spain's underlying inflation rate unchanged.
In the day ahead, the release of an index of euro-area manufacturing and services activity probably will show a fall to 46.5 in December from 47 in November, according to a Bloomberg News survey of economists.
Separate reports may show Italian consumer prices in November slipping 0.1 percent from October; U.K. retail sales excluding fuel falling 0.4 percent in November from the previous month; and euro-zone core inflation holding at 1.6 percent from a year earlier, according to the median estimates of economists surveyed.
Producer Prices
U.S. government reports scheduled for release today may show producer prices gained 0.2 percent last month and initial claims for unemployment benefits totaled 390,000 in the week ended Dec. 10, surveys of economists showed.
In Japan, a gain in the euro beyond 100 yen may compel the government to weaken its currency, Barclays Capital wrote in a report today. Japanese companies may be particularly vulnerable to swings in the euro rather than the dollar because they don't have extensive production bases in the region, it said.
TDK, the world's biggest maker of magnetic heads for disk drives, is among Japanese companies cutting jobs, while Panasonic Corp. has picked Malaysia as the site for a solar-cell plant, to hedge against currency risks. At Toyota, poised to lose its crown as the world's largest automaker, currency gains have forced price increases, threatening to further erode global market share after production disruptions from the temblor and floods in Thailand.
"We raised prices of some our models on the high yen, and this is very difficult for us to admit, but we expect a drop in sales from this," Satoshi Ozawa, chief financial officer at Toyota, said this month. "Still, the yen is too strong, and we had to sacrifice some unit sales."
Capital Outlays
Capital spending by all large companies will increase 1.4 percent, less than economists forecasts for a 2.5 percent increase, the Tankan survey showed. The report, issued quarterly by the central bank, is the most closely watched gauge of corporate confidence and surveyed more than 10,000 companies between Nov. 14 and Dec. 14.
The BOJ begins a two-day meeting on Dec. 20 in which they will set the benchmark interest rate, currently near zero, in addition to the size of lending programs and a fund that buys securities including Japanese government bonds. It expanded its asset purchases and fixed lending facility to 55 trillion yen ($704 billion) in October, a move that failed to weaken the yen from a then record high. The Finance Ministry ordered an unprecedented amount of yen sales less than a week later.
"I don't think the balance of economic indicators is compelling enough for the BOJ to decide to ease next week," said Takuji Okubo, chief Japan economist at Societe Generale Securities in Tokyo. "I think they will wait for another month."
Before it's here, it's on the Bloomberg Terminal.
LEARN MORE