Jaguar's $132,000 XKR-S Blasts German 'Ring', Avoids Death Rail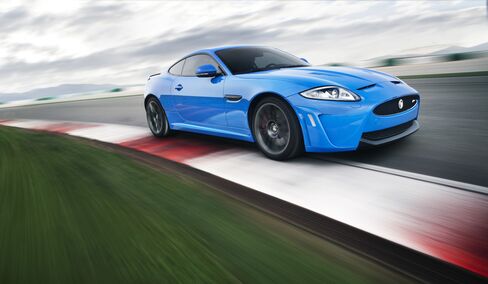 My hands are slick with sweat, and I don't want to slip on the steering wheel right now.
I'm driving the most powerful production Jaguar ever made, on one of the world's most dangerous racetracks. There's a heck of a lot of power under me -- 550 horses -- and I'm in fourth gear and flooring it. The rails of the metal safety barriers blur by, all too close.
The Jag is the XKR-S coupe, a $132,000 muscle car disguised as an elegant English grand tourer. It's the fastest car ever made by the company, now owned by India's Tata Motors Ltd.
The track is the 12.9-mile Nurburgring Nordschleife, a road course in western Germany. One of the most fearsome, difficult tracks in the world. It has a bewildering tangle of turns through a deep, rolling forest.
The Ring, as it's called, is a bucket-list type of track. That's ironic, as it actually could kill you.
The XKR-S is a good match since Jaguar tested and tuned the car here, a common tactic among makers of hardcore sports cars. The Ring shows up the flaws of even the best supercars, so it says something that the company also wanted me to give it a go. Good idea? I wasn't sure. The upside was adrenaline-churning fun. Downside? See the previous paragraph.
The XKR-S is based on the aging, $84,500 XK coupe. It was an all-new car in 2006, so seems creaky compared to recent Jags like the XJ sedan and recently revealed C-X16 concept sports car.
No Wallflower
Still, with 385-horsepower, the base XK isn't exactly a wallflower. Top speed is 155 mph and 60 mph comes in 5.2 seconds. Not bad, but it won't put fear in the hearts of Nissan GT-R owners.
So Jaguar supercharged the XK's 5.0-liter V-8, achieving an extra 165 hp and a total of 502 pound-feet of torque. That slices the 60 mph time to 4.2 seconds, and it blasts all the way up to 186 mph.
The exterior gets a carbon-fiber wing and lip on the front fascia. They look cool but probably serve little real purpose. More pertinently, the suspension was sent in for major surgery, getting revised components and updated software. The car was lowered. The net effect is a much sharper weapon. The ultimate expression of the XK, before this generation faces obsolescence.
Fortunately I'm not out on the Ring on my own. Rather I'm following behind a pro racecar driver in his own XKR-S. It would take months to learn the tricks of this confounding racetrack, so I'm mirroring his turns as best I can, blocking out memories of all the Nurburgring crash videos I've seen over the years.
1920s Track
I brush the brakes just before a hidden crest on an uphill section, settling the nose of the car just before a right, off-camber turn. Purpose-built for racing by the German government in the 1920s, the Nurburgring observes none of the rules of a modern, safety-obsessed track.
Because if you're not aware of that crest, it becomes a jump, potentially launching you into the safety railing. The course is lined with too-close, metal safety barriers, so even small mistakes are expensive -- both in damage to your car and the railing itself. Workers charge your credit card on the spot to fix railings, measuring damage by the meter.
The Jag is made of aluminum and is relatively light and rigid, so I avoid this fate, swinging sweetly through, 20-inch tires giving ample grip. We've completed our second full lap, almost 13 long miles, and the pace picks up again. I'm all for it. Mostly.
Lost Wheels
Some sections are rough. The "carousel" stretch has buckled concrete that makes the car jump back and forth concussively. Surely some cars have shuddered apart here, shedding bumpers and even wheels. The XKR-S gamely handles the beating, then tears up the short rise right following.
Fourth lap, my favorite section: A series of twisting, downhill curves. It's the best kind of thrill ride. The Jag goes down, down, down. I'm giving it throttle. The sports seat keep me tightly locked inside.
The car is vigorously loud. No mistaking the rough roar of that V-8. It's fast. Brakes are good. Steering is tight. Well built and decently balanced.
For all that, it's still a bit dated, design-wise. It'll entice buyers who loves Jaguars and want more power. There's even a convertible version, which starts at $138,000.
But it's not the dream car of those in their 20s or 30s who know the Ring from video games, and one day hope to bring a Nissan GT-R or hardcore Porsche 911 GT3 RS here in real life.
Last lap: I've survived. The track is all I hoped and feared. And I'm impressed by the XKR-S. But I can't wait to give Jaguar's next big thing -- perhaps that sexy C-X16 concept car -- a run on the Ring.
The 2012 Jaguar XKR-S at a Glance
Engine: 5.0-liter supercharged V-8 with 550 horsepower and
502 pound-feet of torque.
Transmission: Six-speed automatic.
Speed: 0 to 60 mph in 4.2 seconds.
Gas mileage per gallon: 15 city, 22 highway.
Price as tested: $132,875.
Best feature: Muscle car with Jaguar panache.
Worst feature: Somewhat dated looks.
Target buyer: The Jag lover who wants more of everything.
(Jason H. Harper writes about autos for Muse, the arts and leisure section of Bloomberg News. The opinions expressed are his own.)