Boys Jump Through Hoops for Sex in 'Lysistrata': Jeremy Gerard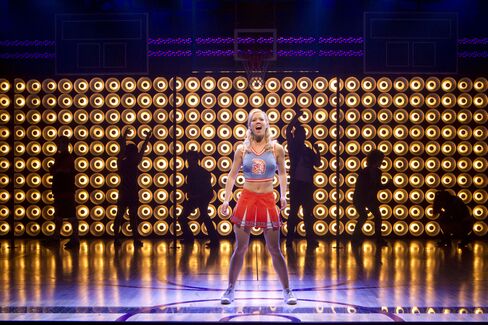 A new musical based on an ancient sex comedy, "Lysistrata Jones" has transferred creakily to Broadway, losing its innocence along the way.
This is a dumbed-down spin on the 2,400-year-old comedy by Aristophanes about the women of Athens, who go on a sex strike until their men stop running off to war.
Here, it is set at "Athens U," where the basketball team is regularly rewarded for its unbroken losing streak with post-game scoring courtesy of the cheer-leading squad.
Enter Lysistrata Jones (perky Patti Murin), who thinks it's odd that the boys don't even try to win. Encouraged by a poetry slam-digging librarian (Lindsay Nicole Chambers) and the fleshy courtesan Hetaira (Liz Mikel), Lyssie channels her ancestral namesake and convinces the squad to "give up giving it up" until the teams puts a number other than zero in the W column.
When the show opened downtown over the summer, much of its charm derived from the setting, a real gym that turned the audience into spectators. The topical script was by Douglas Carter Beane; the score, a pastiche of contemporary styles from rap to torch, was by Lewis Flinn, and it all seemed pretty harmless, not to say toothless.
On Broadway, the show has lost the immediacy of the gym. Director-choreographer Dan Knechtges is hobbled by the proscenium and the energetic staging now appears two-dimensional. Beane, an exhausting punchline machine, has added references to the iPhone 4S's Siri concierge siren and Newt Gingrich's credit line at Tiffany. On the street where Sondheim, Loesser, and Kander and Ebb live, it's small beer.
Junk food at Broadway prices is a tough sell. Pumping up the volume to ear-splitting levels only heightens the show's irritation quotient. Don't blame the game young cast. Producers, on the other hand, ought to know better.
At the Walter Kerr Theatre, 219 W. 48th St. Information: +1-212-239-6200; http://www.telecharge.com. Rating: *1/2
What the Stars Mean:
****        Excellent
***         Good
**          Average
*           Not So Good
(No stars)  Avoid
(Jeremy Gerard is the chief U.S. drama critic for Muse, the arts and leisure section of Bloomberg News. The opinions expressed are his own.)
Before it's here, it's on the Bloomberg Terminal.
LEARN MORE