Bears Receiver Sam Hurd Faces Cocaine Trafficking Charge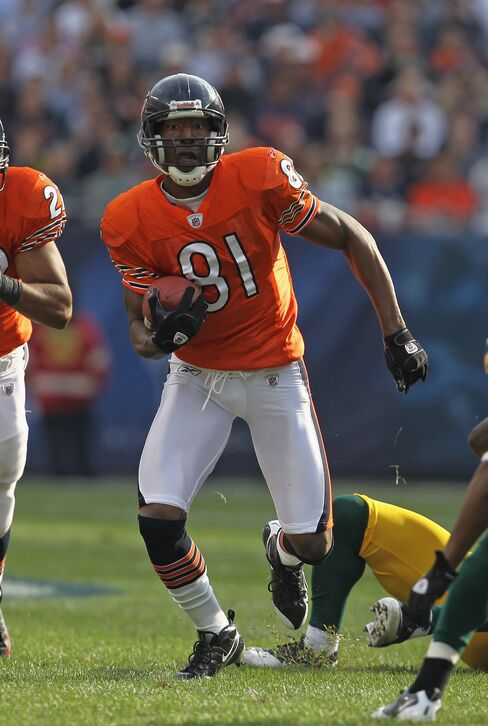 Chicago Bears wide receiver Sam Hurd appeared in court on a federal charge of possessing cocaine with the intent to distribute it in an operation in which he allegedly negotiated to spend $700,000 a week on drugs.
Hurd, 26, was charged in a criminal complaint filed today in federal court in Dallas with one count of conspiracy to possess with intent to distribute 500 grams or more of a cocaine mixture. If convicted, Hurd faces a minimum of five years and a maximum of 40 years in federal prison.
Wearing jeans and a charcoal t-shirt and accompanied by attorney Brett Greenfield of Los Angeles, Hurd spoke only to identify himself and give his age in his first court appearance today, in front of U.S. Magistrate Judge Young Kim in Chicago.
Hurd will be held in federal custody tonight while prosecutors and his lawyer discuss a possible bond. Authorities in Dallas want him to be detained and returned there to stand trial, unless the government agrees to transfer the case to Chicago.
Greenfield declined to comment after today's hearing.
"It's very early in the process," he said.
$25,000 per Kilo
Hurd negotiated a price of $25,000 per kilogram of cocaine and $450 a pound of marijuana, according to the filing, meaning he would have been willing to pay as much as $700,000 a week for the drugs.
He told an undercover agent that his supplier couldn't keep up with the demand from his customers, according to a court document.
"We are aware of Sam's arrest and are continuing to gather details surrounding it," the Bears said in a statement posted on their website. "We are disappointed whenever these circumstances arise. We will deal with them appropriately once we have all the information."
Hurd, who had been under investigation since July, was arrested outside a Chicago restaurant after accepting a kilogram of cocaine from a Homeland Security Investigations undercover agent, according to an affidavit filed with the court by HSI Special Agent George Ramirez.
Ashanti Webb, Hurd's agent, declined to comment in a telephone interview.
Undercover Agent
In the meeting with the undercover agent, Hurd said he was interested in buying five to 10 kilograms of cocaine a week and 1,000 pounds of marijuana a week with intent to distribute in the Chicago area, according to the affidavit.
Hurd also said that he and another person were distributing four kilograms of cocaine weekly in the Chicago area and that his supplier didn't have enough quantity, according to the affidavit.
Hurd spent his first five National Football League seasons with the Dallas Cowboys before joining the Bears as a free agent in July. The San Antonio native, who played at Northern Illinois University, has eight catches for 109 yards this season, and 77 receptions for 739 yards for his career.
The case is U.S. v. Hurd, 3-11-mj-590-bf, U.S. District Court, Northern District of Texas.
Before it's here, it's on the Bloomberg Terminal.
LEARN MORE