Vulcan Seen Squeezing $1 Billion More From Cement Bid: Real M&A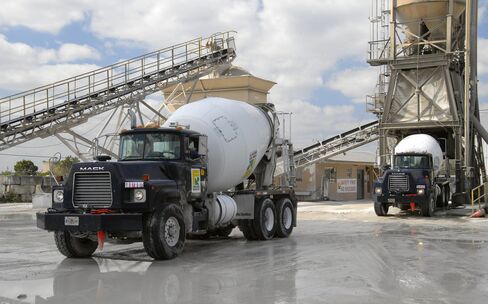 Vulcan Materials Co. may be betting it can squeeze $1 billion more out of a takeover bid that's already the most expensive for a U.S. building material company.
Martin Marietta Materials Inc.'s $4.8 billion hostile offer for Birmingham, Alabama-based Vulcan values the largest American producer of crushed stone at 24 times earnings before interest, taxes, depreciation and amortization. The multiple is the highest on record for an acquisition greater than $500 million of a U.S. maker of building materials such as cement, according to data compiled by Bloomberg that includes net debt.
As Martin Marietta attempts to create the world's largest supplier of sand, gravel and stone to cut operating and purchasing costs amid a five-year slump in U.S. construction spending, Vulcan should be able to secure at least $45 a share, according to RBC Capital Markets. That's 23 percent, or about $1 billion, more than the stock deal's value when it was announced. With Vulcan's shares closing above the offer yesterday, traders who profit from acquisitions are projecting a steeper price increase than any other pending U.S. takeover, the data show.
"Vulcan is probably saying, 'We're at the bottom of the market, so why take the first bid at the bottom?'" Kathryn Thompson, an analyst at Thompson Research Group in Nashville, Tennessee, said in a telephone interview. Martin Marietta is "very motivated. You'd have greater consolidation, which would give more stability in pricing. You have cost savings from a combination. When there is volume that comes back, you'll have even greater leverage," she said.
'Full and Fair'
Martin Marietta of Raleigh, North Carolina, offered on Dec. 12 to exchange half a share for each share of Vulcan, the equivalent of about $36.685 as of the closing price on Dec. 9, data compiled by Bloomberg show. Including the assumption of Vulcan's $2.7 billion in net debt, the deal is worth $7.5 billion, the data show.
"We have made a full and fair offer to Vulcan shareholders that provides an upfront premium and 58 percent ownership in the combined company," Anne Lloyd, chief financial officer of Martin Marietta, said in an e-mail response to questions.
Meghan Stafford, a spokeswoman for Vulcan, declined to comment on the bid. Vulcan's board said on Dec. 12 that it will review the unsolicited offer and advise shareholders within ten business days.
At 24 times Ebitda, the deal compares with a median of 10.4 times for U.S. takeovers greater than $500 million of companies involved in building material production or quarrying, data compiled by Bloomberg show. That's based off of Vulcan's Ebitda of about $306 million in the past 12 months, a third of its earnings in 2007 after three straight years of declines.
Industry 'Trough'
"If you're a long-term shareholder, you definitely believe it's low," Craig Hodges, a portfolio manager who helps oversee about $800 million for Dallas-based Hodges Capital Management Inc., said in a phone interview. "There's a lot of value in Vulcan. Martin Marietta is being smart and they're kind of buying at the trough of the industry."
Hodges said he sold his stake in Vulcan after the stock jumped 15 percent the day the deal was disclosed because the outcome of the acquisition is uncertain with a recovery in the construction industry more than a year away.
While the proposal is expensive relative to its earnings, Martin Marietta's offer is 1.93 times Vulcan's book value, the value of assets minus liabilities, for the industry's cheapest deal greater than $1 billion, data compiled by Bloomberg show.
Construction Slump
Vulcan, which supplies gravel, sand and crushed stone for the construction of buildings and roads, reported a net loss in 2010 and analysts project it will lose money again this year and next as a slump in construction spending continues. Before the deal was announced, Vulcan's market value had fallen 63 percent from a peak of almost $11.8 billion in 2007.
Starting in November 2007, U.S. construction spending dropped for 44 straight months compared with the year-earlier periods, the longest decline on record, according to Census Bureau statistics dating back to 1964. The streak ended with increases in July and August before spending fell again in September and October. Domestic spending peaked in March 2006.
"The outlook for construction demand in general remains muted, whether it's infrastructure or housing or commercial construction," Jack Kasprzak, an analyst at BB&T Capital Markets in Richmond, Virginia, said in a phone interview. "An effort to combine businesses and reduce costs and rationalize your footprint is what's at the core of an approach here."
Cost Savings
A combined company would claim about 15 percent of the U.S. aggregates market and save up to $250 million in costs from bulk purchases and duplicate operations, Ward Nye, Martin Marietta's chief executive officer, said on a Dec. 12 conference call. The new company would be able to grow at a faster pace when construction recovers and boost operating locations and mineral reserves, Nye said.
A deal would have to be worth at least $45 a share to get investors on board because Vulcan's Ebitda will likely double when construction spending starts to rebound, according to Robert Wetenhall, an analyst with RBC in New York. That increase would equate to an equity value that's more than $1 billion greater than when the deal was announced. It would also be 21 percent higher than the takeover value as of yesterday.
"They have to sweeten the deal," Wetenhall said in a phone interview. "There's huge operating leverage in this business. If you start to get volumes back and there is a recovery, then you go from having a tough profile to a really highly profitable business in a very quick moment."
Failed Merger Talks
In the last two days, Martin Marietta's shares climbed 1.7 percent to $74.65, boosting the all-stock deal to about $37.33 a share. Vulcan shares closed 3.7 percent higher than the current value of the bid yesterday, the most above the offer price of any pending U.S. deal greater than $500 million, data compiled by Bloomberg show.
Vulcan fell 1.9 percent to $37.97 today, while Martin Marietta dropped 4.3 percent to $71.43. The gap between Vulcan's shares and the deal, now valued at $35.72, reached the widest since the offer was announced.
Don James, chief executive officer of Vulcan, and Martin Marietta's Nye started merger discussions in April 2010, according to a Dec. 12 regulatory filing by Martin Marietta. While the discussions reached the point of proposing transaction structures and suggesting names for the new company, the talks fell apart over estimated cost savings and deciding on a CEO. The two last met May 26 in Atlanta, the filing showed.
With the hostile offer, Martin Marietta proposed that Nye remain CEO and that Vulcan's James become chairman.
No Rival Bid
A significantly higher price may be difficult to wrest from Martin Marietta without a rival bid, said Yemi Oshodi, managing director of M&A and special situations trading at New York-based WallachBeth Capital LLC. Increasing the stock conversion rate for Vulcan shareholders may prompt more wrangling between management teams for control of the new company, and adding cash incentives risks piling on too much debt, he said.
"I really have my doubts that you're going to get anything significant in terms of a bump here," Oshodi said in a phone interview. "You could get a little cash sweetener, but it's not going to be much."
Vulcan, which is rated two levels below investment grade by Standard & Poor's and Moody's Investors Service, has $2.8 billion in total debt, the highest for a similar-sized construction materials company in the U.S., data compiled by Bloomberg show. The company's borrowings increased with the $4.2 billion purchase of Florida Rock Industries Inc. in 2007.
Martin Marietta's bid is "highly aggressive" given Vulcan's debt load and the 96 percent reduction of its quarterly dividend to 1 cent per share in October, Matt Burton, president and co-founder of Narwhal Capital Management LLC in Marietta, Georgia, which manages about $400 million and holds about 600,000 shares of Vulcan, said in a phone interview.
Still, the company may need to boost the offer to about $44 a share to get stockholders on board, he said.
"Now you've got a lot of disgruntled shareholders" because of the dividend cut, he said. "I do think the deal will go through. One would hope that they could negotiate a higher price."
Before it's here, it's on the Bloomberg Terminal.
LEARN MORE