Spending at U.S. Veterans Agency Probed by Inspector General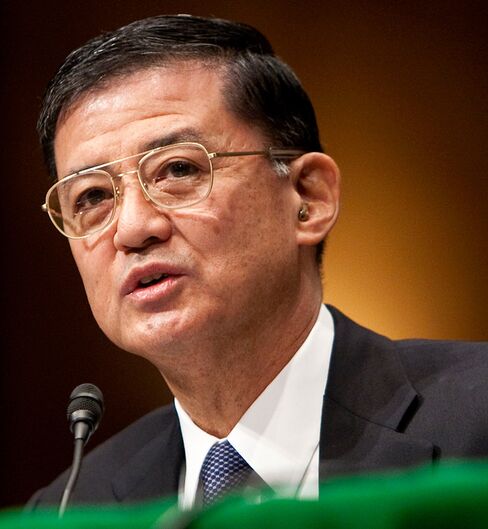 The inspector general for the U.S. Department of Veterans Affairs is investigating a lawmaker's allegations that the agency may have improperly spent billions of dollars on purchases including pharmaceuticals.
The VA may have paid out as much as $333 million without contracts in the fiscal year that ended Sept. 30, according to a letter to Veterans Affairs Secretary Eric Shinseki by U.S. Rep. Joe Donnelly, the top Democrat on the House Veterans' Affairs subcommittee on oversight and investigations. The unauthorized buying may have involved "billions of dollars" in spending over several years and put patients at risk, the Indiana congressman wrote.
"This information, if found to be true, is both shocking and deeply troubling," Donnelly said in the Oct. 28 letter obtained by Bloomberg News.
The Office of the Inspector General is reviewing the agency's use of so-called open market purchases, or those made without a contract in place, after Donnelly raised concerns about such practices, said Maureen Regan, the counselor to the inspector general.
Buying drugs or other medical products without a contract would make it hard for the government to ensure it's getting the best price, and that a purchase meets safety requirements and complies with trade agreements, said Larry Allen, president of Allen Federal Business Partners, a procurement consulting firm based in Arlington, Virginia.
'Big Issues'
"These are big issues: What steps did the VA take to make sure the government is getting a good deal, how was a price determined to be reasonable?" said Allen, who said he wasn't aware of the allegations until contacted by Bloomberg News.
George Opfer, the VA's inspector general, and his team of auditors and investigators are in charge of overseeing the agency's programs and detecting illegal activity, as well as waste, fraud and abuse in its spending. The inspector general's office will also review the agency's use of a "fast pay" system designed to provide rebates to the VA when payments are made to the McKesson Corp., the agency's primary pharmaceutical supplier, within 48 hours of receiving the invoice.
No Response
Donnelly's letter asked Shinseki to explain how the agency can ensure that drugs purchased without contracts meet federal safety and efficacy standards, and that the VA paid a fair price. The letter asked for records of meetings between VA officials and pharmaceutical suppliers as well as the names of agency leaders who approved decisions to buy drugs without contracts.
The lawmaker's panel has an obligation "to ensure that transparent and legal contracting procedures are being followed," he wrote.
No one from the VA has responded to Donnelly's request for information, which asked for the materials by Nov. 10, Elizabeth Shappell, a Donnelly spokeswoman, said in an e-mail.
"Allegations were brought to Congressman Donnelly's attention, and he had an obligation" to seek more information, said Shappell. She declined to comment on whether Donnelly believes the allegations or to reveal their source.
Representative Bill Johnson, an Ohio Republican who chairs the oversight and investigations subcommittee, said he is aware of the allegations.
"There is already an ongoing investigation and we will take the appropriate measures, but at this time, I cannot provide further details," Johnson said in an e-mail.
McKesson Contract
VA officials are aware of the concerns and reviewing the allegations, Jo Schuda, an agency spokeswoman, said in an e-mail.
"VA takes this issue very seriously and respects the Congressman's concerns," Schuda said. "We are examining the situation and will respond to the Congressman once that process is complete."
McKesson has been the VA's sole medicine supplier for veterans' hospitals and the department's mail-order pharmacies since 2004. Donnelly's letter doesn't mention McKesson or accuse it of wrongdoing, though it seeks documents and information related to the agency's "Pharmacy Prime Vendor."
The letter sought information about whether supplies in addition to pharmaceuticals were purchased without a contract. It didn't elaborate on the types of supplies.
Contract Expires
McKesson's contract expires in May, and the San Francisco-based medical supplier is competing with at least two other companies, Cardinal Health Inc. and AmerisourceBergen Corp., to keep the business.
Kris Fortner, a McKesson spokesman, issued a one-sentence statement yesterday saying "McKesson is in compliance with our contract with the VA."
The VA paid McKesson $3.8 billion for goods and services during the fiscal year that ended Sept. 30, according to data compiled by Bloomberg Government.
The new contract, which the VA plans to award by January, will determine whether McKesson keeps all or part of the work, valued at about 2 percent to 4 percent of McKesson's current earnings, according to a Sept. 19 report by Lisa Gill, a New York-based analyst with J.P. Morgan Securities LLC.
It might not be difficult for VA staff at certain facilities to make unauthorized purchases because there are 21 separate regions that make their own medical purchases for facilities within their region, said Allen, the procurement consultant.
"It's a big government," Allen said. "There are people out there who look at what is right in front of them but not from side-to-side, it doesn't necessarily mean they are acting with malicious intent."