U.S. Stocks Fall on Concern Europe Struggling to Contain Crisis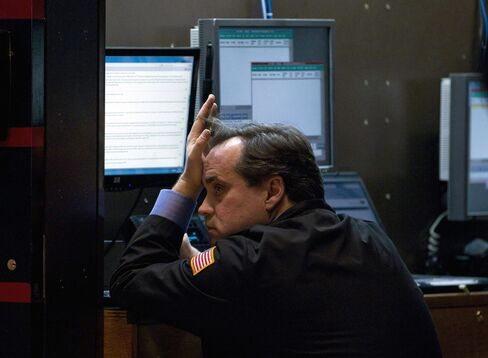 U.S. stocks retreated, sending the Standard & Poor's 500 Index lower for a third straight day, as growing funding stress in Europe fueled concern the region is struggling to contain its sovereign debt crisis.
Exxon Mobil Corp. and Newmont Mining Corp. fell at least
1.3 percent, as commodities dropped the most in almost 11 weeks. Chevron Corp. and Transocean Ltd. sank more than 2.9 percent as they were asked by Brazilian federal prosecutors to suspend all activity in Brazil. Joy Global Inc. tumbled 11 percent as the maker of mining equipment said demand for raw materials will remain slow. First Solar Inc. plunged 21 percent after reducing profit estimates and saying it will cut about 100 jobs.
The S&P 500 declined 1.1 percent to 1,211.82 at 4 p.m. New York time. The benchmark measure for American equities fell 3.5 percent in three days. The Dow Jones Industrial Average dropped
131.46 points, or 1.1 percent, to 11,823.48. The Nasdaq Composite Index slumped 1.6 percent to 2,539.31 as Apple Inc., the largest technology company, lost 2.2 percent.
"It's very frustrating," John Carey, a Boston-based money manager at Pioneer Investments, said in a telephone interview. The firm oversees about $220 billion. "There's just a hypersensitivity to stories coming out of Europe. Any indication is seen as something as a basis to trade. Nobody sees a way through this at the moment."
Stocks joined a global slump as Italy had to pay the most in 14 years to sell five-year bonds and the cost of insuring against default on European sovereign debt approached a record. Federal Reserve Chairman Ben S. Bernanke told Republican senators the Fed has no plan to provide aid to European banks, according to two lawmakers who attended the meeting.
Economic Slowdown
Bernanke also told U.S. senators that a worsening in the European crisis may harm the U.S. economy, according to a senator who attended the meeting. Equities fell yesterday after the Fed refrained from taking new actions to bolster growth at the world's largest economy. A three-day drop extended this year's decline in the S&P 500 to 3.6 percent.
All 10 groups in the S&P 500 retreated today, led by declines in companies most dependent on economic growth. The Morgan Stanley Cyclical Index sank 1.8 percent, while the Dow Jones Transportation Average lost 1.5 percent. The KBW Bank Index slid 0.5 percent, after gaining 0.9 percent earlier.
"It's all about the risk-off trade," Mike Ryan, the New York-based chief investment strategist at UBS Wealth Management Americas, said in a telephone interview. His firm oversees $715 billion. "It's continued concern about the euro zone. There's nothing constructive. You also start to see now concern about what the impact will be on U.S. corporate earnings."
Commodity Shares
Gauges of energy and raw material shares in the S&P 500 decreased at least 1.1 percent as the U.S. dollar rose, reducing the appeal of commodities. Exxon declined 1.4 percent to $79.44. Newmont Mining, the largest U.S. gold producer, erased 2.4 percent to $61.62.
Chevron sank 3 percent to $100.53, while Transocean retreated 3.9 percent to $40.19. Both companies should halt operations in Brazil and pay 20 billion reais ($10.7 billion) in damages after an oil spill last month, prosecutors urged a federal court.
Joy Global slumped 11 percent, the biggest decline since February 2009, to $75.44. Slowing global growth is tempering commodity demand, the company said. Sales for the latest quarter increased 27 percent to $1.34 billion from $1.05 billion, $10 million lower than the $1.35 billion average of 11 analysts' estimates compiled by Bloomberg.
Caterpillar Sinks
Other industrial companies declined. Caterpillar Inc., the largest construction and mining-equipment maker, dropped 4.4 percent, the biggest decline in the Dow, to $87. Cummins Inc. retreated 1.9 percent to $87.51.
First Solar plunged 21 percent, the most in the S&P 500, to $33.45. The stock fell to the lowest since 2007. The company said global production of solar panels has tripled in recent years as more companies, including Chinese suppliers, enter the market. Government subsidies for solar power, especially in Europe, have declined as those nations have trimmed budgets in an economic decline, Chairman and Acting Chief Executive Officer Michael Ahearn said.
Avon Products Inc. rallied 5.1 percent, the biggest gain in the S&P 500, to $16.96. The world's biggest door-to-door cosmetics seller said it will search for a new chief executive officer next year to replace Andrea Jung. Jung, 53, who has run Avon since 1999, will remain chairman and work with the board to recruit a replacement, the 125-year-old, New York-based company said yesterday in a statement.
'Long Shot'
Investors should consider buying shares of BlackBerry maker Research In Motion Ltd., according to Laszlo Birinyi, who advised clients to buy equities before they bottomed in March
2009.
"It is a long shot, but it is an idea which no one has considered," Birinyi, founder of Westport, Connecticut-based Birinyi Associates Inc., said in an interview today on Bloomberg Television's "In The Loop" with Betty Liu. "They still have some patents, they still have a product, they still have a brand," he said. "Every once in a while you want to go out there and take a shot."
RIM shares fell 73 percent this year in U.S. trading through yesterday. The company said this month that third-quarter revenue missed its forecast amid accelerating market-share losses for BlackBerrys and PlayBook tablets to Apple.
RIM lost 2.6 percent to $15.08 today, while Apple declined
2.2 percent to $380.19.
Before it's here, it's on the Bloomberg Terminal.
LEARN MORE