U.S. Lawmakers Urge High Bar for Japan in Trade Negotiations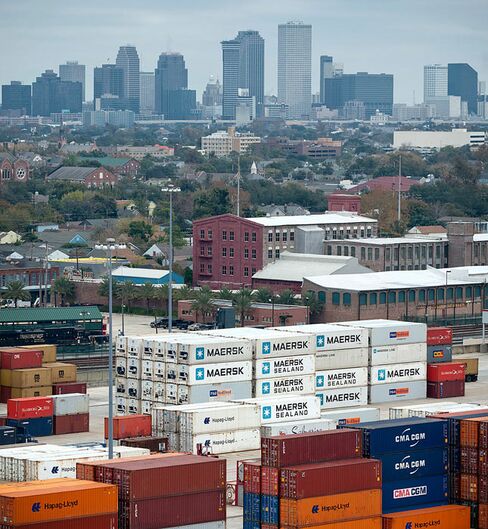 U.S. lawmakers urged the Obama administration to ensure that Japan meets market-opening requirements before being allowed to join nine nations negotiating a Pacific trade accord.
"It's too soon to tell" whether Japan is "up to the task of meeting the high standards that we expect" and will be part of the Trans-Pacific Partnership agreement, Deputy U.S. Trade Representative Demetrios Marantis responded today at a House Ways and Means committee trade panel hearing in Washington.
While the U.S. Trade Representative's office welcomes Japan's interest, the administration needs to determine in consultation with lawmakers and interest groups whether Japan's commitment is strong enough to merit joining discussions, he said.
The Obama administration is in negotiations with Australia, Chile, Peru and Singapore, all of which have separate deals with the U.S., along with Malaysia, New Zealand, Vietnam and Brunei. Japan, Canada and Mexico have expressed interest in joining the talks. If they do, it would be the largest free-trade deal ever for the U.S.
Doubling Exports
A Pacific agreement would help meet President Barack Obama's pledge to double U.S. exports by 2015 from 2009 levels. It's the centerpiece of the administration's trade policy after Obama won congressional agreement in October for his revised versions of deals with South Korea, Colombia and Panama that were negotiated under President George W. Bush.
Two-way trade between the U.S. and Japan totaled $181 billion last year, more than the $171 billion in U.S. trade with the eight other nations already in the Pacific talks, according to the U.S. Commerce Department. Companies such as Cargill Inc., the biggest U.S. agricultural company, and Wal-Mart Stores Inc., the world's largest retailer, support bringing Japan into the partnership.
While negotiators should create a path so that additional countries such as Japan can be included eventually, merging that nation into the deal would probably need to come after an initial accord is reached, Representative Kevin Brady said. Interest from new nations shouldn't delay talks on the agreement, he said.
Midyear Goal
"We think midyear is a goal and a target" for completing negotiations, Brady, a Texas Republican, said today in an interview at Bloomberg's Washington office. "We don't want to see it continue indefinitely."
Japan's attempt to join the talks faces opposition from U.S. automakers. Ford Motor Co. has urged Obama to spurn the request, saying Japan can't be counted on to lower its import barriers.
"Negotiations should not risk being delayed or derailed by protectionist economies like Japan," Stephen Biegun, Ford's vice president for international governmental affairs, said today in a statement.
Japanese Prime Minister Yoshihiko Noda has met resistance within his political party over joining the negotiations. Noda had delayed his Nov. 11 announcement that Japan intends to join the talks by a day as he sought to placate critics in his Democratic Party of Japan. Opposition in Japan is led by farm interests trying to preserve duties such as a 778 percent tariff on rice from abroad.
Removing Japan's import barriers is a worthwhile goal, and concern this will be difficult shouldn't exclude Japan from negotiations, Representative Jim McDermott, senior Democrat on the trade panel, told reporters today.
"I don't believe in preconditions when you sit down to talk to somebody," McDermott, of Washington state, said. "I believe you say, 'You have some issues, we have some issues, let's put our issues on the table and talk about them.'"
Before it's here, it's on the Bloomberg Terminal.
LEARN MORE