U.K. Unemployment Rises as Europe Darkens World Outlook: Economy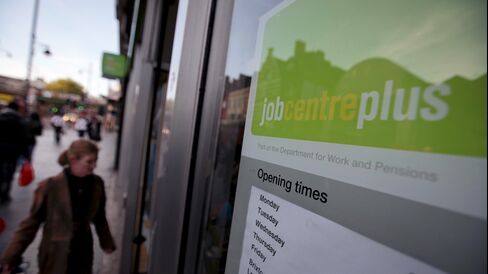 Dec. 14 (Bloomberg) -- U.K. unemployment rose to a 17-year high in the three months through October, deepening concerns Britain is heading for another recession as turmoil in the euro area damps the global economic outlook.
Unemployment as measured by International Labor Organization standards rose by 128,000 to 2.64 million, the most since 1994, the Office for National Statistics said in London today. The jobless rate climbed to 8.3 percent from 7.9 percent between May and July, the highest since 1996.
Policy makers across the world are raising concerns global growth may be slowing, with the Federal Reserve signaling it may need to ease policy further and Chinese Communist Party leaders describing the global outlook as "very grim." Bank of England Chief Economist Spencer Dale said Europe's debt crisis poses the biggest threat to Britain's economy and that the bank has scope to add to its 275 billion-pound ($427 billion) bond-purchase program.
"With the U.K. likely to be heading to a mild recession it's difficult to see the rise in unemployment being reversed any time soon," said Philip Shaw, an economist at Investec Securities in London. "By the end of summer we expect that the bank will have purchased 375 billion pounds of assets."
The pound was little changed after the labor-market report and traded at $1.5476 as of 11:38 a.m. London time, from $1.5479 yesterday.
Recession Risk
Separate data today showed European industrial production declined 0.1 percent in October after a 2 percent drop the previous month. An index of euro-area manufacturing and services activity due to be published tomorrow probably fell to 46.5 in December from 47 in November, according to a Bloomberg News survey of economists.
Martin van Vliet, an economist at ING Group in Amsterdam, said the euro-region economy is "slowly but surely slipping into a new recession."
European stocks fell today after the Fed refrained from taking new action to bolster the world's largest economy at a meeting of policy makers yesterday. It said in a statement that there is an "apparent slowing in global growth" and that "strains in global financial markets continue to pose significant downside risks to the economic outlook."
In China, lending slowed in November and money supply grew the least in a decade, the People's Bank of China said on its website today, highlighting the risk of a deeper slowdown in the world's second-biggest economy.
The benchmark Stoxx Europe 600 Index fell 0.8 percent and London's FTSE 100 Index dropped 1 percent. Germany's DAX declined 0.9 percent. The euro fell for a third day against the dollar, dropping below $1.30 for the first time since Jan. 12.
Job Cuts
The U.K. data also showed that jobless-benefit claims rose by 3,000 in November to 1.6 million, the highest level since January 2010. In the quarter through October, payrolls fell 63,000 as the government axed jobs and private companies all but froze hiring. Unemployment among 16-24-year-olds climbed 54,000 to 1.03 million, or 22 percent, the highest since comparable records began in 1992.
"Any increase in unemployment is bad news and a tragedy for those involved," Prime Minister David Cameron told lawmakers during his weekly question-and-answer session in Parliament in London today. "The key is getting the economy moving. We need private-sector jobs."
U.K. Squeeze
Thomas Cook Group Plc, Europe's second-largest tour operator, said today 660 jobs are at risk as it announced the closure of 200 U.K. shops and a scaling back of its plane fleet. The Bank of England's Dale said in an interview yesterday that Britain's economy may shrink for at least one quarter.
The impact of the euro-area crisis is being compounded by Chancellor of the Exchequer George Osborne's fiscal squeeze, which he says is necessary to shield Britain from the euro crisis. Opposition politicians say the downturn is being made worse by Osborne's refusal to compromise on the pace of deficit reduction, which will see the wages of state workers all but frozen until 2015 and more than 700,000 of them lose their jobs.
Third-quarter public-sector employment fell 67,000 to 5.99 million, the lowest level since September 2003, according to a separate report today, with local-government staff bearing the brunt. Private-sector employment rose 5,000 to 23.1 million.
To contact the reporters on this story: Jennifer Ryan in London at jryan13@bloomberg.net; Svenja O'Donnell in London at sodonnell@bloomberg.net
To contact the editor responsible for this story: Craig Stirling at cstirling1@bloomberg.net