Swisscom 2011 Profit to Be Cut by $1.3 Billion on Fastweb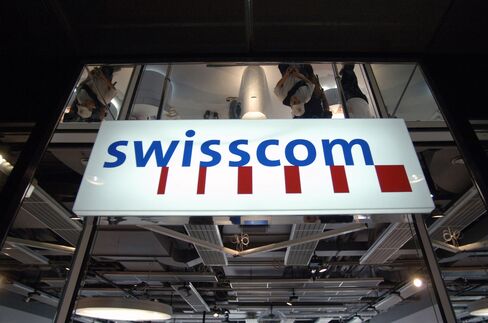 Swisscom AG, Switzerland's largest telephone company, said its 2011 net income will be cut by 1.2 billion Swiss francs ($1.3 billion) because of a writedown on its Italian fixed-line unit Fastweb SpA.
An impairment test showed Fastweb's valued at about 1.3 billion euros ($1.7 billion) less the asset's book value including goodwill, Bern-based Swisscom said today. Analysts had projected net income of 1.92 billion francs for this year, according to estimates compiled by Bloomberg.
"In the wake of the sovereign debt crisis, Italy's economic situation has worsened in the last few months," Swisscom said in a statement, citing increasing unemployment and political uncertainty as risks impairing Fastweb's growth.
Italian Prime Minister Mario Monti, in office less than a month, has proposed a 30 billion-euro ($39 billion) package of austerity and growth measures as he tries to show investors he can bring down borrowing costs and tame a debt that is bigger than that of Spain, Greece, Portugal and Ireland combined.
Swisscom fell as much as 5.7 francs, or 1.7 percent, to 339.50 francs and traded 0.6 percent lower as of 9:18 a.m. in Zurich. Before today, the stock had dropped 16 percent.
'Struggling'
"Fastweb has clearly been struggling given the poor trend in recent quarters," said Andrew Hogley, an analyst at Espirito Santo Investment Bank Research in London who recommends selling Swisscom shares. "The announcement confirms the scale of the challenge that Swisscom has with respect to Fastweb."
Swisscom, which acquired Milan-based Fastweb in 2007 to offset slowing growth in the Swiss market, has suffered from competition in Italy and a weaker euro that hurts revenue converted into francs. The company, which has invested 4.6 billion euros in the Fastweb acquisition, said today the price it paid in 2007 "was appropriate" given the situation at the time.
"It would be wrong to question the investment in Italy, and we are definitely not considering entering other markets," Swisscom Chief Executive Officer Carsten Schloter said on a conference call. "In regular time intervals we are considering all strategic options for the business, but even considering exiting the market when both the economic and the currency situation is at its worst would be a fundamental mistake."
The writedown will not affect Swisscom's planned dividend increase by 1 franc to 22 francs a share, the company said.
The economic situation is weighing on the residential customer business, which has been "under pressure" in the last few quarters, Swisscom said. Fastweb said it has a market share of about 20 percent in the large and medium-sized corporate segment.
Before it's here, it's on the Bloomberg Terminal.
LEARN MORE