Sino-Forest's Biggest Holder Asks for Bond Default Rethink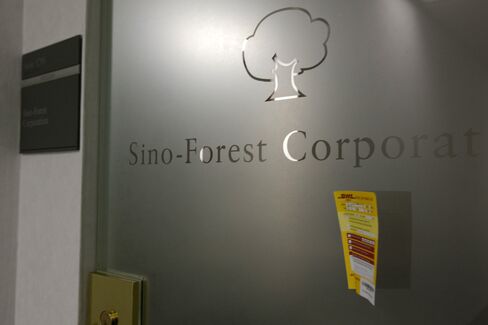 Sino-Forest Corp.'s biggest shareholder Richard Chandler Corp. is pressing the board of the Chinese timber company that is fending off fraud allegations to reconsider defaulting on its bond payments.
"It is disappointing and regrettable that the board has made this decision," Alan Kelly, a senior adviser to Singapore-based billionaire Richard Chandler, said yesterday in a statement. "In view of its strong cash reserves and liquidity, and excellent bond repayment track record, we urge the Sino-Forest board to reconsider meeting its bond commitments."
Sino-Forest, based in Ontario, said on Dec. 12 it will default on its bonds and miss a self-imposed deadline to report earnings as it considers putting itself up for sale. Sino-Forest's shares fell 83 percent in June after Carson Block, a short seller, said the company had exaggerated its timber assets in China.
Chandler, a New Zealander who Forbes said last year had a net worth of $3.1 billion, owns about 19 percent of Sino-Forest, according to data compiled by Bloomberg. His investment company spent at least C$148 million ($142.6 million) in July and August to increase its holdings after the plunge in Sino-Forest shares.
Sino-Forest this week said it won't make a $9.78 million interest payment on its 2016 convertible bonds that's due today.
Ratings Withdrawn
Moody's Investors Service said yesterday it will withdraw ratings for the company after downgrading them to "Ca," reflecting the "high likelihood" of default. "Ca" is the second-lowest rating level.
The Ontario Securities Commission halted trading in Sino-Forest shares on Aug. 26 and said officers and directors at the company may have engaged in acts "related to its securities" that they "knew or should have known" perpetuated a fraud. In September, the OSC extended the trading ban to Jan. 25. The Royal Canadian Mounted Police has also started a probe.
Sino-Forest's cash balance fell to $571.1 million on Nov. 4 from $835.8 million on June 30, according to data released by the company on Nov. 15. About $205.8 million of that balance was in unrestricted offshore accounts, Annisa Lee, a Hong Kong-based credit analyst at Nomura Holdings Inc., said in a Nov. 16 report.
The company's net income for the first six months this year rose to $425 million, an increase of 98 percent from the year earlier, according to a company filing.
Subsidiary Loan
Greenheart Group Ltd., a Hong Kong-listed unit of Sino-Forest, hasn't been asked to repay a $40 million loan to its parent and it hasn't breached any covenants that would trigger an early repayment, it said in a statement yesterday.
Greenheart's shares rose 2.7 percent to 76 cents at the close of Hong Kong trading, paring its decline since Block's Muddy Waters report to 73 percent.
The plunge in Sino-Forest's shares has cost investors about C$3.3 billion ($3.2 billion), according to Bloomberg data. Hedge fund Paulson & Co., formerly Sino-Forest's largest shareholder, sold its entire 12.5 percent stake in June, telling clients it had lost C$462 million since May 31 on the investment.
Chandler continues to have confidence in the underlying business of Sino-Forest, it said in yesterday's statement.
"Sino-Forest is a going concern, with real assets and a strong balance sheet," it said.
The billionaire became one of his country's richest men partly by pushing for reforms at South Korean oil refiner SK Corp. with his brother Christopher Chandler and selling their stake in 2005 when shares had jumped fivefold.
Sino-Forest formed an independent committee in June to investigate the allegations of fraud. The company said this week the committee's final report now won't be issued until 2012, instead of by the end of the year as previously stated.