NRC Chief Denies Verbal Abuse of Employees Cited by Colleagues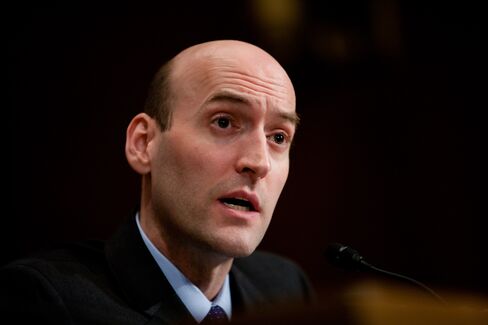 U.S. Nuclear Regulatory Commission Chairman Gregory Jaczko denied accusations by all four of his agency colleagues that he verbally abused employees, telling lawmakers he was hearing many complaints for the first time.
Jaczko bullied employees, humiliated female workers and blocked information from being shared, the other commissioners told the House Oversight and Government Reform Committee today. Commissioners William Ostendorff and Kristine Svinicki said they have lost confidence in Jaczko's leadership.
"Many of these instances that they're referring to have been misconstrued," Jaczko, 41, said in response to questions. "I've listened very carefully to the concerns of my colleagues."
The House panel examined discord at the NRC after the four commissioners raised "grave concerns" about his leadership in an Oct. 13 letter to White House Chief of Staff William Daley. Jaczko, promoted to chairman by President Barack Obama, has said the majority "loosened the agency's safety standards" over his opposition.
The NRC is considering rules to improve U.S. reactor safety after a March earthquake and tsunami triggered radiation leaks and meltdowns at Tokyo Electric Power Co.'s Fukushima Dai-Ichi plant. The agency is also weighing the first permits to build U.S. reactors in more than 30 years for Southern Co. of Atlanta and Scana Corp. of Cayce, South Carolina.
'Extreme Behavior'
Jaczko's "extreme behavior" toward three women in separate instances caused one of the employees to cry in front of male co-workers, Commissioner William Magwood told the committee. Other commissioners told lawmakers that Jaczko had intimated NRC staff.
"We've got people who are suffering under this gentleman," Representative Jason Chaffetz, a Utah Republican, said. "I think he should resign."
Jaczko said he has "no intention" of stepping down as chairman and said he hadn't heard many of his colleagues' accusations until today.
"I'm very passionate about safety," Jaczko said in backing decisions he made as chairman, including taking increased authority as Japan's reactor crisis unfolded. Jaczko asked fellow commissioners to stay away from the NRC's emergency operations center in Rocvkille, Maryland.
"I'm very comfortable with the actions that we took as an agency," he said. Jaczko declined to speak with reporters after testifying.
A report yesterday from committee Republicans depicted Jaczko as a volatile manager who undermined the confidence of the public in the agency that oversees safety at 104 U.S. commercial reactors.
'Eroding' Agency
"While Chairman Jaczko professes that safety is his No. 1 priority, his leadership style is simultaneously eroding the NRC's ability to execute its mission," Representative Darrell Issa, a California Republican and the panel's chairman said today.
The White House declined the committee's request to send a witness. Differences among the commissioners stem from the panel's structure and "have not impaired" its ability to function, Daley said in a Dec. 12 letter to Issa.
The Obama administration is also wrestling with energy policy disputes related to the proposed Keystone XL oil pipeline and the bankruptcy of solar-panel maker Solyndra LLC after it received $535 million in U.S. loan guarantees.
Jaczko said in a Dec. 7 letter to Daley that the commissioners had a "lack of understanding" about their roles during an emergency situation, citing restructuring of authority granted to the chairman after a 1979 partial meltdown at the Three Mile Island nuclear plant near Harrisburg, Pennsylvania.
'Like the Exorcist'
Jaczko snapped during a meeting with agency staff when he didn't like the results of their analysis, Magwood said an employee told him. "It was like 'The Exorcist,'" the staff member said, according to Magwood's testimony today.
Such outbursts are creating a "growing cancer of a chilled work environment at the NRC," he said. Magwood said he learned of the complaints about Jaczko from female employees within recent weeks.
The four commissioners deliberated for months about whether they should alert the White House of their concerns, Ostendorff said.
"We felt as commissioners we had an obligation," he said. Ostendorff said it would be "extraordinarily difficult" though not impossible to mend ties with Jaczko.
"There is always the potential to rehabilitate" the relationship, Svinicki said.
'Not Criminal'
"These allegations are not allegations of criminal misconduct," Representative Dennis Kucinich, an Ohio Democrat, said in defense of Jaczko. Kucinich said he was concerned with the agency's safety oversight because several reactors have been out of service for extended periods this year.
"Industry's in trouble," he said. "The commission is going to reflect what's going on in the industry."
Commissioners George Apostolakis and Ostendorff said they were "offended" that Kucinich felt they were influenced by the nuclear industry.
Other Democrats including Senate Majority Leader Harry Reid of Nevada have come to Jaczko's defense and said he is under attack for seeking tougher safety standards for the nuclear-power operators the commission regulates.
"I'm sorry to say a number of the people that work with him are not concerned about safety," Reid told reporters yesterday. "They're concerned about the nuclear industry. He's concerned about the American people, the so-called consumer."
Jaczko worked for Reid as a science adviser.