Norway Cuts Rate by Half Point as Euro Crisis Hurts Growth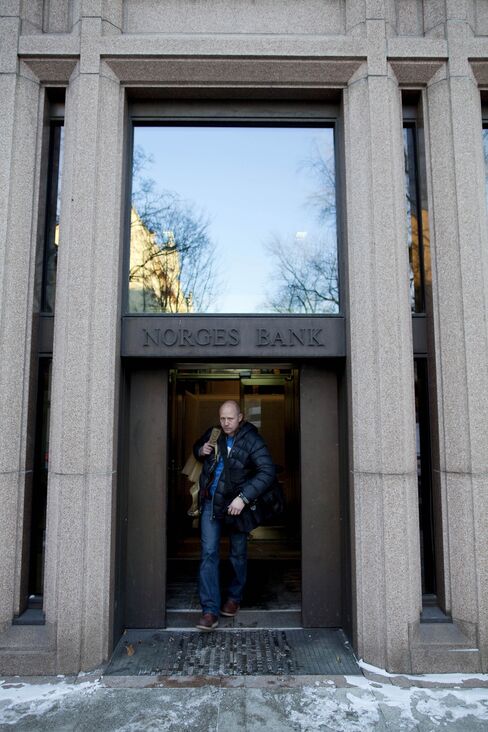 Norway's central bank slashed its benchmark interest rate by half a percentage point as the euro area's debt crisis saps economic growth in the world's second-wealthiest nation.
"The turbulence in financial markets has intensified and external growth is now expected to be clearly weaker, particularly in the euro area," Deputy Governor Jan F. Qvigstad said today in Oslo. "In order to guard against an economic setback and even lower inflation, we are of the view that a reduction in the key policy rate is now appropriate."
Governor Oeystein Olsen, who took over in January, lowered the overnight deposit rate to 1.75 percent from 2.25 percent, the biggest cut since May 2009. The move was forecast by two of the 17 economists surveyed by Bloomberg. Ten economists predicted a quarter point cut and five foresaw no change.
The decision removes some of the tightening that policy makers started in October 2009, and follows two rate cuts by the European Central Bank since November as Europe's leaders struggle to contain the debt crisis. The ECB last week cut its benchmark to 1 percent, matching a record low. Norway's central bank has signaled it doesn't want its rates to stray too far from those in Europe to avoid fanning krone gains.
Out the Window
While previous Governor Svein Gjedrem "was known for looking through the rearview mirror, Olsen has almost flown out through the front window, right or not," Erica Blomgren, chief strategist for Norway at SEB AB. "Obviously rate differentials remain a great concern and Norges Bank doesn't wish to lag behind other central banks in cutting rates."
The krone fell 0.35 percent against the euro to 7.7678 as of 4:49 p.m. in Oslo. Against the dollar, the krone sank 0.8 percent. Norway's three-month interbank deposit rate fell 15 basis points to 2.91 percent today. Two-year government note yields fell 5 basis points to 1.01 percent.
The bank said inflation remains "low," even as the domestic economy continues to grow thanks to investment in the country's oil industry.
Export Reliance
Norway, which sends more than 60 percent of its exports to Europe, saw its manufacturing output shrink last month for the first time since March 2010 and consumer confidence fell to a 2 1/2-year low this quarter. Growth in Norway's mainland economy, which excludes oil, gas and shipping, slowed to 0.8 percent in the third quarter from 1.3 percent through June. The country's statistics agency last week slashed its 2012 growth forecasts to 2.5 percent from 3.5 percent, citing exports.
Finance Minister Sigbjoern Johnsen said last month that the world's seventh-largest oil exporter was prepared to act should Europe's debt crisis worsen. Norway, the world's second-richest nation per capita after Luxembourg, is the only Scandinavian country that's not a member of the EU.
Euro-area leaders last week agreed on a blueprint for a closer fiscal union, seeking to prevent Spain and Italy from being engulfed by troubles that forced Greece to seek its first bailout in April 2010 and pushed Ireland and Portugal into rescue programs over the ensuing year. Fitch Ratings and Moody's Investors Service said the EU summit offered little help in ending the two-year old debt crisis.
'High Vigilance'
Qvigstad said today that the bank has adopted a stance of "high vigilance" to monitor major economic disruptions. While policy makers don't deem it necessary to deploy additional measures beyond rate cuts to counter the turbulence, "we of course have high vigilance on the liquidity side," he said.
European financial market concerns have also raised borrowing costs for Norwegian lenders, giving the central bank more room to cut rates. The difference between the bank's deposit rate and the three-month Norway interbank offered rate hit 90 basis points yesterday, compared with an average of 67 basis points over the past year. It was as wide as 108 basis points on Nov. 22. A basis point is 0.01 percentage point.
"There is a high degree of uncertainty as to economic developments in the coming months," the central bank said in the statement. "The debt situation in the euro area has led to considerable problems in the European banking system and in money and credit markets. Market funding has also become more expensive and less accessible for Norwegian banks."
Weaker inflationary pressure also broadens the scope of the central bank to cut interest rates. The underlying inflation rate, adjusted for taxes, fees and energy prices, slowed to 1 percent in November from 1.2 percent a month earlier, according to Statistics Norway. The bank targets 2.5 percent price growth.
Before it's here, it's on the Bloomberg Terminal.
LEARN MORE