Liz Taylor's $11.8 Million Dog-Chewed Pearl Tops Record Gem Sale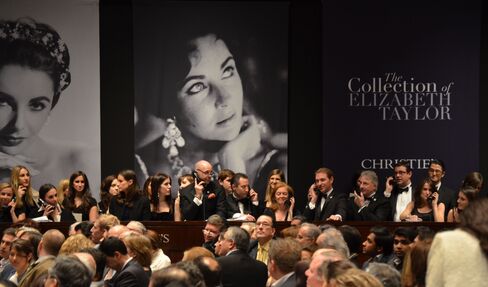 A 50.6-carat pearl given to Elizabeth Taylor by her husband Richard Burton sold for a record $11.8 million as Christie's International hosted the world's most expensive private jewelry auction.
The drop-shaped gem known as "La Peregrina," which belonged to a succession of eight Spanish kings between 1582 and 1808, was the top lot in yesterday's $115.9 million sale of gems from the estate of the actress, who died this year. A bidding battle lifted the pearl well beyond the auction company's $3 million top estimate, setting the tone for the evening.
Loews Corp. Co-Chairman Jonathan Tisch, Michael Dell's money manager Glenn Fuhrman, newsprint magnate Peter Brant and scores of women in fur coats and gowns attended the four-hour event. All 80 lots sold; most for many times their estimates. With 86 Christie's staff manning the phones in formal evening wear, bids flew in faster than the auctioneers could catch them, sometimes jumping more than $1 million at a time.
"It's a spectacle," said Tisch, who came with his wife Lizzie. "There is a huge premium for iconic names."
A Hollywood star, Taylor (1932-2011) was married eight times, including twice to her "Cleopatra" co-star Burton. Known for her love of jewels, she was showered with diamonds, rubies and emeralds by her admirers.
"I mean how many young women get a set of rubies just for doing something wholesome like swimming laps? Or win a diamond ring at ping pong with their husbands?" Taylor wrote in her book "My Love Affair with Jewelry."
33-Carat Diamond
A 33.19-carat, rectangular-cut diamond ring, dubbed "The Elizabeth Taylor Diamond," sold for $8.8 million, more than double its presale high estimate of $3.5 million. An emerald and diamond necklace by Bulgari, given to Taylor by Burton for their 1964 marriage, fetched $6.1 million, four times the top estimate.
Burton purchased La Peregrina in 1969 for $37,000 at Parke-Bernet Galleries in New York, which later became part of Sotheby's, said Ward Landrigan, who headed the company's jewelry department at the time.
"Richard Burton bought it as a Valentine's Day present for her," said Landrigan, now chief executive officer of New York-based jeweler Verdura, who delivered the pearl to a Las Vegas hotel where the couple stayed.
That night, Taylor misplaced the pearl and everyone began looking for it in the pink shaggy carpet, Landrigan said in an interview.
"She had this white Lhasa Apso dog," he said. "I saw the dog under a chaise. It was chewing on the pearl."
Ping Pong Rings
At the packed evening sale, even pieces slated to sell for a few thousand dollars went through the roof. A gold necklace featuring 13 antique circular ivory opera passes, with an estimate of $1,500 to $2,000, surged to $314,500. And three diamond rings Taylor won in that ping pong game against Burton shot past the $5,000 to $7,000 target range to reach $134,500.
A diamond tiara given to her by Mike Todd, husband No. 3, tallied $4.2 million, more than 50 times its high estimate.
"No one has seen anything like this," Landrigan said, stepping out mid-sale to grab dinner. "It's like money means nothing."
The estimates, which don't include buyer's commission, were based on the intrinsic value of the objects, without factoring in the Taylor magic, said Francois Curiel, Christie's international director and one of the evening's two auctioneers.
"No one dared to dream of $115 million," he said after the sale.
The total set a record for the most valuable private collection of jewels sold at auction, beating the 1987 sale of the Duchess of Windsor's pieces in Geneva.
Christie's will offer more of Taylor's jewels today, followed by auctions of her haute couture and decorative arts. A portion of profits generated by admissions, events and select publications related to the sales will be donated to the Elizabeth Taylor AIDS Foundation, Christie's said.
(Katya Kazakina is a reporter for Muse, the arts and leisure section of Bloomberg News. The opinions expressed are her own.)
Before it's here, it's on the Bloomberg Terminal.
LEARN MORE