Kindle Edges Nook, Sony in $99 E-Reader Race: Rich Jaroslovsky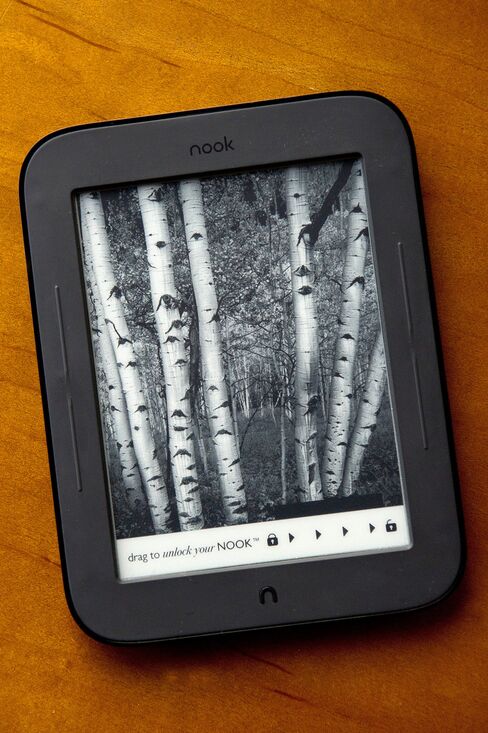 Amazon.com Inc.'s Kindle Fire has understandably dominated the e-reader buzz this holiday season. Not everyone, though, wants all the bells and whistles, or the bulk and expense, of a full-on color tablet. They just want an e-reader in order to, you know, read.
For these folks, Amazon and Barnes & Noble Inc. have released updated versions of their monochrome e-readers. Meanwhile, Sony Corp., which introduced its latest Sony Reader earlier in the year, has slashed its price twice this month, to the point where you may be able to get one for as little as $49.
So, how do you choose among them? It isn't easy, especially when they have so much in common.
All three are exceedingly thin, compact and lightweight; you'll have little compunction about tossing them into a briefcase, purse or gym bag. They all feature touch-based interfaces that allow you to turn pages with the swipe of a finger, can go for weeks on a single charge and are capable of storing 1,000 books and more.
Most important, they all use the latest generation 6-inch display from E Ink Holdings Inc. Unlike the backlit screens favored by tablets, they require an external light source, making them harder to read in low-light conditions -- but easier to view in sunlight, where they generate little glare.
Hands-Down Winner
With the Kindle Touch, Amazon has finally jettisoned the annoying keyboard and mini-joystick of previous models in favor of a simple, all-touch interface. (Those other models remain available; starting at $79, the joystick version is the least expensive Kindle.)
It comes in four varieties. The cheapest is a $99 Wi-Fi-only model with what Amazon euphemistically calls "special offers," which is to say, ads in place of screensavers; it costs $139 without the ads. There's also a $149 with-ads model that includes a 3G data connection, allowing you to download content anywhere you can get a cellular signal; that one costs $189 without the ads. There's no fee for the 3G service.
Compared with the Nook and the Sony, I like the Kindle best. It has the look and feel of a premium product and an outstanding selection of content -- not just books but also news, periodicals and Amazon's short-form "Kindle Singles" stories and articles. Plus, it has a few little extras like an audio port, rudimentary Web browser and text-to-speech features that may come in handy on occasion. And it's the only one that has the 3G option.
Close Call
But it's a very close call over the Nook Simple Touch, which comes in one $99 version that uses a Wi-Fi connection. The Barnes & Noble entry has a better-laid-out home screen and user interface, and in-person support plus additional features if you take it into one of the company's brick-and-mortar stores.
Like the Kindle, the Nook Simple Touch weighs about 7.5 ounces, though it's shorter, thicker and wider, giving it a stubbier look and feel. It also has wider side borders, the better to accommodate four raised ridges that function as page-turn buttons if you don't want to tap or swipe the screen itself. The buttons are unobtrusive, but they take a lot of pressure to operate.
The Nook's online store gives you access to a broad selection of current best-sellers and recently published titles, and it can also handle a variety of formats, including the one Google Inc. uses for its Google Books library. Compared with the Kindle, though, it offers fewer newspapers and magazines.
Dated Feel
The Sony Reader has only been out a few months and already it feels dated next to the Amazon and Barnes & Noble entries.
One reason may be that it's a touch-screen device that seems to have been designed for people who don't really want a touch screen. The Reader puts a strip of five shiny navigation buttons front and center, compared to the Nook's subtler approach and the Kindle's single home button. It also comes with a stylus for making handwritten notes on the screen -- though there's no place on the Reader to stow it. (For that, you'll need to buy a custom case.)
With every page turn on the Sony device, the screen flashes briefly black before dissolving to the new page. This is an irritating throwback to the earliest Kindles. The current ones, as well as the Nook, flash only once every half-dozen turns.
On the other hand, the Reader has an audio port like the Kindle, and handles Google Books like the Nook. It is both the thinnest and, at less than six ounces, lightest of the three e-readers. And, for now, potentially the cheapest too: Having only recently cut the price to $129 from $149, Sony last week put it on sale for $99 through Dec. 24; on top of that, you can get $50 off if you trade in any brand of e-reader.
When the Kindle was introduced in 2007, it cost $400. At this rate, it may only be a matter of time before the manufacturers pay you.
(Rich Jaroslovsky is a Bloomberg News columnist. The opinions expressed are his own.)
Before it's here, it's on the Bloomberg Terminal.
LEARN MORE