Irish EU Pact Referendum May Be Vote on Euro, Noonan Says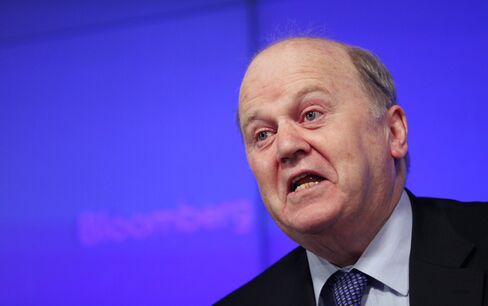 Dec. 14 (Bloomberg) -- Irish Finance Minister Michael Noonan said any referendum on the new European Union accord may effectively be a vote on the country's continued euro membership.
The Irish government will start assessing whether it needs to hold a vote after it receives a first draft of the text by the end of the year, Noonan said in an interview on Bloomberg Television's "The Pulse" in London today. Irish voters have rejected changes to Europe's governing treaties twice in the last decade.
"It really comes down on this occasion to a very simple issue; do you want to continue in the euro or not," Noonan said. "Faced with that question, I think the Irish people will pass such a referendum."
Last month, European leaders for the first time raised the prospect of the euro area collapsing by framing Greece's proposed referendum on the terms of its bailout as a vote on nation's future in the currency union. While Greece dropped the planned vote, European leaders are still scrambling to resolve the debt crisis.
Noonan said that while leaders took "significant steps" at a Dec. 8-9 meeting in Brussels to alleviate investor concerns, they "urgently" need to put in place measures to restore confidence in the euro.
Irish bonds due in 2020 yielded 8.77 percent today, up from 8.06 percent a month earlier. Spain's 10-year bond yielded 5.69 percent and Italy's was at 6.8 percent. The yield on Germany's 10-year bund, Europe's benchmark, was at 1.92 percent.
'Deliberate Attempt'
Michael McGrath, finance spokesman for the opposition political party Fianna Fail, said Noonan's comments are "a highly political and deliberate attempt to silence legitimate criticism" of the EU accord.
"The fact that the minister's language mirrors almost exactly the proposition used by France and Germany to scupper recent plans for a referendum in Greece will not be lost on people," he said in an e-mailed statement.
The so-called fiscal compact agreed to by 26 of the EU's 27 members last week requires nations to virtually eliminate structural deficits, creates an "automatic correction mechanism" and enshrines the new measures in national law. There will be tighter control of tax and spending by governments that overstep the bloc's deficit limit of 3 percent of gross domestic product.
War Chest
The summit also added to the war chest to protect cash-strapped economies, with an extra 200 billion euros ($260 billion) for the International Monetary Fund.
Noonan said it's "not certain" that Ireland will need a referendum on the EU accord and that it depends on whether any such text would amount to Irish constitutional change. Prime Minister Enda Kenny said last month it would be "very challenging" to pass a vote on such proposals.
Irish voters rejected changes to the European treaty in 2001 and 2008, before reruns passed the proposals.
In June 2001, Ireland voted against the Nice Treaty, which paved the way for the then 15-nation EU to accept members from eastern Europe. A second ballot was won in October 2002. Seven years later, voters rejected the Lisbon Treaty by a margin of 53 percent to 47 percent, even as the country's biggest parties urged a "yes" vote. In 2009, after securing guarantees on Irish neutrality and taxes, the treaty was carried.
"Ireland needs to be in the euro; a euro breakup would be disastrous for Ireland," said Alan McQuaid, chief economist at Bloxham Stockbrokers in Dublin. "I would agree with Noonan that if it is a referendum on the euro it is more likely to be passed than something on fiscal austerity and greater fiscal union."
To contact the reporters on this story: Maryam Nemazee in London at mnemazee@bloomberg.net; Dara Doyle in Dublin at ddoyle1@bloomberg.net
To contact the editor responsible for this story: Colin Keatinge at ckeatinge@bloomberg.net