Inditex Third-Quarter Net Gains on Asian, Online Expansion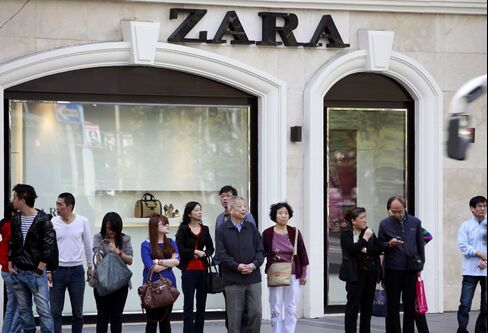 Inditex SA's third-quarter profit rose 6.2 percent as the world's largest clothing retailer added stores in Asia and expanded its e-commerce range for Zara and other brands.
Net income gained to 585 million euros ($763 million) in the three months through October from the year-earlier period, according to calculations based on results issued by Arteixo, Spain-based Inditex today. The average of nine analysts' estimates compiled by Bloomberg was 573.4 million euros.
Inditex, which last year generated more than 75 percent of its sales in Europe, is adding stores in Asia to tap rising affluence, and entered Taiwan, South Africa and Azerbaijan last month. Since September, Inditex has extended online shopping for Zara outside Europe and started e-commerce sales for Massimo Dutti, Bershka and four other chains. Store sales in local currencies rose 11 percent from Nov. 1 to Dec. 11, Inditex said.
"The bottom-line beat illustrates Inditex's strong margin control and defensive nature in a very difficult environment," said Anne Critchlow, a London-based analyst at Societe Generale, in a note today. She has a "buy" recommendation on the stock.
Inditex rose as much as 4.8 percent and was up 3.4 percent to 64.39 euros at 11:42 a.m. in Madrid. The stock has gained 15 percent this year, while its closest competitor, Hennes & Mauritz AB, has slipped 5.5 percent.
Stable Margin
Inditex's "best estimate" is for a stable gross margin in the second half of this year compared with the year-earlier period, Chief Executive Officer Pablo Isla said on a conference call today. The retailer had a gross margin of 59.2 percent in the second half last year, while today it reported a margin of 59.6 percent for the first nine months of this year.
Retailers including Leicester, England-based Next Plc have said warmer-than-average temperatures in recent months affected sales as consumers delayed purchases of winter garments. Clothing companies also face falling household spending amid the prospect of higher taxes and unemployment in Europe.
Inditex's third-quarter sales rose 5 percent to 3.5 billion euros. That's the slowest quarterly growth in two years.
The Spanish company's inventory was 25 percent higher on Oct. 31 compared to a year earlier. That figure is "very high" and suggests Inditex may cut prices in the fourth quarter, which would weigh on margins, Critchlow said.
Weather Effect
The retailer doesn't plan to start winter sales early, Marcos Lopez Gracia, head of capital markets for Inditex, said by phone, adding sales have returned to "normal" with the weather. Inditex expects to meet full-year targets of as many as 500 store openings this year, he said.
Inditex, which sells evening dresses for $79.90, will open stores in China and Brazil in a "significant way," and add 8 to 10 stores a year in India, Isla said. The retailer's performance in Spain was "stable," he said.
H&M may report an 11 percent gain in November sales tomorrow, according to an estimate by Liberum Capital. The Stockholm-based company's sales were helped by a collaboration with Italian fashion house Gianni Versace SpA. H&M today started selling a collection by Trish Summerville, the costume designer for "The Girl With The Dragon Tattoo" film.