India Inflation Slows to One-Year Low as Rate Pressure Eases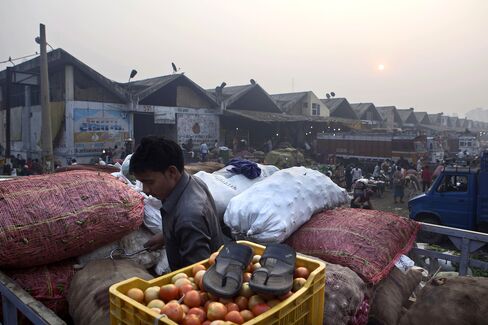 India's inflation slowed to the lowest level in a year, boosting the central bank's scope to support growth by pausing its record interest-rate increases.
The benchmark wholesale-price index rose 9.11 percent in November from a year earlier, the commerce ministry said in a statement in New Delhi today, compared with a 9.73 percent jump in October. The median estimate of 26 economists in a Bloomberg News survey was for a 9.02 percent gain.
Asian policy makers from China to Indonesia have either cut borrowing costs or kept them on hold to shield their economies as Europe's debt crisis threatens to trigger a global slump. The Reserve Bank of India may leave rates unchanged this week after industrial production shrank and as the government struggles to ease foreign investment rules to spur expansion.
"Today's inflation print makes the RBI's case even stronger to maintain status quo on rates," said Anubhuti Sahay, a Mumbai-based economist at Standard Chartered Plc. "Weakening growth will find space in the policy statement, but they are unlikely to completely remove inflation from their radar."
Sahay expects the Reserve Bank to keep its repurchase rate at 8.5 percent in the Dec. 16 policy meeting. The central bank, which says its objective is to slow inflation to 3 percent, expects price gains to ease to 7 percent by March 31.
Bonds, Rupee
The yield on the 8.79 percent government bonds due November 2021, which declined 27 basis points this month, rose seven basis points, or 0.07 percentage point, to 8.48 percent as of 12:50 p.m. in Mumbai. The rupee weakened 0.7 percent to 53.60 per dollar. The BSE India Sensitive Index climbed 0.4 percent after losing about a fifth of its value in 2011.
The stock index had its biggest three-day drop since July 2009 after the government on Dec. 7 put on hold a cabinet decision to allow overseas retailers, including Wal-Mart Stores Inc., to open supermarkets. The move followed protests by the opposition and allies.
The rupee's slump of about 16 percent this year, Asia's worst performance, adds to the cost of imported goods and is keeping India's inflation higher than in the so-called BRIC nations.
Consumer prices rose 6.6 percent in Brazil, 6.8 percent in Russia and 4.2 percent in China last month.
Reserve Bank Governor Duvvuri Subbarao has raised the repurchase rate by 375 basis points in 13 moves since the start of 2010 to tame prices. The round of increases is the fastest since the central bank was established in 1935, Bloomberg data show.
'Relatively Low'
The central bank said on Oct. 25 that its monetary tightening will help curb inflation and that the likelihood of a rate action in the December policy meeting is "relatively low."
India's food inflation moderated to 6.6 percent in the week ended Nov. 26 from a year earlier, the lowest reading in more than three years.
The Reserve Bank expects India's economy to expand 7.6 percent in the year ending March 31, lower than the 8 percent it estimated earlier.
Consumer demand has begun to wane as a result of higher borrowing costs.
Output at factories, utilities and mines fell 5.1 percent in October from a year earlier, India's statistics office said this week. The decline is the first since the 1.8 percent drop in June 2009.
Car Sales
The Society of Indian Automobile Manufacturers may cut its annual domestic passenger-car sales target as higher rates and fuel prices sap demand for Maruti Suzuki India Ltd. and Honda Motor Co. vehicles, Sugato Sen, a senior director for the group, said last week.
"The RBI will act first to protect growth because one doesn't know when the government would react," said Dharmakirti Joshi, a Mumbai-based economist at Crisil Ltd., the Indian unit of Standard & Poor's. He expects the central bank to start cutting rates by March 31.
Prime Minister Manmohan Singh, halfway through his second term, is under pressure to revive a legislative agenda derailed by corruption allegations in the award of telephone licenses. His government faces at least five regional elections next year, including one in Uttar Pradesh, India's most populous state.
India's decision to suspend the move to allow overseas companies into multibrand retail puts off an influx of foreign investment from companies including Bentonville, Arkansas-based Wal-Mart and Cheshunt, England-based Tesco Plc.
Before it's here, it's on the Bloomberg Terminal.
LEARN MORE