Gore Advocates 'Sustainable Capitalism' as Harvard Shows Returns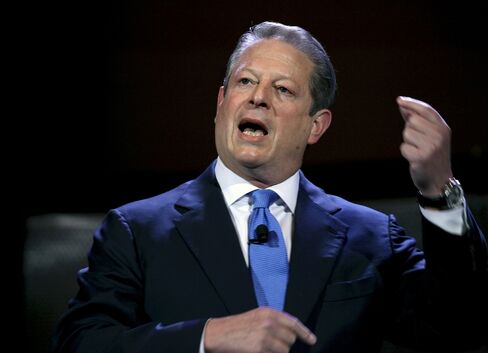 Global businesses must adopt "sustainable capitalism" to create long-lasting value in the face of challenges such as climate change, poverty and disease, former U.S. Vice President Al Gore said.
Adopting environmental, social and governance standards improves companies' profitability over the long term and makes them more attractive to investors, Gore and David Blood co-wrote in a piece titled "A Manifesto for Sustainable Capitalism" published in today's Wall Street Journal. BP Plc and Lehman Brothers were examples of when an absence of sustainability had damaged companies, they said.
Corporations that have adopted practices such as reducing waste, increasing energy efficiency and employee motivation programs have shown better returns than peers focused on quarter-to-quarter performance, said Gore and Blood, who are chairman and managing partner of Generation Investment Management.
They cited a Harvard Business School study published last month that tracked the performance of 180 companies over 18 years. The 90 firms that adopted environmentally and socially responsible policies years ago outperformed their peers during the period, Robert G. Eccles, Ioannis Ioannou and George Serafeim wrote on Nov. 25.
"High sustainability companies significantly outperform their counterparts over the long-term, both in terms of stock market and accounting performance," the researchers wrote. "However, the results suggest that this outperformance occurs only in the long-term."
Stop Quarterly Earnings
To improve returns, investors should push companies to stop issuing quarterly earnings guidance that encourages management to prefer short-term gains and instead concentrate on the longer-term sustainable value creation, according to Gore and Blood. Executive compensation should also be linked to long-term performance, they said.
"The dominance of short-termism in the market fosters general market instability and undermines the efforts of executives seeking long-term value creation," Gore and Blood, wrote in the op-ed piece. "As we face an inflection point in the global economy and the global environment, the imperative for change has never been greater."
To motivate investors, companies should issue securities offering higher returns to those who hold onto shares for a certain number of years, Gore and Blood wrote.
"Most existing compensation schemes emphasize short-term actions and fail to hold asset managers and corporate executives accountable for the ramifications of their decisions over the long-term," Gore and Blood wrote.
Before it's here, it's on the Bloomberg Terminal.
LEARN MORE