Ferretti Lenders Said to Sell Yachtmaker to China's Shandong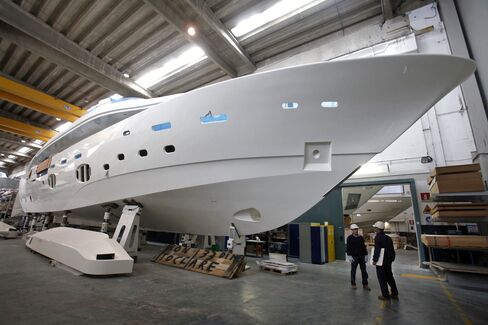 Lenders to Ferretti SpA, the luxury-yachtmaker restructuring its assets, agreed to sell the company to Shandong Heavy Industry Group Co., according to four people with knowledge of the deal.
Shandong Heavy Industry will buy Ferretti in a deal struck with lenders who have agreed to write down about 465 million euros ($604 million) of debt, said the people, who declined to be identified because the deal is private.
Ferretti will be sold for about 220 million euros, meaning existing lenders will be paid 32 cents on the euro for the debt owed, said two of the people.
The maker of 115-foot Riva yachts ceded control to lenders in 2009 when it missed a loan payment on debt used to finance its leveraged buyout. Ferretti went from planning an initial public offering in 2008 to reorganizing its debt in a matter of months as its customer base collapsed in the credit crisis.
A spokesman for Forli, Italy-based Ferretti declined to comment.
New ICBC Loan
Lenders led by Royal Bank of Scotland Group Plc, Strategic Value Partners LLC and Oaktree Capital Management LP will be offered as much as 25 percent of Ferretti shares after the sale to Shandong, said the people. Los Angeles-based Oaktree holds about 40 percent of Ferretti's debt, two of the people said, increased from less than 10 percent earlier this year.
The yachtmaker will get a new 116 million-euro loan from Industrial & Commercial Bank of China and a 80 million-euro credit line as part of the deal with Shandong Heavy Industry, said the people.
Ferretti will also get 100 million euros of new equity from the Chinese company, including 25 million euros underwritten by RBS and Strategic Value Partners, said the people.
Shandong Heavy Industry is being advised by Houlihan Lokey Inc. and Citigroup Inc. Erfan Hussein, a spokesman for RBS, declined to comment.
In the 2009 debt restructuring, a group of 100 creditors led by RBS agreed to convert some of their 1.2 billion euros of debt to equity to avert bankruptcy for Ferretti. Candover Investments Plc, which bought Ferretti for 1.5 billion euros in a 2007 leveraged buyout, ceded its stake as part of the deal.