Oil Tumbles Most Since September as OPEC Raises Output Ceiling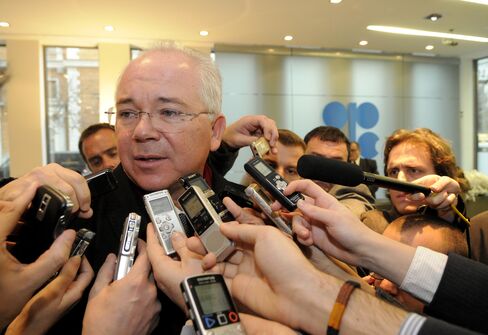 Dec. 14 (Bloomberg) -- Oil tumbled the most since September as the Organization of Petroleum Exporting Countries agreed to raise its production ceiling and as Europe struggled to contain the region's debt crisis.
Futures fell to a five-week low after OPEC decided on an output target of 30 million barrels a day at the group's meeting in Vienna. Crude extended declines as the euro weakened to less than $1.30 for the first time since January on fear that European crisis will spread.
"OPEC agreed on a pretty decent hike in the ceiling, especially given the difficult economic realities in Europe," said John Kilduff, a partner at Again Capital LLC, a New York-based hedge fund that focuses on energy. "The European debt crisis is nowhere close to resolved so the euro is taking a hit. The euro broke below $1.30, pushing all commodities lower."
Crude oil for January delivery declined $5.19, or 5.2 percent, to $94.95 a barrel on the New York Mercantile Exchange, the lowest settlement since Nov. 4. The percentage drop is the biggest since Sept. 22. Prices are up 3.9 percent this year after climbing 15 percent in 2010.
Oil may extend declines as the January contract settled below technical support at the 200-day moving average for the first time since Nov. 25. The average is $97.22. Technical analysts use historical chart patterns and tools such as moving averages to predict potential future price movements.
Brent oil for January settlement dropped $4.48, or 4.1 percent, to $105.02 a barrel on the London-based ICE Futures Europe exchange. The contract expires tomorrow. The more-actively traded February future fell $4.83 to $104.25.
OPEC Decision
OPEC's decision marks the first change in its production target in three years. The group won't use specific national production targets for its 12 members as long as Libyan exports are recovering from the country's armed conflict, Secretary General Abdalla el-Badri said.
OPEC's last meeting in June broke up without consensus when six members including Iran and Venezuela opposed a push to produce additional oil by Saudi Arabia and three other Gulf nations, which went ahead with an increase to make up for missing Libyan supplies.
"They decided to codify current production," said Sarah Emerson, managing director of Energy Security Analysis Inc. in Wakefield, Massachusetts. "It's in nobody's interest to have another failed meeting. The Saudis and Iranians are now dealing with disagreements privately."
Euro, Equities
The euro and the Standard & Poor's 500 Index dropped as Italy's five-year yield increased at an auction today and default swaps protecting European sovereign debt traded near a record high. Borrowing costs climbed for banks in the region as plans hashed out last week to create a closer fiscal union in the euro zone failed to alleviate concern about the crisis.
The plans led by France and Germany may be opposed by the European Commission and potentially from some of the 26 member states that agreed to the changes, the Handelsblatt newspaper said. The Munich-based Ifo institute cut its 2012 German economic growth outlook to 0.4 percent from 2.3 percent today.
"The euro continues to fall and commodities as a whole are taking it on the chin," said Rich Ilczyszyn, chief market strategist and founder of IiTrader.com in Chicago. "Everyone is talking about the S&P potentially breaking 1,200, and that's going to bring oil down."
The euro tumbled as much as 0.7 percent to $1.2946, an 11-month low. The S&P 500 fell 1.3 percent to touch 1,209.47, the lowest level since Nov. 30.
Commodities Drop
The S&P's GSCI Index dropped as much as 4.5 percent. Twenty-three of the 24 raw materials on the index declined. A rising dollar reduces the appeal of commodities as an alternative investment.
Oil rose 2.4 percent yesterday, the biggest gain in almost four weeks, on speculation shipments from the Persian Gulf would be disrupted after a report that Iran will hold drills to practice closing the Strait of Hormuz. Iran pumped 3.56 million barrels a day of oil in November, according to Bloomberg News estimates, trailing only Saudi Arabia among OPEC producers.
"The market is balanced on a razor's edge," said Addison Armstrong, director of market research at Tradition Energy in Stamford, Connecticut. "The market moved reflexively yesterday and is coming back now that more rational heads prevail."
U.S. crude oil supplies dropped as fuel stockpiles climbed last week, according to an Energy Department report today. Inventories of crude oil fell 1.93 million barrels to 334.2 million, the report showed. Gasoline supplies increased 3.82 million barrels to 218.8 million, the highest level since March.
"It's pretty obvious that nobody cares about the inventory numbers right now," said Todd Horwitz, chief strategist at Adam Mesh Trading Group in New York. "We're getting crushed today pretty much across the board. The euro is getting creamed by the dollar, which is bad for all commodities."
Oil volume in electronic trading on the Nymex was 673,212 contracts as of 3:45 p.m. in New York. Volume totaled 829,517 contracts yesterday, 27 percent above the three-month average. Open interest was 1.35 million contracts, the highest level since Nov. 16.
To contact the reporter on this story: Mark Shenk in New York at mshenk1@bloomberg.net
To contact the editor responsible for this story: Dan Stets at dstets@bloomberg.net