Boehner Seeks Republican Support to Break Spending Gridlock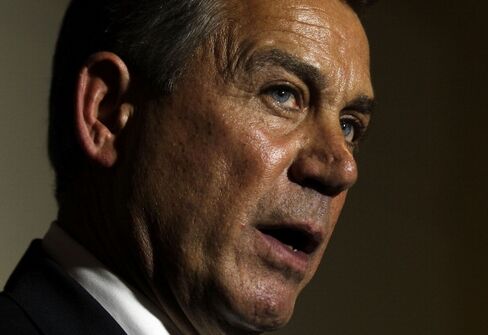 House Speaker John Boehner is looking for support from Republicans to pass a $1 trillion spending bill to prevent Senate Democrats from using it as a bargaining chip on payroll-tax legislation, lawmakers said.
The measure, a product of bipartisan House-Senate negotiations, is needed to finance the government's operations after Dec. 16 when a stopgap spending measure expires. Senate Majority Leader Harry Reid has refused to let Senate Democratic negotiators sign off on the bill so he can try to extract concessions from Republicans on House-passed legislation to extend a payroll-tax cut set to expire at year's end.
At a closed meeting of House Republicans, Boehner proposed that the House pass the spending deal as a separate piece of legislation to force Reid's hand, Florida Republican Tom Rooney told reporters.
Boehner, an Ohio Republican, told members this option "gives him the strongest negotiating stance with the Senate," Rooney said.
"There have been no decisions on how we are going to proceed," Boehner said after the meeting. Still, he told reporters "it's pretty clear" that President Barack Obama and Reid "want to threaten a government shutdown so they can get leverage on their jobs bill."
Short-Term Solution
White House Communications Director Dan Pfeiffer issued a statement urging Congress to pass a short-term spending measure to keep the government open and allow more time given the "magnitude of the legislation."
Obama "continues to have significant concerns" about reported components of the Republican agreement including "provisions that would undermine Wall Street reforms, enact extreme social and ideological riders, undercut environmental protections and threaten the foreign policy prerogatives of the president," Pfeiffer said.
Democratic leaders in the Senate, Reid, Majority Whip Richard Durbin of Illinois, Patty Murray of Washington and Charles Schumer, went to the White House today to meet with Obama about the payroll tax cut.
House Appropriations Committee Chairman Hal Rogers, asked whether he thinks Republicans have enough votes to pass the spending measure, said, "we're determining that right now."
Republicans needed help from Democrats to pass the most recent short-term spending measure Nov. 17, when 101 Republicans voted against it.
Rogers said Republicans must decide tonight whether they will try to pass their spending bill if they want to follow a rule requiring bills to be publicly available for three days before a Dec. 16 vote.