Dale Says U.K. May Face at Least One Quarter of Contraction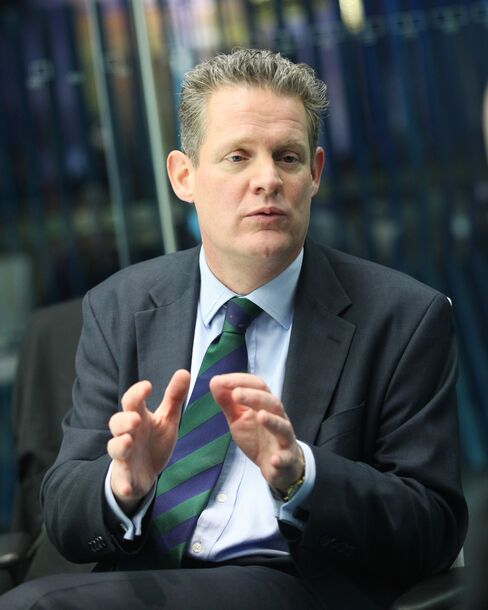 Bank of England Chief Economist Spencer Dale said the U.K. economy may be facing at least one quarter of contraction before a "gentle recovery" in the second half of next year.
"If I expect to see broadly flat growth, there must be a possibility that I see one or two quarters of negative growth," Dale, 44, said in an interview in London yesterday. "For the very large majority of companies and families in our country, what really matters is getting growth up to more normal levels so we can get unemployment coming down again and companies' order books back up to more normal levels."
The Bank of England started a four-month program of bond purchases in October in response to the weakening recovery, and policy makers forecast that inflation will slow to below their 2 percent target in late 2012, indicating more stimulus may be needed. Dale, who ended a six-month call to raise the key interest rate in August, said he isn't as convinced as some of his colleagues that inflation will undershoot the goal.
"There are risks on both sides of the inflation environment, they're not just one-sided," Dale said. "I do expect inflation to fall, but my view about the risks to being above or below the target are a little more balanced than the Monetary Policy Committee's best collective judgment."
The pound rose 0.2 percent to $1.5512 as of 9 a.m. in London. The yield on the two-year gilt was at 0.378 percent, close to a record low 0.317 percent on Dec. 8.
Inflation Slows
Inflation slowed to 4.8 percent in November from 5 percent in October, data yesterday showed, and Dale said he sees it easing "sharply" in the first half of 2012.
"If inflation turns out to be more persistent than we expect," that "will have implications for the future path of monetary policy," he said.
Bank of England officials voted to keep the target for bond purchases at 275 billion pounds ($427 billion) this month after increasing it by 75 billion pounds in October to aid the economy. U.K. unemployment as measured by International Labour Organization standards rose by 128,000 to 2.64 million in the three months through October, data today showed. The jobless rate climbed to 8.3 percent from 7.9 percent.
The Federal Reserve policy-setting panel, which met in Washington yesterday, noted "apparent slowing in global growth," and said that "strains in global financial markets continue to pose significant downside risks."
Stimulus Scope
Dale said in a speech yesterday that the central bank has "scope, if necessary" to add further stimulus as the unresolved euro debt crisis threatens the outlook. He said in the interview there isn't a set limit to bond purchases.
"I don't think of there being some magic number," Dale said. "Perhaps a more likely limit would be if people started to question the credibility of quantitative easing -- if people started to question its effectiveness."
Dale, who has been chief economist since 2008, also said the euro-area crisis has "driven this slowdown" in the U.K. European leaders announced a blueprint for a closer fiscal union and tighter rules on borrowing last week to stem the turmoil, and pledged a faster start to a 500 billion-euro ($659 billion) rescue fund. While the proposals may help prevent future crises, they're short of detail, Dale said.
"Some of the measures could be helpful in potentially preventing similar events," he said. "It's less clear whether the markets are confident that the measures announced really respond to the near-term pressures facing the euro zone, so I'm in sort of the wait-and-see mode at the moment."
'Gentle Recovery'
Dale said that if tensions in Europe "start to dissipate" and inflation cools, the uncertainty that's delaying company investment and holding back consumer spending may ease. That "could help to get a gentle recovery in our economy in the second half of next year," he said.
The improvement will come even as the government continues its fiscal squeeze, Dale said. While the the tightening will weigh on growth, the government's commitment will ease the burden by keeping long-term interest rates low, he said.
The plan will also help the U.K. keep its top credit rating, he said. Moody's Investors Service and Standard & Poor's said this month the crisis in Europe has jeopardized the outlook for France and Germany to keep their AAA credit grades.
"The government has laid out a credible path to fiscal consolidation, they made clear that they plan to stick to that path," he said. "I would expect that to be sufficient for us to maintain our credit status at the moment."
Before it's here, it's on the Bloomberg Terminal.
LEARN MORE