Berkeley Offers New Financial Aid for 'Middle-Class' Families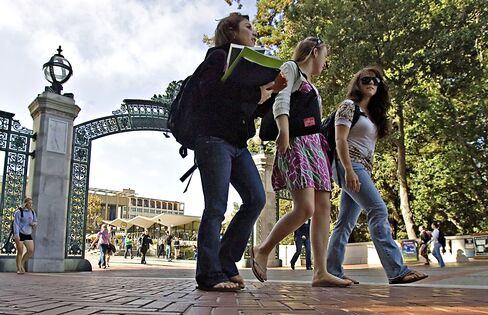 The University of California, Berkeley, is offering a new financial-aid program to help families whose gross annual income is $80,000 to $140,000 amid tuition increases and state funding cuts.
The contribution those families make toward the annual cost -- including tuition, fees and expenses, room, board and books - - would be capped at 15 percent of their earnings, according to a statement today.
Berkeley, one of the most selective public universities in the U.S., joined some of the wealthiest private colleges, including Harvard University and Amherst College, in enhancing financial-aid plans for middle-income families. Williams College and Dartmouth College in 2010 scaled back their "no-loan" programs as their endowment values fell. Berkeley said its plan is a response to the state's high cost of living, the challenges faced by families in the income range and rising tuitions.
"We see early signs that middle-income families who cannot access existing assistance programs are straining to meet college costs," Chancellor Robert Birgeneau said in the statement. "As a public institution, we feel strongly that we need to sustain and expand access across the socio-economic spectrum."
Financial aid awards through Berkeley's Middle Class Access Plan will begin in the 2012-13 school year. The program applies to domestic undergraduate students, including freshmen who will begin in August.
The cost for the next academic year will be $10 million to $12 million, and funding is expected to come from donations and an increasing number of students paying non-resident tuition, according to the statement. State money won't be used.
Tuition Increases
The assistance comes amid cuts and tuition increases. The University of California's state funding has been reduced 28 percent, or by almost $1 billion, since 2007-2008.
Total tuition and fees for in-state undergraduates rose to $13,218 in 2011-12 from $7,517 in 2007-08, an increase of 76 percent, according to Dianne Klein, a spokeswoman for the office of the president in Oakland. For non-resident undergraduates, tuition and fees increased to $36,096 from $27,137 in the same time period, up 33 percent.
The current cost of attendance at Berkeley for state residents is an average of $32,634 per year for students living on campus, while non-residents pay an additional $22,878 annually, according to the statement.
Berkeley counts nine current faculty members with Nobel Prizes in physics, economics or chemistry and 28 alumni who have received the prize, according to the school's website. The most recent, Saul Perlmutter's in physics, was announced in October.
Before it's here, it's on the Bloomberg Terminal.
LEARN MORE