Asia Stocks Fall as Fed Forgoes More Stimulus on Moderate Growth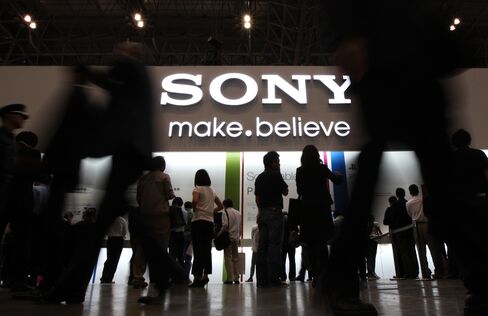 Asian stocks fell for a second day as the Federal Reserve refrained from taking new measures to spur growth and U.S. retail sales rose at the slowest pace in five months, clouding the earnings outlook for Asian exporters.
Li & Fung Ltd., a supplier of toys and clothes to Wal-Mart Stores Inc., sank 3.9 percent in Hong Kong. Evergrande Real Estate Group Ltd. declined 3.9 percent after the homebuilder's revenue slumped. Olympus Corp. pared losses of as much as 19 percent as the scandal-rocked camera maker filed earnings to avoid being delisted. PT Astra International, Toyota Motor Corp.'s Indonesian distributor, lost 3.9 percent as nationwide auto sales dropped.
The MSCI Asia Pacific Index fell 0.6 percent to 113.62 as of 7:33 p.m. in Tokyo, with about 11 shares falling for every seven that rose. The gauge, which has tumbled 16 percent since June 30, extended losses this week after Moody's Investors Service and Fitch Ratings warned that Europe faces lower credit ratings as it struggles to contain its debt crisis.
"There's a potential for further downside in this market," said Lee King Fuei, a Singapore-based fund manager at Schroders Plc, which oversees about $326 billion of assets globally. "The magnitude of this crisis compared to the one in 2008 is bigger as it includes sovereign risks as well. Policy makers have probably exhausted their fiscal and monetary policy options and they are running out of bullets."
Japan's Nikkei 225 Stock Average lost 0.4 percent, while South Korea's Kospi Index slipped 0.3 percent. Hong Kong's Hang Seng Index fell 0.5 percent, falling for a fifth day. China's Shanghai Composite Index dropped 0.9 percent. Australia's S&P/ASX 200 index fell 0.1 percent.
U.S. Retail
Futures on the Standard & Poor's 500 Index added 0.2 percent today. The index dropped 0.9 percent in New York yesterday after the Fed stopped short of offering another round of large-scale asset purchases to boost the economy.
Shares of Asian exporters fell as a report showed U.S. retail sales gained 0.2 percent last month, the slowest pace since June. It was short of the median estimated 0.6 percent gain from economists surveyed by Bloomberg.
Li & Fung sank 3.9 percent to HK$15. Honda Motor Co., a Japanese carmaker that gets about 44 percent of sales from North America, declined 2.2 percent to 2,331 yen. Sony Corp., Japan's biggest exporter of consumer electronics, lost 1.5 percent to 1,365 yen.
The Fed said yesterday that the U.S. economy continues to expand even as global growth slows. The Fed reiterated a warning from its two previous meetings that "strains in global financial markets continue to pose significant downside risks to the economic outlook."
Chinese Developers
Chinese property developers dropped after Evergrande Real Estate reported its home sales plunged 86 percent in November from a month earlier.
Evergrande sank 3.9 percent to HK$2.93 in Hong Kong. China Overseas Land & Investment Ltd., the biggest mainland developer listed in Hong Kong, lost 1 percent HK$13.42.
Olympus dropped 4.1 percent to 1,314 yen in Tokyo, paring losses of as much as 19 percent. The company, which admitted to hiding losses from acquisitions over a period of years, filed revised quarterly financial reports to regulators in Japan today, avoiding being automatically delisted from the Tokyo Stock Exchange.
Investors were selling earlier to lock in gains after the stock rebounded from a 36-year low reached on Nov. 11, said Yoshihiro Ito, chief strategist at Okasan Online Securities Co. in Tokyo. The stock almost tripled in value from the November low through yesterday amid speculation the company would avoid automatic delisting.
'Big Incident'
"I don't think the dust will settle smoothly from here because this was such a big incident," Ito said. The stock slumped as much as 81 percent, wiping $7.1 billion from its market value, since the Oct. 14 dismissal of Michael Woodford as chief executive officer after he challenged the company's board over the takeover costs.
Greenheart Group Ltd., the Hong Kong-based unit of Sino-Forest Corp., slumped 26 percent to 74 Hong Kong cents, paring a drop of as much as 40 percent. Sino-Forest, the Chinese timber producer fending off fraud allegations, said on Dec. 12 it will default on part of its $1.8 billion in debt. Greenheart said its business will continue as normal as its operations and management are independent of its parent.
The MSCI Asia Pacific Index declined 17 percent this year through yesterday, compared with a 2.5 percent drop by the S&P 500 and a 14 percent loss by the Stoxx Europe 600 Index. Stocks in the Asian benchmark are valued at 12.7 times estimated earnings on average, compared with 12.4 times for the S&P 500 and 10.3 times for the Stoxx 600.
Astra slipped 3.9 percent to 72,000 rupiah in Jakarta as a report from the Indonesian automotive industry association showed domestic vehicle sales declined 22 percent in November from a month earlier. Jardine Cycle & Carriage Ltd., which holds a 50 percent stake in Astra, fell 2.9 percent to S$47.85 in Singapore.
Before it's here, it's on the Bloomberg Terminal.
LEARN MORE