Stocks, Euro, Commodities Drop as Treasuries Rally After Auction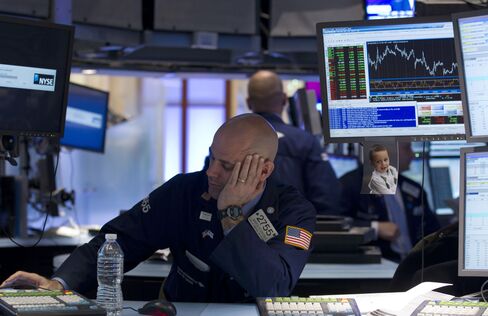 U.S. stocks fell for a third day, the euro slid below $1.30 for the first time since January and commodities sank as growing funding stress in Europe fueled concern the region is struggling to contain the debt crisis. Treasuries rose as a 30-year auction drew a record-low yield
The Standard & Poor's 500 Index fell 1.1 percent to close at 1,211.82 at 4 p.m. in New York. The Stoxx Europe 600 Index lost 2.1 percent. The euro weakened as much as 0.7 percent to $1.2946 before trimming losses to trade at $1.2981. Oil tumbled the most since September and gold slid below $1,600 an ounce to close at the lowest price in five months. Ten-year U.S. Treasury yields lost seven basis points to 1.89 percent, while 30-year German bund rates reached a euro-era record low of 2.38 percent.
Italy's five-year yield rose to a 14-year high at an auction today, default swaps protecting European sovereign debt traded near a record high and borrowing costs rose for the region's banks as plans hashed out last week to create a closer fiscal union failed to alleviate concern about the crisis. Federal Reserve Chairman Ben S. Bernanke told senators that the central bank has no plan to help European banks, according to lawmakers present during the comments, and German Chancellor Angela Merkel reiterated her opposition to selling euro bonds.
"We're not seeing the developments unfold that show they want to put an end to the crisis now," said David Watt, senior currency strategist at Royal Bank of Canada's RBC Capital unit in Toronto. "Talking about a fiscal union is now next to useless because that would happen five years from now," he said. "As long as they continue to talk about issues that are irrelevant, we're going to continue to have a market that gives the thumbs down to EU policy-maker efforts."
Energy, Technology Shares
Gauges of energy, technology and consumer-discretionary companies lost at least 1.2 percent to lead losses in U.S. stocks. Cisco Systems Inc., Caterpillar Inc. and Exxon Mobil Corp. fell at least 1.4 percent to pace declines in 23 of 30 stocks in the Dow Jones Industrial Average, which lost 131.46 points, or 1.1 percent, to 11,823.48.
Chevron Corp. and Transocean Ltd. tumbled at least 3 percent after the energy companies were asked by a Brazilian federal prosecutor to suspend all activity in Brazil and pay 20 billion reais ($10.7 billion) in damages after an oil spill last month. First Solar Inc., the world's largest maker of thin-film solar panels, slid 21 percent after reducing profit estimates for this year and next and saying it will cut about 100 jobs as it shifts its focus to large-scale utility plants.
Treasury Auction
Treasuries extended gains after the U.S. sold 30-year bonds at a record low yield of 2.925 percent, compared with a forecast of 2.976 percent in a Bloomberg News survey of seven of the Federal Reserve's 21 primary dealers. The bid-to-cover ratio, which gauges demand by comparing total bids with the amount of securities offered, was 3.05, compared with an average of 2.65 for the previous 10 sales. Current 30-year bond yields slid 11 basis points to 2.89 percent.
Oil in New York declined 5.2 percent to $94.95 a barrel as the Organization of Petroleum Exporting Countries agreed to raise its production ceiling, moving the group's supply target nearer to current output levels. Silver plunged 7.4 percent, gold lost 4.6 percent to $1,586.90 an ounce and copper sank 4.7 percent. Only lean hogs rose among 24 commodities tracked by the S&P GSCI Index, sending the gauge down 4.1 percent for its biggest drop since September.
Seventeen stocks declined for every one that gained in the Stoxx 600. Logica Plc plunged 16 percent, the most since 2002, as the Anglo-Dutch computer-services provider accelerated a reorganization after customers cut spending amid a "tougher" economy.
The Dollar Index, which tracks the U.S. currency against those of six trading partners, advanced 0.4 percent to 80.543, gaining for a third day and reaching the highest level in 11 months. Norway's krone weakened against 12 of its 16 main counterparts after the nation's central bank cut its benchmark rates by more than economists forecast.
No 'Fast Solutions'
German Chancellor Merkel reiterated opposition to euro bonds, while European Central Bank council member Jens Weidmann said policy makers are becoming more skeptical that the ECB's debt purchases are working. Merkel said there's no looking back after last week's European summit deal on stricter budget controls, with the path to fiscal union in the euro region now "irreversible."
"There are no simple and fast solutions," Merkel told lower-house lawmakers.
Europe Divisions
Plans led by France and Germany to amend European Union rules and create closer fiscal union face misgivings from the European Commission and potentially from some member states, the Handelsblatt newspaper said. Merkel favors one accord to accommodate both the setting-up of a permanent bailout fund and to usher in new stringent budget constraints on euro-region countries, while the commission wants two separate treaties, the newspaper reported, citing EU President Herman van Rompuy.
The cost for European banks to borrow in dollars rose for a fifth day to the highest in two weeks, according to money-market indicators. The three-month cross-currency basis swap, the rate banks pay to convert euro payments into dollars, was 147 basis points below the euro interbank offered rate, from 141 basis points yesterday. The gap has widened by 38 basis points since the European Central Bank cut its main interest rate on Dec. 8.
The London interbank offered rate, or the rate that London-based banks say they pay for three-month loans in dollars, was 0.555 percent, according to the British Bankers' Association, rising for a fourth straight day and reaching the highest level since July 2009.
Italian Auction
Italy's 10-year yield increased 11 basis points to 6.796 percent. The government sold 3 billion euros ($3.9 billion) of five-year bonds at an average yield of 6.47 percent, up from 6.29 percent on Nov. 14 and the most since May 1997. French 10-year yields decreased seven basis points to 3.19 percent.
The Markit iTraxx SovX Western Europe Index of credit-default swaps rose 5.9 basis points to a midprice of 384.75.
The MSCI Emerging Markets Index fell 1.4 percent, declining for a fifth day. China's Shanghai Composite Index retreated 0.9 percent, reaching the lowest level since March 2009, after the Conference Board's October leading indicator index for the country fell 0.1 percent.
Before it's here, it's on the Bloomberg Terminal.
LEARN MORE