An Irish Startup Cuts Factory Cleaning Costs With Salt and Water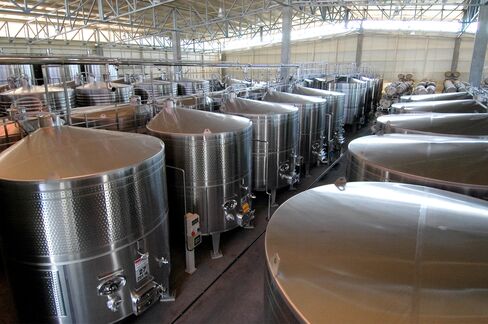 December 14 (Bloomberg) -- In 2005, Simply Soups bet on a technology startup that promised to slash the soup maker's cleaning and disinfection costs with little more than sodium chloride (the main ingredient in table salt) and water. The pitch: Install the startup's machine onsite and use the solutions it generates to sanitize the factory's lines and tanks rather than truck in chemicals.
The startup, called Trustwater, produces a detergent and a disinfectant powerful enough to destroy any microbe. Its devices build on a decades-old invention involving passing electricity through a salt solution. The process, known as electrochemical activation, was developed by Russian scientists in the 1970s to treat drilling fluids in the oil and gas industries in Uzbekistan.
For Simply Soups, which produces 150,000 liters of all-natural stock each week in its factory in Ireland, near Dublin, installing Trustwater's unit meant it could forego the expensive chemical it had relied on for sanitizing its equipment. And because Trustwater's solutions work at ambient temperatures, Simply Soups didn't need to spend time or money heating them. Another bonus: Trustwater's disinfectant doesn't need to be rinsed off. "We have cut our production costs by reducing the water consumption and chemical use," says Barry Brophy, Simply Soups' plant manager.
As concern about water and energy consumption captures executives' attention, Trustwater, based 50 miles outside Cork, Ireland, and a handful of competitors, including MIOX in Albuquerque, N.M., and Radical Waters, which manufactures its equipment in Johannesburg, South Africa, are championing technologies that use the Russian invention to generate cleaning solutions onsite. Trustwater has 260 machines – its smallest is about the size of a shoebox – installed around the world.
Gabe Miller, senior technical engineer at Sani-Matic, an industrial cleaning equipment seller and installer, says his Madison (Wis.) company looked at carrying the generators for several years before offering Trustwater to its clients in early 2010. Until it evaluated Trustwater's machines, "we had not felt that any of them were robust enough or reliable enough," says Miller. He says the biggest hurdle is the technology's initial cost. While there's "huge" interest from customers, "it's still a very costly system to put in, so they need to look at the return on investment."
Food and beverage producers make up 60 percent of Trustwater's business, with health-care facilities making up most of the rest, according to Trustwater's 36-year-old founder and chief executive officer, Edmond O'Reilly. Many companies, including soda makers, "are really looking to improving the efficiency of their processes," says Agata Kaczanowska, beverage industry analyst at IBISWorld, noting there are "great opportunities" for Trustwater.
A Trustwater installation at a food or beverage plant costs from $50,000 to $500,000, depending on the unit's output, and an installation at a hospital goes from $50,000 to $100,000, according to O'Reilly. The investment would typically be recouped within a year because of savings on chemicals, energy, water, and shorter cleaning times, he says. Large food and beverage processing plants could spend $200,000 to $500,000 a year on cleaning chemicals, says Sani-Matic's Miller.
Trustwater's new detergent and disinfectant streams are typically effective for less than 48 hours, so they are produced on site and on demand. After that time, the solutions become saltwater again. Dr. Ronnie Russell, microbiology professor at Dublin's Trinity College, compares the activated state of molecules in the solutions with bees in a beehive. "Poke with a stick for a few seconds, and the bees become activated," he says. "Leave them for a while, and they return to ground state again." Despite their brief shelf life, Russell says activated solutions have a range of applications. "They are safe to use, almost idiot-proof, and are effective. They may not be the answer to every situation, but more often that not, they are."
O'Reilly, who has launched five other companies, including property management ventures in Poland and a waste recycler in Ireland, founded Trustwater in 2005 to acquire the patents for the technology from the Russian Institute of Medical Sciences & Biomedical Engineering in Moscow. The serial entrepreneur estimates that the 36-employee company will have €5 million in revenue this year, double 2010's, and says the company will become profitable in 2012.
Richard Yudin learned about Trustwater a few years ago. He is technical manager in charge of food safety in Coral Gables, Fla., for Irish produce importer Fyffes, which markets and distributes more than 50 million cases of pineapples, melons, and bananas in North America and Europe annually. Lured by the potential savings from the Trustwater system, he has been testing it for use in Fyffes' Central American fruit operations. The disinfectant solution "is a very effective cleanser," says Yudin. "The benefits could be huge."
To contact the reporter on this story: Siobhan Crise at siobhancrise@gmail.com
To contact the editor responsible for this story: Nick Leiber at nleiber@bloomberg.net