Olympus Restates Past Earnings as Delisting Deadline Looms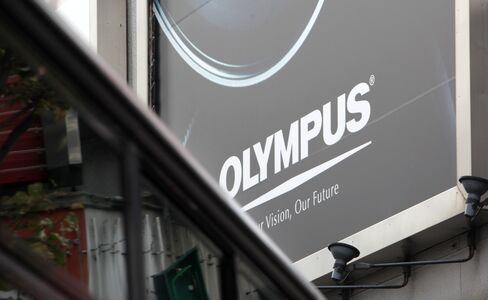 Olympus Corp. restated five years of past earnings as it seeks to avoid being automatically delisted from the Tokyo Stock Exchange after admitting to a 13-year cover-up of investment losses.
The stock reversed an earlier plunge after the company filed revised annual reports from fiscal 2006. The shares will be removed from the world's second-biggest bourse if the 92-year-old camera maker fails to register its quarterly earnings at the Financial Services Agency by 5:15 p.m. in Tokyo, according to TSE rules.
Olympus last month delayed the filing pending an independent investigation into schemes that used inflated payments for acquisitions to hide about $1.5 billion in losses. The company's auditors signed off on the statements, though with reservations on three that may hinder Olympus's efforts to convince the TSE its problems were restricted to a "rotten" group of senior management who no longer work there.
"It makes no sense unless Olympus gets delisted," said Ichiro Takamatsu, who doesn't hold the stock in the $2 billion of securities he helps oversee at Bayview Asset Management Co. in Tokyo. "Still, I get the feeling it's more likely that the company will remain publicly traded."
Olympus slumped as much as 19 percent after the resumption of trading in Tokyo afternoon trading. The shares traded 4.3 percent down at 1,311 yen as of 2:26 p.m.
The stock lost as much as 81 percent, wiping $7.1 billion from its market value, since the Oct. 14 dismissal of Michael Woodford as chief executive officer after he challenged the company's board over the takeover costs.
'Big Incident'
Investors were selling earlier to lock in gains made after the stock bottomed, said Yoshihiro Ito, chief strategist at Okasan Online Securities Co. in Tokyo. Since bottoming on Nov. 11, the stock has almost tripled amid speculation the company would avoid automatic delisting.
"The stock is still on a watchlist, and the TSE will investigate the incident for another month or two while law enforcement agencies look into it," he said. "I don't think the dust will settle smoothly from here because this was such a big incident."
The exchange may still remove the stock if it considers the cover-up had a "significant" impact, though the rules are unclear about how that is defined.
A company found to have falsified a securities report, or which fails to win a clean approval by its auditor, will be put on review for delisting, according to TSE rules.
Auditor Reservations
KPMG Azsa LLC signed off on Olympus's accounts between fiscal 2006 and 2008, saying it still had reservations.
"Information on the investment funds that were used in consealing losses have not been kept properly thus we could not obtain evidence to back up the assets and value of assets held by those funds," it said in a letter attached to the March 2009 statement.
Ernst & Young ShinNihon LLC gave a clear verdict on the later accounts, which signals the key result for the second-quarter of this year may also be approved without reservation.
Three former Olympus chairmen and at least three senior aides were "rotten to the core," according to the Dec. 6 findings of the investigative panel. Others "involved in the fraudulent accounting one way or the other" should be "fully eliminated" from the company, it said.
'Yes Men'
The company's corporate culture created "yes men" who failed to stop or denounce senior managers, the panel said. The failure of Olympus's corporate governance eroded all Japanese companies' credibility and highlighted the need to break from a tradition of unthinking deference to superiors, it said.
Woodford returned to Tokyo last night and appeared before opposition lawmakers considering changes to the country's corporate governance laws today. He addresses a panel of the governing party this afternoon.
The 51-year-old Briton has said he wants to return to run the company, and that the entire board that fired him must leave. Woodford today said he would play no part in any sale of the camera maker, adding a management buyout is unnecessary. Instead, he plans to propose a new slate of management and has reached out to Olympus President Shuichi Takayama in a bid to avoid any proxy fights at a shareholder meeting due by late February at the earliest.
Goodwill Hunting
Takayama has said he wants to win back investor confidence by revamping management and carrying out an internal inquiry to find other executives involved in the cover-up. Takayama last week said the entire board was prepared to stand down once a recovery plan was in place for the company and that shareholders would get to vote on new management.
The panel's review traced a global network of mostly Japanese advisers who used overseas deposits and offshore paper companies to hide impaired financial assets.
Olympus, the world's biggest maker of endoscopes, inflated fees for advisers and overpaid for companies it bought with the intention of increasing goodwill, the panel said. Hisashi Mori, fired as executive vice president, and Hideo Yamada, a former company auditor, planned to write down the goodwill over years to cancel out the hidden losses.
The exposure of the scheme meant Olympus has to cancel some of its goodwill, the panel said. Goodwill, an intangible long-term asset on the balance sheet, in March 2010 was restated at 145 billion yen ($1.9 billion) today, from 194 billion in the earlier accounts.
Skeletons in Closet
There may also be further disclosures to come. Olympus held an 18 percent stake in Axes Asset Management, an affiliate of the advisory firm accused of aiding the cover-up, documents filed in 2007 with Japan's Ministry of Finance show.
Olympus was the third-largest investor in the company, according to the March 19, 2007, document, obtained after a disclosure request made a month ago by Bloomberg News. While last week's 185-page report from the outside panel traced links to Axes bankers back to the 1980s, it made no mention of a financial tie-up.
Founded in 1919 as a microscope and thermometer business, Olympus produced its first camera in 1936 and its first "gastrocamera," a predecessor to the modern-day endoscope, in 1950, according to its website.
Olympus now controls 75 percent of the global market for endoscopes, instruments doctors use to look inside the body cavity to help detect disease and assess injuries.
In 1987, President Toshiro Shimoyama announced a strategy to strengthen the company's investments after operating profit fell by half due to the yen's gain, according to the panel led by former Supreme Court Judge Tatsuo Kainaka. Investment losses began to swell after the Japanese stock market crashed in 1989. They reached about 100 billion yen in 1998, when executives resorted to financial trickery to hide them, the report said.
Repeated attempts to reach Olympus executives accused of being involved in the schemes have failed.
Before it's here, it's on the Bloomberg Terminal.
LEARN MORE