James Murdoch Uses Saturday Defense to Explain Missed E-Mail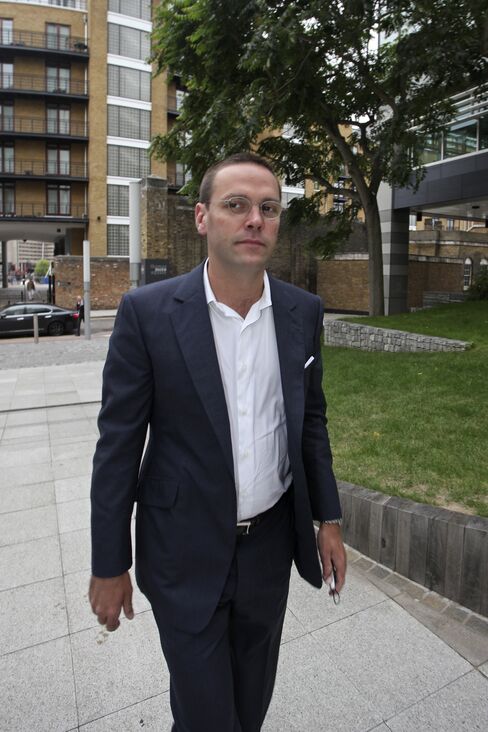 News Corp. Deputy Chief Operating Officer James Murdoch has an explanation for why he failed in 2008 to properly read an e-mail that then triggered a phone-hacking scandal: It was a Saturday.
Murdoch said he didn't read the full e-mail from former News of the World editor Colin Myler showing that voice-mail interception went beyond a single reporter at the tabloid because he wasn't in the office that day, documents released by the U.K. Parliament's Culture, Media and Sport Committee show. Murdoch, who turned 39 yesterday, said he doesn't recall any conversation with the editor that weekend.
The release of the e-mail renews pressure on Murdoch, son of News Corp. Chairman Rupert Murdoch and chairman of British Sky Broadcasting Group Plc, after shareholders of both companies lodged a protest vote against him. James Murdoch last month told the same U.K. committee he was kept in the dark by Myler and other executives. Both Myler and the tabloid's lawyer Tom Crone insisted Murdoch was told about the message in 2008.
"There was nothing to stop him from having pondered the e-mail trail at a different point and understood its contents and implications," Claire Enders, an analyst at Enders Analysis in London, said in an interview. "The correspondence released suggests that his ex-colleagues did inform him and keep him posted on developments and he seems to have been more informed than his recollection had hitherto suggested."
'Nightmare Scenario'
Revelations that the News of the World hacked into phones of celebrities, politicians and murdered schoolgirl Milly Dowler led to the closing of the 168-year-old tabloid in July and thwarted News Corp.'s 7.8 billion-pound ($12.2 billion) bid to buy all of BSkyB.
Lawyers for News Corp.'s News International unit said in the e-mail chain that a lawsuit had uncovered "the nightmare scenario" of a document that contained transcripts of voice-mail messages. The e-mail in the lawsuit contained a summary of 35 messages that has become a focal point of the phone-hacking probe.
In his e-mail, Myler pointed to the previous e-mail in the chain, saying that it is "as bad as we feared." Murdoch yesterday reiterated that he was not aware of evidence of widespread wrongdoing or the need for further investigation.
'Damning Document'
The documents released yesterday are "pretty persuasive evidence of direct knowledge," Edward Wasserman, the Knight Professor of Journalism Ethics at Washington and Lee University, said in an interview. "This is a fairly damning document that undermines the claim James didn't know about the hacking till later."
Myler's e-mail to James Murdoch was sent on June 7, 2008, in advance of a meeting three days later where they discussed the settlement of a case brought by Gordon Taylor, chief executive officer of the Professional Footballers' Association, whose phone was hacked.
Crone today said Murdoch was aware of the e-mail by the time of the meeting.
"I'm pretty sure I held up the front page of the e-mail," Crone told an inquiry into press standards that was created in response to the phone-hacking scandal. "I'm also pretty sure that he already knew about it."
The newspaper settled Taylor's case for about 700,000 pounds after his legal team uncovered the incriminating e-mail. The document, a transcript of voice mails typed by a reporter at the newspaper and marked "for Neville," were understood to be a reference to Neville Thurlbeck, the paper's chief reporter who was dismissed this year and has since been arrested.
Check Writing
"In order to put this into context, James Murdoch accepts that he signed the check to Gordon Taylor," said Mark Lewis, a lawyer for phone-hacking victims including the Dowler family. "It seems that he did writing but he didn't do reading."
In November testimony to lawmakers, Murdoch blamed the tabloid's executives and said he wasn't given all the relevant information. Testifying a second time before a U.K. parliamentary committee, Murdoch said he regretted that he hadn't looked into hacking allegations in 2009 when the Guardian newspaper reported them, or in 2010, when lawmakers raised questions.
Murdoch had been recalled by the panel after Myler and Crone both said he was mistaken in his initial July 19 testimony that he hadn't been told in 2008 about the e-mail that showed hacking went beyond the newspaper's royal reporter, Clive Goodman, and a private investigator, Glenn Mulcaire.
"Their testimony was misleading and I dispute it," Murdoch told the lawmakers last month.
'Slipshod' Manager
"James Murdoch is slipshod as a manager and News International have been slippery with their evidence to Parliament," Chris Bryant, a Labour lawmaker, said in an interview. "The rogue reporter line was a lie and News International knew it."
James Murdoch joined News International as chairman in December 2007, after the hacking took place. The scandal has shaken Murdoch's status as heir apparent to his father's media empire.
News Corp. shareholders in October lodged a protest vote against Rupert Murdoch, the company's chairman and CEO, and his sons, following an annual meeting at which investors called for governance changes and an end to voting practices that cement the family's control. James received the highest percentage of votes against his election to the board, at 35 percent.
In November, one third of BSkyB's independent shareholders voted against James Murdoch's re-election as chairman of the U.K.'s biggest pay-TV operator.
"It's a good job his last name is Murdoch," Lewis said. "I suspect there would have been a different response from shareholders who supported him if they knew the facts."
Bloomberg LP, the parent of Bloomberg News, competes with News Corp. units in providing financial news and information.
Before it's here, it's on the Bloomberg Terminal.
LEARN MORE