Monti's Party of Bankers Sparks Political-Violence Warning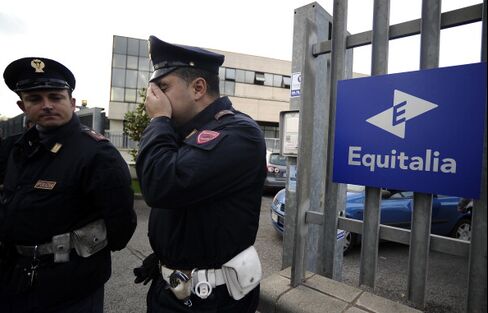 Letter bombs and bullets mailed to officials have prompted Italian Prime Minister Mario Monti to warn of political violence returning to Italy.
An official with Equitalia, Italy's tax-collection agency, was wounded in the hand and face by a letter bomb on Dec. 9, a day after Italian anarchists said they tried to target Deutsche Bank AG Chief Executive Officer Josef Ackermann with a similar device. Letters with bullets sent to Rome Mayor Gianni Alemanno and Justice Minister Paola Severino were also found this week.
"Threats and intimidations represent strategies of other eras that can't and mustn't return," Monti said in a Dec. 12 statement that recalled the terrorism in Italy in the 1970s and 1980s, a period of bombs and bullets dubbed the "Years of Lead" that claimed hundreds of lives.
The tensions come as Monti, a former adviser for Goldman Sachs Group Inc., seeks to push through a 30 billion-euro ($40 billion) austerity program by Christmas before taking steps next year to liberalize the labor market, a flashpoint issue that led Red Brigade terrorists to kill two officials about a decade ago.
Parliament's Committee for Intelligence, Security Services and State Control will discuss the recent incidents at a meeting in Rome today, according to Giuseppe Esposito, the body's deputy chairman. He said the panel will question Gianni De Gennaro, the head of Italy's secret services.
'Fraction' of Threats
Monti leads a technocratic government that took over last month after former Premier Silvio Berlusconi resigned amid the deepening debt crisis. Monti's Cabinet has been criticized by some groups, including Berlusconi's former ally the Northern League, as the "party of bankers."
Development Minister Corrado Passera is the former chief executive officer of Intesa Sanpaolo SpA, Italy's second-biggest bank. His deputy, Mario Ciaccia, was head of infrastructure at Intesa. Labor Minister Elsa Fornero sat on Intesa's board.
While this week's events "are in no way comparable to the terrorist groups of the 1970s," the media have reported on only a "fraction" of the threats, Esposito said. "I've received a similar letter myself," he said in an interview.
In the 1970s and 1980s, Italy suffered terrorism of all political stripes, from the 1980 bombing of Bologna's railway station by neo-fascists that killed 85 people to the murder of former Premier Aldo Moro in 1978 by Marxist-inspired Red Brigade militants. That group's most recent victims were Labor Ministry consultants Massimo D'Antona and Marco Biagi, both of whom were working on overhauling the job market when they were gunned down in 1999 and 2002, respectively.
'Banker Thieves'
In recent days, anarchist groups have spray-painted Intesa branches in some parts of Rome with graffiti and slogans such as "Down with Banker Thieves!" On Oct. 15, protesters rallying in an "Occupy Wall Street" demonstration set fire to cars and shattered windows at banks and a supermarket in Rome. The flags of Italy and the European Union were also burned at a hotel.
Police arrested five members of far-right group Militia in Rome today, Ansa newswire reported, without citing anyone. The five are accused of "actions" against Rome's Jewish community as well as against Alemanno, Parliament Speakers Gianfranco Fini and Renato Schifani and former U.S. President George W. Bush, Ansa said, without giving further details.
Symbols of Finance
"I don't expect a return of the Red Brigades, but there is the risk of more or less organized attacks against people or institutions that are seen as symbols of global finance," said Federico Niglia, who teaches a course on terrorism at St. John's University in Rome. "The technocratic government may be seen as a target in this sense, and so are the executives of banks and multinational companies."
Monti, a former EU competition commissioner, is seeking to push through spending cuts and tax increases that bring to $105 billion -- equal to about 5 percent of economic output -- the total bill of austerity measures that Italians have been asked to swallow since June. Monti's popularity fell four percentage points to 58 percent after presenting the measures, according to a public-opinion poll published yesterday by IPR marketing.
The latest austerity package comes as Italy's economy, which has trailed euro-region growth for more than a decade, is forecast by the government to enter contract next year. Italy's jobless rate of 8.5 percent rises to 29.2 percent among those between ages 15 and 24.
Labor Unions
"In the 1970s terrorists found support in labor unions, in factories, a thing that is now unconceivable," said Giancarlo Niccolai, an official with the then-ruling Christian Democratic Party who survived a 1977 attack by terrorist group Prima Linea in Pistoia, Tuscany. "Economic crises always boost support for violent people, but I sense that union members today are much more responsible."
The explosive device sent to Ackermann was claimed by FAI, an Italian anarchist group which has undertaken several attacks in recent years including a 2003 letter bomb to the European Central Bank, Frankfurt prosecutors and state police said in a joint statement on Dec. 8.
"The authors speak of three explosions against 'banks, bankers, ticks and bloodsuckers,'" the police said in the statement. "It has to be assumed that another two letter bombs may have been sent."
The next day, Equitalia official Marco Cuccagna was injured in the letter bomb attack in Rome. Investigators are looking into possible links with the German case, Ansa newswire said, citing sources close to the probe.
Italian police investigating the letters with bullets don't see ties with the letter-bomb cases, Corriere della Sera reported, citing law-enforcement sources. Alemanno said that because the letters sent to him and Severino were signed by different groups, he believed they were unrelated.
After the attack on Cuccagna, the Facebook page called "Stop the Extra Power of Equitalia," which boasts 7,706 "friends," was flooded with messages. "They've been far too kind," one said. "They'll blame the anarchists, but maybe it's just some father forced to pay usury-level interest rates," read another one.
Before it's here, it's on the Bloomberg Terminal.
LEARN MORE