Corzine Knew MF Made Loan From Customer Accounts, Duffy Says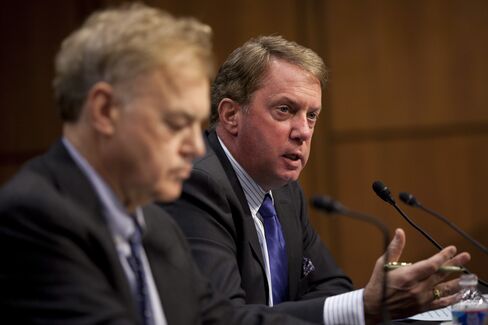 Dec. 14 (Bloomberg) -- Jon Corzine, the former chief executive officer of MF Global Holdings Ltd., knew that the company made a loan out of segregated customer accounts before it went bankrupt, CME Group Inc. chairman Terrence Duffy told the U.S. Senate.
Duffy, whose company is MF Global's regulator and principal exchange, faced questions about a shortfall of some $1.2 billion in missing customer funds. CME and Commodity Futures Trading Commission staff had been told a discrepancy existed in the customer funds, which by law are required to be kept separate from company funds.
On Oct. 31, the day MF Global filed the eighth-largest bankruptcy in U.S. history, "a CME auditor also participated in a phone call with senior MF Global employees, wherein one employee indicated that Mr. Corzine knew about the loans that it had made for the customer -- from the customer segregated accounts," Duffy said yesterday.
Corzine in earlier testimony said that he couldn't explain why money was missing from customer accounts, and that he had been surprised to find out that money was missing from customer accounts on the night of Sunday Oct. 30.
The loan may have been for $175 million to a European affiliate of MF Global, Duffy said. He said he believed the loan was made from customer segregated accounts in the last few days before the bankruptcy filing. Duffy didn't say whether Corzine learned of the loans in advance of the funds being moved. He also didn't say whether the loans were a legitimate use of customer accounts.
Recently Aware
"We were told by MF Global that they transferred money to the broker dealer, 'stop looking for the accounting error,'" Duffy said. He said he was only made aware of the new information last Saturday.
Duffy's testimony follows that of Corzine and other top executives, who said yesterday they couldn't explain the shortfall. Several members of the Senate who asked questions said it was unbelievable that the top executives couldn't explain the absence of such large funds from customer accounts.
MF Global Inc.'s customers may be able to reach its parent company's assets to help pay for their shortfall, said James Giddens, the trustee in charge of liquidating the broker-dealer. Giddens said the shortfall in segregated accounts is still estimated to be $1.2 billion or more.
"I don't think we're magically going to come to a pot of gold at the end of the rainbow," Giddens told the Senate.
Giddens said that both the Commodities Exchange Act and the Securities Investor Protection Act "give a priority to customers, and if there is a shortfall there are provisions in both statutes that say other assets ought to be reached to cover those shortfalls." He added that other parties may see that issue "as a matter of conflict."
100 Percent
Giddens has said he intends to return 100 percent of customer funds if possible. The brokerage had about 38,000 commodity customers and about 400 securities customers. Securities customers, who can be refunded partly by the Securities Investor Protection Corp., Giddens said.
Giddens has already set in motion the return of about $4 billion in customer funds. Last week, a bankruptcy judge approved the last of three so-called bulk distributions to customers, allowing them to recover 72 percent of what they lost when the brokerage failed.
MF Global Holdings filed the eighth-largest U.S. bankruptcy after a wrong-way $6.3 billion trade on its own behalf on bonds of some of Europe's most indebted nations. The company entered Chapter 11 bankruptcy to apportion returns to creditors, including bondholders and lenders such as JPMorgan Chase & Co., while Giddens is overseeing distributions to customers at MF Global Inc. under the Securities Investor Protection Act.
Complicating matters, assets for customers that traded in foreign futures are now under the control of foreign bankruptcy trustees, Giddens said.
Foreign Recovery
"While I will pursue them vigorously, experience dictates that recovery of these foreign assets may be more uncertain and may take more time," he said.
Separately, Giddens said in court papers filed Dec. 12 that recoveries of so-called preference payments from lawsuits "will not be a material amount," as the company paid out an estimated $62 million within 90 days of the start of the liquidation.
JPMorgan isn't a "current client" of Giddens's law firm, according to a court filing. Giddens's firm ended "minor patent work" for JPMorgan and collected less than $2,000 in fees from the New York-based bank in 2011, Giddens said.
The bankruptcy judge overseeing the brokerage's liquidation had directed Giddens to disclose any potential conflicts it had with the bank.
The brokerage case is Securities Investor Protection Corp. v. MF Global Inc., 11-02790, U.S. District Court, Southern District of New York (Manhattan). The parent's bankruptcy case is MF Global Holdings Ltd., 11-bk-15059, U.S. Bankruptcy Court, Southern District of New York (Manhattan).
To contact the reporter on this story: Tiffany Kary in New York at tkary@bloomberg.net
To contact the editor responsible for this story: John Pickering at jpickering@bloomberg.net