Indonesia Poised to Pass Land Law in Boost to Growth Plans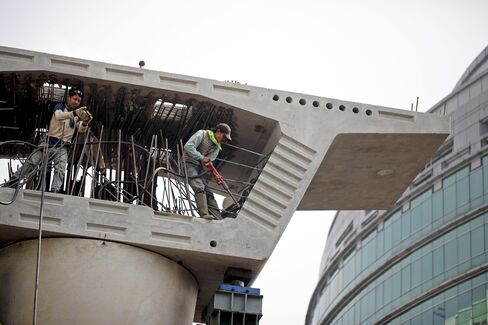 Indonesia's parliament may approve this week a land-acquisition law that will allow the government to accelerate infrastructure projects, bolstering President Susilo Bambang Yudhoyono's efforts to boost growth.
Lawmakers will probably approve the bill on Dec. 16, Taufik Hidayat, vice chairman of the Land Procurement Parliamentary Special Committee, said in a telephone interview yesterday. After Yudhoyono signs it into law, the government will be empowered to take over land for development while owners will be guaranteed adequate compensation, he said.
The legislation that had been debated in parliament since March may reinvigorate Yudhoyono's push to double spending on roads, ports and airports to $140 billion by the end of his term in 2014. Gains made by Southeast Asia's largest economy under the president's seven-year rule have been undermined by corruption scandals and project delays caused by land disputes, which have hampered efforts to lure investment.
"This law is very important for the sustainability of infrastructure projects," Sjamsu Rahardja, a senior economist at the World Bank, said in Jakarta today.
The parliamentary committee approved the draft of the bill that will be presented to the legislative body for approval at a plenary on Dec.16, Daryatmo Mardiyanto, chairman of the Land Procurement Parliamentary Special Committee, said late today.
Development Plan
Indonesia's 2011-2025 development plan seeks 4,012 trillion rupiah ($440 billion) of investment, with about 1,786 trillion rupiah assigned to items such as highways, harbors and power plants. Yudhoyono is seeking to improve Indonesia's roads, bridges and ports to spur annual economic growth of as much as 9 percent, closing the gap to Chinese and Indian rates of expansion.
PT Citra Marga Nusaphala Persada surged the most in 11 weeks in Jakarta trading yesterday on expectation parliament will approve the law this week, accelerating toll-road projects, according to Adrianus Bias Prasuryo, an analyst at PT Samuel Sekuritas Indonesia. The toll-road operator rose 7.6 percent to 1,710 rupiah at the close, the steepest increase since Sept. 27.
"We are optimistic that after this bill, most big infrastructure projects will run, especially toll roads," Bambang Brodjonegoro, head of fiscal policy at the ministry of finance, said in Jakarta Dec. 12. "This bill will boost the economy as investments gain."
Rating Upgrade
While fiscal stability under Yudhoyono has put the economy on the verge of its first investment-grade credit rating since the 1990s and foreign direct investment jumped almost 173 percent to $13.3 billion in 2010 from a four-year low of $4.9 billion in the previous year, projects including a six-lane highway in Java island have been hobbled by disputes over the price owners should be paid for land.
During the president's first five-year term, only 125 kilometers (78 miles) of toll roads were built, compared with China's 4,719 kilometers of toll roads in 2009 alone. A 1961 law says that only the president can seize land if owners refuse to sell. Yudhoyono was elected to a second term in 2009.
"The door will open for infrastructure projects, which have so far been stagnant because there's no certainty of land acquisition," said Destry Damayanti, chief economist at PT Bank Mandiri in Jakarta. "This bill will give positive impact to infrastructure stocks such as PT Jasa Marga, PT Wijaya Karya, PT Adhi Karya."
The land-acquisition bill may come into effect next year if the president signs it within 30 days after being approved by the plenary session, Hidayat said.
The law will set a deadline of 74 working days to resolve all legal issues in the event of objections to any land acquisition for infrastructure projects, he said. An independent appraiser will decide on compensation in the form of money or land relocation for people giving up the property for development, he said.
Before it's here, it's on the Bloomberg Terminal.
LEARN MORE