Reid Says Senate Will Block House Republican Payroll Tax Cut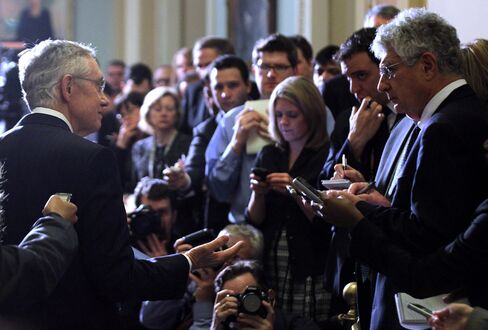 Dec. 14 (Bloomberg) -- Senate Majority Leader Harry Reid is vowing to block a payroll tax-cut extension that passed the U.S. House of Representatives because it includes Republican priorities that Democrats oppose.
The House yesterday passed the $202.4 billion measure, 234-193, and it was sent to the Senate, where Democrats hold a majority. President Barack Obama opposes provisions of the legislation that would speed up approval of a Canadian pipeline and restructure unemployment compensation. The White House threatened to veto the measure yesterday and Reid, a Nevada Democrat, said he wants to hold a vote today to stop it from advancing.
Lawmakers are preparing for more rounds of posturing between House and Senate leaders that could last into next week before culminating in a compromise that can be sent to Obama. If Congress doesn't act by Dec. 31, employees will begin paying 6.2 percent on the first $110,100 in wages in January, up from 4.2 percent this year. The tax funds Social Security.
"Anything you pass with strictly Republican support fails over here," Reid told reporters yesterday. "In the Senate, we can't pass anything unless we get Republican votes. It's a fact of life."
Reid tried to bring the legislation to the Senate floor today and encountered an objection from Minority Leader Mitch McConnell, a Kentucky Republican, who wants the chamber to first act on a spending measure that would keep the government operating after Dec. 16. A Senate vote on advancing the bill hasn't been scheduled.
Most Significant Division
The most significant division between Democrats and Republicans is whether the cost of the payroll tax-cut package should be covered by spending cuts or by new revenue from levies on high earners. The Republican House bill focused on spending cuts, while Democrats have proposed a surtax on income exceeding $1 million.
House Speaker John Boehner, an Ohio Republican, struggled for several weeks to line up his conference behind the payroll tax-cut extension. He lost 14 Republican votes yesterday while gaining the support of 10 Democrats.
"Now Senate Democrats must act and take up our bill," Boehner told reporters after the vote. "Democrats who run the United States Senate can't continue to hide and sit on the sidelines and hope that something happens."
'Do Its Job'
After the vote, White House spokesman Jay Carney issued a statement calling on Congress to "do its job and stop the tax hike that's scheduled to affect 160 million Americans in 18 days."
The White House message containing the veto threat said the House bill would endanger education and clean-energy funds, and would be funded by working people while "giving a free pass to the wealthiest and to big corporations." The statement didn't mention the Keystone XL pipeline, which would link Canada's oil sands with Texas refineries.
Meanwhile, Reid hinted at his next step by saying he would add $35 billion in extensions of miscellaneous tax breaks to a payroll tax cut. The expiring breaks, which include such incentives as a research and development tax credit and a benefit for banks' overseas operations, expire Dec. 31.
Among those tax breaks are the ability to deduct state sales taxes and accelerated depreciation for some restaurants and motorsports tracks. Companies such as General Electric Co., Whirlpool Corp., Microsoft Corp. and Xerox Corp. support extension of some of the items in the package.
'Job-Creating' Tax Breaks
"They're extremely important," Reid said yesterday of the breaks, without specifying which he would seek to extend. "They're job-creating."
Reid didn't say how or whether the cost of the tax-break extensions would be covered in the payroll package. If the Senate follows through with Reid's threat to strip the Keystone provision from the legislation, the extensions could be added to mollify Republicans in the House.
Representative Kevin Brady, a Texas Republican who sits on the House Ways and Means Committee, said he would like to see Congress act on an extenders package "sooner rather than later." Their inclusion in a payroll tax-cut bill, he said, wouldn't satisfy House Republicans if the Keystone provision is killed.
The extenders language "retains the status quo," Brady said in an interview. "It doesn't move the economy forward like Keystone or like some of the other provisions would. So I doubt that would have an impact over here."
The House legislation also allows companies to fully write off capital investments through 2012. It extends expanded federal unemployment benefits and prevents doctors' reimbursements under Medicare from being reduced as scheduled in January. It includes a pay freeze for federal civilian workers, more stringent income-eligibility requirements for Medicare benefits and a move toward a 59-week limit on expanded unemployment benefits, compared with the current 99 weeks.
The bill is H.R. 3630.
To contact the reporters on this story: Steven Sloan in Washington at ssloan7@bloomberg.net; Richard Rubin in Washington at rrubin12@bloomberg.net
To contact the editor responsible for this story: Mark Silva at msilva34@bloomberg.net