Euro Crisis Shows Dutch Take German Side at French Expense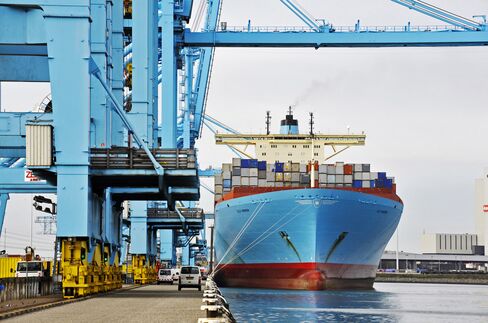 When it comes to fighting the European crisis, the Netherlands may as well be a part of Germany.
"The Dutch are often a mainstay for the Germans, and as such, play a bigger role than justified by their economy," said Sylvester Eijffinger, a professor of financial economics at Tilburg University, 69 miles south of Amsterdam. It's good for Germany because "it never wants to be accused of going it alone," he said.
As European leaders have struggled for more than two years to tame their financial crisis, the Dutch government has sided with neighboring Germany in pushing austerity and central bank independence, underscoring differences between northern and southern Europe in seeking solutions.
In February 2010, then acting Dutch Prime Minister Jan Peter Balkenende called German Chancellor Angela Merkel to say the International Monetary Fund should help Greece solve its funding needs. The plan was opposed by French President Nicolas Sarkozy, who said it would show the European Union couldn't solve its own crises. A month later, EU leaders went to the Washington-based IMF for aid.
"The Netherlands was much more in favor for calling in the IMF than Germany was," said Adriaan Schout, who heads the European Studies Programme at the Clingendael Institute of International Relations in The Hague. The Dutch government sought the involvement of the IMF and its strict rules to ensure Greece would live up to its end of the bargain.
Exports to Germany
The Netherlands, the fifth-largest economy in the euro region, exported 90 billion euros ($117 billion) of goods to Germany in 2010, making up almost a quarter of total exports, compared with 32 billion euros to France, according to Dutch statistics agency CBS. Germany has the EU's biggest economy and ranks as the world's second-largest exporter after China.
"Trade between Germany and the Netherlands isn't only extensive, it is enormous," Dutch Finance Minister Jan Kees de Jager said at Berlin's Humboldt University on May 24. "It is flourishing today thanks to the internal market and the euro. If there are two EMU countries that should logically stand together, they are Germany and the Netherlands."
A breakup of the euro bloc would cut exports of Dutch products by 25 percent next year, ING Groep NV economists Teunis Brosens and Dimitry Fleming said in a Dec. 6 note to clients. "As a trading nation with large pension funds and an international financial sector, we're closely tied to the euro zone" and may be the country with the biggest interest in maintaining the currency, they wrote.
EU Summit
Moody's Investors Service said Dec. 12 that it will review the ratings of all European Union nations after last week's meeting of the region's leaders failed to produce "decisive policy measures." That followed Standard & Poor's announcement that it may cut the ratings of 15 euro-region members because of a "reactive and insufficient" response to the crisis.
S&P's warning of a possible rating downgrade of AAA rated Germany, France and the Netherlands comes as a "clear signal that solutions are needed," De Jager told RTL television. German Finance Minister Wolfgang Schaeuble said S&P's warning will spur politicians to bolster efforts to resolve the crisis.
"There are not so many differences" between the Dutch and German approach to solving the debt crisis, Dutch Prime Minister Mark Rutte told reporters in Stockholm after meeting his Swedish counterpart, Fredrik Reinfeldt, on Dec. 5. "I challenge you, you will find one or two, but it is difficult."
Coal, Steel Accord
The German and Dutch ideals on Europe trace their roots to the establishment of the European Coal and Steel Community in 1951. Germany and the Netherlands, along with four other European countries, agreed to bring resources used for weapons production under common control in the first move that led to today's EU with 27 member states.
Dutch pension funds and insurers sold French, Spanish and Italian bonds and bought debt of Germany, the Netherlands, Austria and Finland instead in the third quarter, the country's central bank said today. The yield difference between Dutch 10-year bonds and German bunds narrowed two basis points to 31 basis points. The extra interest investors demand to hold French bonds instead of benchmark German bunds was at 118 basis points as of 1 p.m. in Frankfurt.
Budget Stance
"Germany and the Netherlands are on the same line when it comes to automatic sanctions for excessive budget deficits and preventing the European Central Bank from losing its independence," said Schout, who served as an independent expert to the European Commission.
They weren't always on the same page when it came to budget rigor. The Dutch defeated a proposed European constitution in a 2005 referendum amid public disagreements over a successful Franco-German bid to loosen deficit rules.
While the Germans and Dutch succeeded in drafting the IMF to shore up Greek state finances and bring France to pledge to semi-automatic budget sanctions, they gave in to Sarkozy's demand to remove specific bondholder-loss provisions in the treaty for the European Stability Mechanism.
"Sarkozy came out as the winner and managed to get rid of private-sector involvement, something the Netherlands has supported," Schout said. "That's typical for the Dutch position. They are keenly involved in the preparations, but when the match starts, it's between Germany and France."
Leadership Role
French Budget Minister Valerie Pecresse said France and Germany need to play a leadership role in the euro.
"Given the number of countries in the euro zone and given their different situations, it's essential to begin with a French-German agreement," Pecresse said Dec. 7 at a press conference in Paris.
While France also is among the six founders of the European Union, a visit to Berlin usually takes preference over a trip to Paris for newly inaugurated Dutch prime ministers.
"France is culturally further removed from the Netherlands than Germany so the Dutch influence there is bigger than among the French," said Eijffinger, the Tilburg University professor who is also a member of the Monetary Experts Panel of the European Parliament.
Before it's here, it's on the Bloomberg Terminal.
LEARN MORE